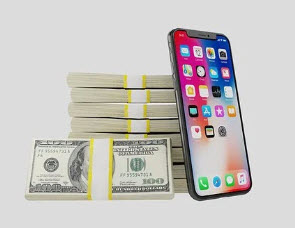 Most money-making applications require that you earn a specific amount of money before you can cash out.
In other words, you must complete more tasks and wait for a long time before receiving the money or gift card.
If the app doesn't have a decent number of tasks or pays very little money, you may have to wait for months to withdraw your cash balance.
Most companies benefit from this requirement as lots of users get discouraged and give up along the way.
The more users give up, the more money these companies can keep as profit! Many Android games take advantage of this minimum balance requirement to avoid payments.
It's very frustrating, which is why I would like to show you a list of the top applications that will pay you instantly. Plus, I will give you some bonuses! 
Top Recommendation: I used to earn less than $50 per month by completing simple tasks back in 2015. That was when I found an excellent program to build profitable affiliate sites. It helped me generate over $2K+ per month and quit my job at the coffee shop. Learn more here! 
Observa
Observa is one of the best money-making applications on Google Play. It rewards users in the US and Canada for completing secret shopping gigs at local stores.
Most tasks involve snapping pictures and providing valuable information, such as pricing, product availability, and promotions. Sometimes, you will have to speak to a member of staff as a mystery shopper and rate their customer service.
The Observa app pays $10 – $20 per gig, and you will get paid instantly via PayPal as soon as your work is validated.
Easyshift
Easyshift is another secret shopping app that pays you to complete simple missions at nearby stores. It's available for residents in the US and the UK.
Typically, you will take in-store pictures and answer simple questions about product availability, promotions, customer service, etc.
You can earn $6 – $10 per shift. Once approved, you can expect to receive your payment via PayPal within 48 hours.
Read more about EasyShift here
Field Agent 
Field Agent is very similar to Observa and Easyshift in that you get paid to complete secret shopping assignments.
You don't need to meet a minimum withdrawal threshold to request your payment. Once your job is reviewed and approved, the company will transfer the money within 48 to your bank account.
Most gigs pay between $2 – $12, which is pretty decent. The main issue with Field Agent is that it tends to reject the entire mission if you make a little mistake.
Read more about Field Agent here

Qmee 
Qmee is a trendy application that pays you to complete online surveys. It stands out from most panels because there is no minimum payout, so you can withdraw via PayPal as soon as you complete your first survey.
With the Qmee app, you can earn cash just for sharing your opinion with brands about products and services.
iVueit
With the iVueit app, you can get paid to complete location-based projects from your smartphone.
Most of the time, you have to take pictures of landscapes and private buildings such as parking lots, banks, stores, and retail centers. 
Sometimes, you may also find gigs at local grocery stores, which involve taking pictures of products, answering questions, etc.
As a Vuer, you can earn between $5 to $50 per project, depending on the number and complexity of the tasks.
Once your project is approved, iVueit will pay you within 48 hours.
1Q
1Q is an excellent survey app that pays you $0.25 immediately after answering just one question from your phone. Sometimes, you may get two or more questions at once!
You don't any to accumulate any amount of cash or points to cash out. You don't even need to request your payment!

Unlike most marketing research companies, you won't be disqualified after answering many repetitive questions. Therefore, it will save you a lot of time!
Unfortunately, the 1Q app only invites panelists from the US, the UK, Canada, and Australia.
Read more about the 1Q app here
CitizenMe
CitizenMe is one of the few survey apps with no minimum payout threshold. Once you complete the survey, the company will instantly transfer the money to your PayPal.

This reward platform is going viral! Cash out via PayPal, Visa, Gift Cards, and in-game currencies - Click here to find out how to generate an extra $10+ per day! 
I am impressed with how fast they paid £0.10 to my PayPal account.
I wish every survey panel was like CitizenMe when it comes to payments. Unfortunately, lots of people are disappointed with the lack of paid surveys. Nothing is perfect! 🙁

Read more about CitizenMe here
Bermi
ermi is a top-rated application that pays you simply for watching fun videos on your smartphone. But, unfortunately, the earning potential of the app is extremely low.
As you watch videos, you will earn tokens called BERM, which you can exchange for a scratch card once you collect 100 BERM.
The scratch card gives you the chance to win up to $100, but most of the time, you will collect just 1 cent.
With the Bermi app, you will get paid almost instantly because you need to reach $0.02, which doesn't take too long.
CryptoPop
CryptoPop is an Android game where you must blast coins of the same color.
The great thing about CryptoPop is that it pays you instantly via ETH to your Coinbase account. You can request payment any time regardless of the amount of ETH you have in your balance!
Many people wonder why the app developer pays to play a game on their phone. Well, it's straightforward!
The app earns advertising revenue by showing video ads while you are playing. Therefore, the developer simply shares a small percentage of their ad revenue with you.
You may not like CryptoPop's low pay and the fact that you can only withdraw once every 48 hours.
The company called Vweeter also operates many other games that pay you instantly, such as PopStellar, CryptoWord, and Photon Pong.
Read more about CryptoPop here
Bitcoin Food Fight
Bitcoin Food Fights is a knife-throwing game developed by Bling, which is also the creator of Bitcoin blast and Bitcoin Blocks.
With this game, the goal is to throw knives, forks, and other objects into a round piece of food that keeps turning.
These games will process a payment to your Coinbase account whenever you
want!
The main issue with Bling games is the abysmal rate of pay. According to the company, most players earn fractions of a cent worth of Bitcoin. 
After a simple calculation, I concluded that you may earn $5 after playing their games for a while year.

Read more about Bitcoin Food Fight here
Cash Out With $1 or Less!
The list of apps that pay you instantly is relatively short, so it's worth mentioning some apps and sites that let you cash out with just $1 or less.
Apps
Curious Cat – Get paid to complete quick surveys and cash out with as little as $1. 
ClipClaps – Earn money by watching viral videos on your smartphone. The minimum payout is just $0.10!
BuzzBreak – An innovative app that rewards users for reading the news. Get paid via PayPal or Gcash with as little as $0.02.
Sites
Offernation – Excellent GPT site with lots of opportunities to make money online. You can cash out at just $1.
InstaGC – It's a reputable GPT site where users get paid to complete surveys and offers. The minimum payout is just $1.
Gain.GG – A decent reward site that offers different ways to make money online. You can withdraw via PayPal for just $0.01.
Points2Shop – It's another reward platform where you can complete simple tasks for points. You can redeem 100 points for $1 via PayPal, check, and eGift cards.
Final Thoughts
As you can see, not many apps let you withdraw any amount of money.
I guess many companies put the cashout requirement on the roof hoping you give up.
They usually have a clause in the terms and conditions that says if you are not active for a certain period, they can delete your earnings.
That's why you should always prefer apps and sites that let you cash out with at least $5.
Thanks for visiting the blog. I hope this post was helpful to you!
If you have any questions or suggestions, let me know in the comment section below.
Stay safe and peace out!