Welcome to my 1Q App Review!
Millions of people are using mobile apps to complete paid surveys on the go.
There are lots of apps that allow you to become a respondent and get paid for your opinions.
Another option available for Android and iOS devices is the 1Q app.
1Q is an innovative survey app that promises to pay you $0.25 every time you answer a question from your phone.
You are reading this review because you want more information before installing the 1Q app.
Is 1Q it a scam or a legit application? Does it really pay? If so, how much money can you make?
Let's find out!
If you want to work remotely and earn a full-time income from home, check out my #1 recommendation. This program helped me reach $1,600/mo in online revenue and quit my job in 2019. No special skills required!
1Q App Review
Name: 1Q
Company: 1Q LLC
Website: 1q.com
Type: Online surveys
Membership Eligibility: UK, US, Canada, Australia
Similar apps: Zap Surveys, Poll Pay, Curious Cat
LEGITIMATE
Overall Rating: 4.7/5
What is 1Q?
1Q is a mobile app that pays you to answer marketing research questions and complete advertising offers.
Different than other apps, 1Q connects respondents directly with brands and retail businesses in search of real-time feedback. In other words, there is no middleman to take a slice of your earnings, which means you will earn a decent rate compared to other survey panels.
1Q will send you survey invitations and promotional offers based on your demographics and interests.
The great thing about this app is that you will get paid instantly to your PayPal account after you complete a survey or offer.
According to the "About us" page, people all over the world will be able to use 1Q and make $0.25 per question.
The app is currently only available for UK, US, Canada, and Australia residents. However, the company has plans to expand to other countries in the near future.
Is The 1Q App Legit? Does it Pay? 
Yes, the 1Q app is 100% legitimate. The company is trusted by leading brands such as Unilever, Pepsico, P&G, Target, Amazon, among many others!
After careful research, I discovered that 1Q not only legit but also one of the most trusted survey apps when it comes to payments.
If you check the reviews on Google Play, you will notice that lots of people receive instant payments with no issues.
I was impressed to see so much positive feedback about the company o the internet. There is probably no report about missing payments, which is reassuring, to say the least.

Most of the negative reviews that you will find are regarding the short time window to answer the questions and the lack of surveys. People end up missing survey invitations because the demand w
Still, many people like the 1Q app because it's an easy way to get some extra cash.
Tired of making pennies from your phone? Click here to discover how you can turn your passions into a 6-figure internet business!
Pros and Cons
Pros
Most surveys only take a few seconds to complete.
There is no minimum cashout threshold. You will get paid via instantly via PayPal as soon as you submit your answers.
You won't get disqualified.
It does not drain your battery.
You can participate even if you do not have a smartphone.
Cons
Low earning potential.
Push notifications not always work, in which case you will probably miss the opportunity.
Once you receive a notification, you should respond immediately as questions usually expire in less than 1 minute.
Questions can expire even after you answer them.
There are not many opportunities.
PayPal is the only payment option available.
1Q is only available in the UK, the US, Canada, and Australia.
How Does the 1Q App Work?
Install and register
If you want to join 1Q, the first step is to install the app from Google Play or App Store.
Next, you must provide some personal information such as postcode, birth date, gender, country educational level, and household income. Also, enter your PayPal email in order to get paid.
Don't forget to switch on push notifications to be alerted about questions. Without enabling it, you can miss a lot of questions and leave money on the table.
To enable notifications on your Android device, you have to enter Settings, select 1Q, and then activate "show notifications".
Also, the company advises you to enable location tracking to increase your chances of getting more questions. In the 1Q dashboard, tap on the red location pin and then "Allow".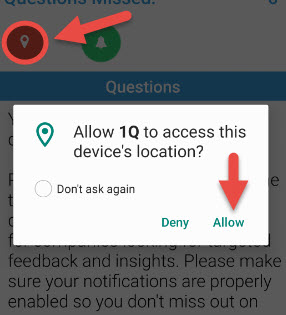 The cool thing about 1Q apps is that you can participate even if you don't have a smartphone.
In that case, you can sign up through the website and receive notifications via SMS.

Survey Notifications – Be Fast!
After creating your account, you will start getting survey notifications via text messages.
You have to be fast because once the companies (askverts) have received all the responses they want, they will close the poll.
Some questions reach the number of responses faster than others.
However, they usually expire in less than one minute, and you will miss the window of time if you don't act fast enough.
Some people report that questions can expire even after they have answered them.

This reward platform is going viral! Cash out via PayPal, Visa, Gift Cards, and in-game currencies - Click here to find out how to generate an extra $10+ per day! 
You can also check for questions through the 1Q app.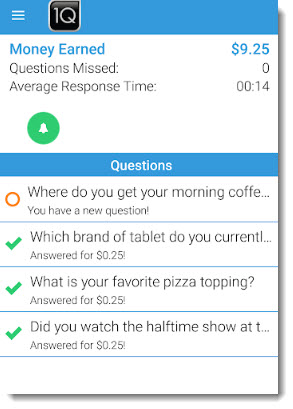 How Often Will You Get Questions?
Some 1Q members get more questions than others depending on their location and demographics.
After reading lots of reviews, I believe the average is 1 or 2 questions per week. However, several weeks can go by without any survey notification, which certainly disappoints many users.

To get more invitations, the company advises enabling location tracking and keeping your profile always up to date.
Answer the Questions
1Q stands out from other survey panels because you get paid $0.25 just for answering one simple question. Here is one example:
Most surveys consist of just 1 question, but if you are lucky, you may get multiple questions at once. For example, if you get 3 questions you will earn $1,50 ($0,25 per survey).
If you are familiar with online surveys, you know the frustration of getting disqualified after answering lots of questions. The good news is that the 1Q app will not disqualify you based on your demographics and interests.
If you receive a notification, that means you are have already been selected according to your profiling information. That's one key reason why lots of people think 1Q is much better than other survey apps.
The main downside of 1Q is that questions expire very quickly and you can miss the opportunity if you don't answer it in less than 1 minute.
Sometimes, your question can expire even while you are about to submit your answer. I think this can be detrimental to marketing research as respondents may rush to answer without even reading the questions.
How Much Money Can You Make? 
The amount of money you can earn with the 1Q app depends mainly on your location and demographics. For example, one person made $12 in one month while the other one reported $15 in 4 months.
From what I can see, you'd be very lucky to make a consistent $20 per month!
The truth is that no one can make a lot of money with 1Q because there are not many questions for everyone.
How Do You Get Paid?
Unlike most reward apps, you don't need to accumulate a minimum amount to cash out. You will receive an instant payment of $0.25 to your PayPal account after responding. The payment is almost immediate!
Does the 1Q App Respect Your Privacy? 
1Q promises to never share your personal data with anyone. Besides, all your responses are anonymous, which means that their clients cannot identify who answered a specific question.
If you read the privacy policy, you will find all the information regarding your personal data and your rights. From what I can see 1Q takes your privacy very seriously and strives to comply with either GDPR (General Data Privacy Regulations) and the CCPA (California Consumer Privacy Act of 2018).

Conclusion
The 1Q app is a decent app to earn a little extra cash from your phone.
Despite the low earning potential, it's worth downloading this app because it's literally free money. It only takes 5 – 10 seconds to answer the poll and earn $0.25.
The main issue with the 1Q app is the fact that people must be always alert and answer the question in less than 1 minute. Many people wish there were more surveys and that the window of time was longer.
If you are a regular reader of my blog, you know that I rarely recommend apps to make money online. Most of them are not trustworthy and will make you waste your precious time.
Today, I am glad that I finally found another app that you can trust. At least for now!
Verdict: Legit / Recommended
Is There a Better Alternative to 1Q App?
1Q is a great app but you can't earn a lot of money with it as questions are far and few between.
There are many popular survey apps such as Zap Surveys, Poll Pay, AttaPoll, and Curious Cat. Unfortunately, they all receive lots of complaints regarding payments, blocked accounts, and other issues.
Don't waste your time!
If you want to make more money with traditional surveys, I highly recommend this top-notch GPT platform. This is a reputable site where you can reach $100/mo not only by taking surveys but also by completing advertising offers.
It can be hard to qualify depending on your qualification answers and the survey router you choose. However, you will never run out of survey opportunities!
Earn a Full-Time Income From Home
With the economy going deep into recession, lots of people are trying to bring some extra income online.
Platforms like 1Q and Prizerebel can help a little but do not work miracles, so we need to look for better strategies.
In my opinion, affiliate marketing is one of the best business models available on the internet.
Affiliate marketers make thousands of dollars per month by providing helpful content and promoting other people's products.
Anyone with no special skills can start small and create a substantial source of income from home.
This excellent step-by-step program helped me set up a website, and attract a huge audience required to make money. Today, I have the opportunity to work anywhere, anytime I want from my laptop!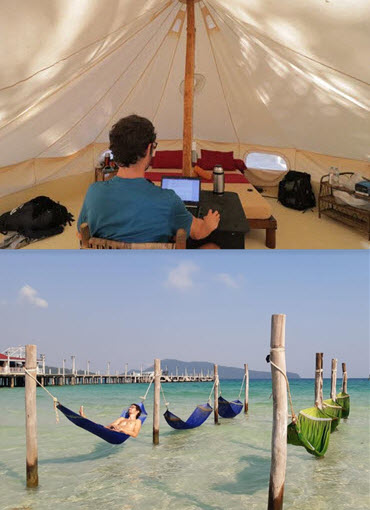 It takes time and consistent work, but when you finally achieve your online revenue goals, you will have the freedom that most people only dream of.

Wanna see how this business model works? Click here and check out my #1 recommendation.
Final Words
Thanks for visiting my blog and taking the time to read my 1Q App Review. I hope it was helpful!
If you have any questions at all, leave them in the comment section below. I am always glad to help. 😉
Stay safe and peace out!