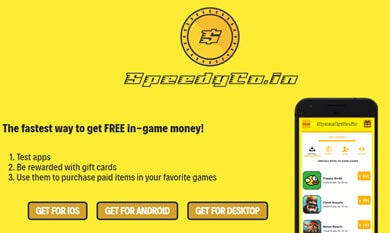 Welcome to my SpeedyCo.in app review!
Perhaps you were browsing Google Playstore when you found another reward application called SpeedyCo.in.
You can supposedly earn tokens (coins) for downloading apps, filling up surveys, and completing offers with this app. After collecting enough tokens, you can exchange them for various gift cards from Google Play, Steam, Playstation, and Xbox Live.
It seems like an easy and fast way to make money with your phone, but the problem is most app developers are greedy and won't let you cash out. So, before spending your time and energy completing surveys and offers, you need to make sure you are using a reliable platform.
In this post, I will reveal everything you need to know about the SpeedyCo.in app and give you my honest opinion. Can you trust SpeedyCo.in? Is it a scam or a legit app? Let's find out!
If you want to work remotely and earn a full-time income from home, check out my #1 recommendation. This program helped me reach $1,600/mo in online revenue and quit my job in 2019. No special skills are required!
SpeedyCo.in App Review
---
Name: SpeedyCo.in
Company: AdGobelin
Website: speedyco.in
Type: GPT (get-paid-to)
Membership Eligibility: Worldwide
Similar apps: Cointiply, appKarma, FeaturePoints, Cash for Apps
LEGITIMATE
Overall Rating:

1

/5
What is SpeedyCo.in?
---
SpeedyCo.in is a mobile application that rewards you for completing three types of offers:
Online surveys: Sharing your opinions with marketing research companies.
App installs: Download and use/play different mobile apps.
Free sign-ups: Sign up for websites
In addition to offers, users can also collect coins by inviting friends, spinning the wheel, and signing in for consecutive days.
Every time you complete an offer, you will earn Coins that you can redeem for gift cards for purchasing items on your favorite game platforms. Unfortunately, SpeedyCo.in does not process payments via PayPal, Amazon, or any other site where you can buy physical products.
Although SpeedyCo.in has been installed over 500,000 times, it's still off the radar of many 'make money online forums and blogs.
Unfortunately, the fact that the app has lots of installs or positive reviews doesn't mean Jack.
The reason is that app developers can artificially inflate the numbers by purchasing a review service from platforms like AppWare and Apperwall, etc. In that case, people get paid to install the app and provide reviews that are, in most cases, unthoughtful.
Who is SpeedyCo.in For?
---
Anyone over 13 years old can join SpeedyCo.in, and complete paid offers. However, I don't recommend this reward app for people who don't spend money on apps and games. The reason is that Speedyco.in only processes gift cards from Google Play, iTunes, and popular game platforms.
The SpeedyCo.in app is available worldwide, but the number of offers varies significantly between countries. For example, users from the US find more opportunities than people living in the Philippines.
Is the SpeedyCo.in app legit?
---
I cannot claim that Speedyco.in a scam based on my information. But, nevertheless, you should know the company doesn't guarantee rewards. Besides, they can block your account for any reason and without any explanation.
If you check the Terms and Conditions, you will see a statement that proves what I am saying. It says:
Termination: "The company may terminate your access to the service or your membership at any time, for any reason, and without warning, which may destroy all the information associated with your membership."
Disclaimers: "The company cannot and does not guarantee any specific results from the use of the service."
If you check the review section on Google Play, you will see many complaints about payments, blocked accounts, missing coins, and technical issues. Some people have been waiting for the gift card code for over two months. Many people complete tasks and don't receive any coins.


One user claimed that SpeedyCo.in didn't reward him for all his completed tasks. What's worse, when he finally requested the payment after six months, he didn't get his gift card.
The company replies to these negative reviews with the same automated message "for technical problems, contact the support team at [email protected]."
This shows me that the company is not willing to help users transparently. Who knows if the company is solving all these issues behind the scenes?
Another thing that worries me about SpeedyCo.in is that they do not provide the Terms of Service nor Privacy Policy on the homepage. You can only gain access to the ToS after you install the app.
Pros and Cons
---
Pros
There are lots of offers depending on your country.
It's available worldwide.
 Cons
Low earning potential.
It takes a long time to cash out.
You can get banned at any time and for any reason.
You may not receive coins after completing surveys and offers.
There are no cash incentives via PayPal or Amazon gift cards.
There is no access to Terms and Conditions available via the homepage.
It's not available on iOS devices.
 Installation and Registration
---
The Speefyco.in app is available on Android devices and desktops. After installing the app, sign up using your Facebook or Google account. If you enter an invitation code, you will collect a bonus of 10 coins.
Keep in mind that you must complete at least two offers to validate your SpeedyCo.in account. Once your account is activated, you are ready to collect coins.
How Much are Coins Worth?
---
You can exchange 2000 coins for a $10 gift card in most countries. That means every coin is worth $0.005 (half of a cent).
How to Earn Coins?
---
You will see three sections to complete offers on your dashboard: Install, Survey, and Sign.
Install
When you log in to your account, you will see a list of apps with the number of coins that you will earn. However, most app offers require that you not only install the game but also play and reach a certain level. So, it takes time to claim your coins.
You can expect to earn anywhere between 100 and 250 coins for each offer you complete in this section. Of course, you should only install games you have never played before, otherwise, you won't receive coins.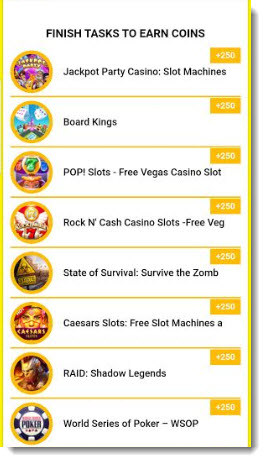 Surveys
This section will find some survey routers that connect you with different marketing research firms. Most surveys at SpeedyCo.in take 15 – 20 minutes to complete and pay less than 250 points ($1.25).
Before filling up paid surveys, each company will ask you a few demographic questions such as your age, marital status, education level, and household income.
Then, you will answer qualification questions to filter for the right candidate for a particular study. If you are a suitable match, you will continue with the survey and receive the coin at the end.
Otherwise, you will be redirected to another survey and give it another try. Sometimes you can spend half an hour trying to qualify with no luck. Completing surveys can be a very tedious and frustrating activity. If you don't want to waste your time with survey disqualifications, check out the 1Q app.
Sign
This section has a list of offers where you earn coins just by signing up with GPT (get paid to), survey panels, and other websites. You will also find short quizzes that will give you between 60 and 120 coins.

This reward platform is going viral! Cash out via PayPal, Visa, Gift Cards, and in-game currencies - Click here to find out how to generate an extra $10+ per day! 
Invite Friends
Every user has a unique referral code that they can share with friends. All you have to do is send your code to your friends so they can enter it when registering to SpeedyCo.in.

As a result, you will get bonus coins once your friends complete their first two offers.
Oddly enough, SpeedyCo.in doesn't tell members the exact bonus that they will get per referral. So why would I promote the app without a specific commission agreement?
Lucky Spin
You will see the lucky spin at the top of your screen. Each spin will cost you 50 coins, and the only prize you can get is 100 coins.
I suspect that these spin wheels on mobile apps are always rigged to make you lose in the long term. For example, one user said he used SpeedCo.in for five months and never got 100 points on the lucky spin.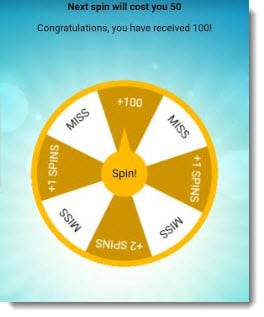 How Do You Get Paid?
---
Once you have at least 2000 coins, click on the gift icon, select your country, and your preferred gift card. Unfortunately, there are only five options that you can choose from: PlayStation, Xbox, Google Play, Steam, and iTunes gift cards.
Now, you should rely on the goodwill of the developers, who can decide between processing your payment or making more profits.
Conclusion
---
After testing and reading lots of user reviews, I cannot recommend the SpeedyCo.in app. Don't waste your time with this app because you won't get paid!
Verdict: Not Recommended
Is There Any Alternative to SpeedyCo.in?
---
You don't want to waste your life away completing surveys and offers only to make app developers richer. That's why you must do proper research to identify the platforms that have a long track record of paying members.
I highly recommend Prizerebel, which works in any device via your internet browser. This top-rated GPT site has been around since 2005 and has a solid reputation.
I don't think there is a similar app that you can really trust, but Cointiply seems to be the least bad option. You can also try appKarma and Cash for Apps.
How to Make a Full-time Income From Home
---
If you are serious about making a full-time income from home, apps like SpeedyCo.in should be on your blacklist. You need something effective and scalable that works for you, not against you!
The time completing surveys and offers could be better spent building your own online business, which has the potential to earn you thousands of dollars per month.
Yes. It takes time and hard work, but you can start small and eventually earn enough money to cover all your living costs. Think about what your life would be like if you had an alternative source of income without depending on a job!
In 2015, I joined this excellent step-by-step program that helped me build a successful affiliate site and generate over $1,600 per month.
Many affiliates are making 5x or 10x more than me because they started earlier and put in more effort. They deserve it!
I really like this type of business because the more you put into it, the more you get out of it.
But, unfortunately, we have 24 hours in a day, which is why you should apply the right strategies effectively.
>> Click here to discover my #1 recommendation and start your own online business.

Final Words
Thanks for taking the time to read my SpeedyCo.in app Review. I hope it was helpful!
If you want to share your experience using this app, please leave your comments below. I am also ready to answer all the questions you may have! 😉
Stay safe and peace out!