Welcome to my PocketFlip app review!
The creators of PocketFLip are enticing you to download their app, complete simple tasks, and earn free rewards from your phone. Whenever you complete a task, you will earn digital currency (coins) that you can redeem for a variety of gift cards.
With PocketFlip, you can collect coins by completing location-based missions, taking surveys, downloading apps, and more!
In this review, I will explain how PocketPlip works and give you my honest opinion about it. Is it a scam or a legit app? Will you get paid for your time and effort?
If you are serious about making money online,  check out my #1 recommendation. This program helped me reach $1,600/mo in online commissions and quit my job in 2019. No special skills required!
PocketFlip App Review
---
Name: PocketFlip
Company: Cashday Ltd
Website: pocketflip.net
Minimum Payout: $5
Eligibility: Worldwide
Similar apps: Bituro, Make Money App, Cash Alarm
Overall Rating: 1.5/5
What is PocketFlip?
PocketFlip is advertised as the top app for earning free rewards. As a member, you can get coins by filling up surveys, downloading apps, completing location-based tasks, and shopping.
You can also collect free coins by sharing your referral link with friends. Whenever someone joins PocketFlip through your link, you will earn a percentage of all the coins they earn.
The platform provides tasks only for residents in the US, the UK, Canada, Australia, and a few European countries. However, users from other countries can download the app and collect coins by inviting friends.
PocketFlip has become very popular recently as more and more people are trying searching for extra income online. As of writing, the application has been installed 500,000 times on Google Play.
Is PocketFlip Legit? Does it Pay?
I have no proof to call PocketFlip a scam, but I would like to warn you about the number of negative reviews on Google Play.
Lots of people are upset with the app because they don't receive coins after completing tasks. Also, many users complain that PocketFlip rejects their gift card requests.
According to the FAQ, sometimes the company gets cheated by advertisers who don't pay them for the offers you complete. In that case, the app developer won't take money from their own pockets to pay you. That's the problem!
Unfortunately, the developers don't bother responding to reviews on Google Play. We don't know if they are also ignoring email inquiries because some people report that support doesn't reply to their emails.
On the other hand, I found some positive reviews saying that PocketFlip paid with no issues, so there is still a bit of hope.
Another red flag that I identified is the fact that a UK-based company called Cashday Ltd was dissolved in 2018. If that one is the company that created PocketFlip, then the developers may be operating under a company name that does not exist.
Although we cannot call Pocketflip a scam, it's important to know that there is no guarantee that you will receive your gift card. In other words, you can waste your time completing tasks only to make the developers richer.
That's the case with most reward apps these days, so it's up to you to take the risk.
Pros and Cons
Pros
Easy way to earn coins.
There is a wide variety of gift cards.
No registration required.
The minimum payout is just $5.
Cons
You may not get coins after completing tasks.
Low earning potential.
There are not many tasks depending on your country.
The app doesn't process cash payments.
It's not available Worldwide.

How Does PocketFlip Work?
Installation and Registration
The PocketFlip app is available on Android and iOS devices. You can download it for free on Google Play or App Store.
Different from most reward apps, you don't need to register to gain access to tasks. Pocketflip will only collect your IP and your unique device ID when you download and use applications. However, these are not used to identify you.
It's important to read the terms of use to make sure you are not breaking any rules. For example, if PocketFlip detects many devices from the same household (same IP), they will temporarily block your account.
How Much are Coins Worth?
It depends on your country. If you want to know the exchange rate, enter the reward section, and select your country.
In the US, you can exchange 5400 coins for a $5 Visa prepaid card or Amazon gift card. In the UK, you can redeem 9800 coins for a £10 Amazon gift card.
How to Earn Coins
When you open Pocketflip, you will see the reward page.
Click on the "Start Earning" button to find a list of different tasks such as online surveys, app installs and offers. Then, simply select the task, read the offer description and follow the instructions.
Learn more about the different task categories below.
Download Applications
The most common type of task is to download and try different applications. You may have to download and play a game for a specific amount of time or until you reach a certain level.
Or, you may be asked to download an app, register and use it for a specific period.

For example, an offer required users to download a VPN app and run for 30 seconds.
Here are some offers that were available when I was testing Pocketflip.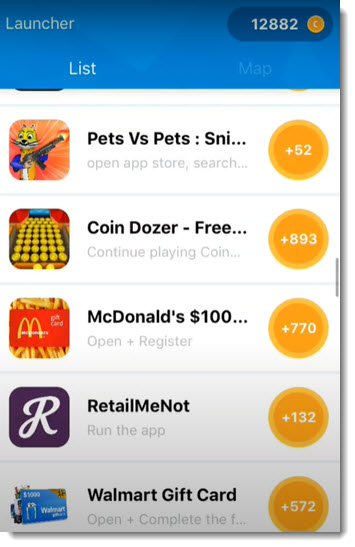 To receive your coins, you must follow all the instructions carefully and wait. When all the requirements are fulfilled, you will receive a notification saying 'Good job, you have completed the offer'.
When you go back to the PocketFlip dashboard, you just have to click on the "Collect Coins" button. If you don't receive this notification, contact the company via email and submit proof that you followed all the instructions.
What I like about Pocketflip is that they will show you the percentage of people who got credit for completing a task. This is good because it helps users decide which offers are worth doing! I recommend tasks that have at least a 50% success rate.

This reward platform is going viral! Cash out via PayPal, Visa, Gift Cards, and in-game currencies - Click here to find out how to generate an extra $10+ per day! 
Complete offers
You can earn coins by accepting offers from advertisers, which involves signing up to websites, subscribing to free trials, and entering sweepstakes.

I suggest avoiding offers that require a deposit. Stick with free offers so you don't risk losing money in case the app doesn't let you withdraw the money.
Complete surveys
With PocketFlit, you can also take part in marketing research studies and collect coins by filling up surveys.
Answering simple questions is easy, but the problem is that it's hard to qualify for surveys as companies are always looking for a specific group of people.
You may not qualify depending on your age, gender, household income, education level, etc.
If you hate getting disqualified, maybe you will like the idea of making $0.25 per question with this survey app. 
Location-based tasks
In the map section, you can find location-based tasks near where you live. Your job is to report on the availability and visibility of products. They will ask you to visit a local store, take photos of products, and answer a few questions.
These tasks usually pay more than surveys and offers. However, Pocketflip won't hesitate to reject your mission if you make a minor mistake, so pay close attention to detail.
Unfortunately, there are very few tasks even in cities like London and Los Angeles. If you want to provide in-store insights for local stores, I recommend this excellent secret shopping app where you will certainly find more opportunities.
Invite Your Friends
In the task section, you will find one called "Invite your Friends". If you know someone who might want to install PocketFlip, all you have to do is give them your code or share your invitation link.
Another option is to create a YouTube video or write a blog post about Pocketflip with your referral code.
If someone joins Pocketflip as your referral, they will get 100 coins and you will get up to 1000 coins plus 50% of the coins they earn.
Regular Giveaways
According to the website, PocketFlip organises regular giveaways for their active users. However, I didn't see any information about prize draws in the app.
I have recently reviewed this decent app specialized on giveaways.
How Much Money Can You Make?
As the name suggests, you can only expect to earn pocket money with PocketFlip. Most tasks will pay you a few cents, which adds up very slowly.
Depending on how the type and number of tasks you complete, you can reach $5 within 1 – 4 weeks.
In some eastern European countries, you will find very few tasks, making it very difficult to cash out.
How do You Get Paid?
Once you accumulate enough coins, you will be entitled to cash rewards such as Visa debit card, Amazon, Steam, Xbox, iTunes, and Google Play Gift cards.

After you submit your reward request, processing usually takes less than 24 hours. However, it can take up to 3 days on weekends and vacations. When your reward is ready, you will receive a push notification.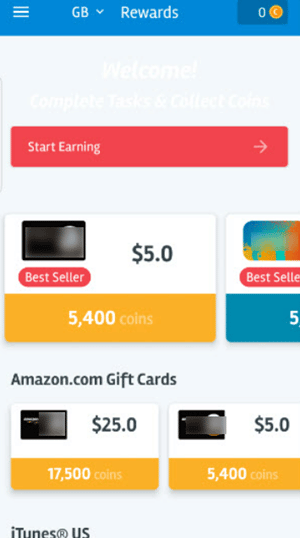 Conclusion
Over 95% of apps I reviewed on my blog have a track record of missing points and payments.
With PocketFlip, it's no different! Lots of users are disappointed with this app because they don't receive the coins after completing tasks.
When there are missing points or payments, app developers don't usually reply to users. So, there is nothing you can do to claim the points you deserve.
The app offers a simple way to make money, but it takes time and luck to get paid. Another downside is that tasks are only available in a few countries.
In the next section, I will show you a few alternatives you can use to complete the same type of tasks and get paid via PayPal or gift cards.
Is There a Better Alternative to PocketFlip?
As you probably know, there are lots of reward apps like PocketFlip such as CashApp, FuturePoints, Bituro, and Cash Alarm.
It's difficult to choose between these apps because none of them works well for everyone. In fact, they all get lots of complaints!
If you want to complete simple tasks from your phone or desktop, one of the best platforms you can use is Prizerebel. This is not an app, but it's 100% mobile-friendly.
One of the main reasons I recommend this GPT platform is that it has a long track record of paying users since 2007. Not only that but you can cash out via PayPal, gift cards even Visa credit card.
How to Make a Full-Time Income Online
In 2015, I got fed up with completing third-party offers and surveys in return for pennies. In the same year, I discovered a much better strategy to make money online called affiliate marketing.
My job is to provide helpful content and promote other people's products through affiliate links. There are lots of successful affiliates generating over $10 K per month in commission!
What I love about this business is the possibility of working whenever and wherever I want. Also, not relying on a job to pay the bills is liberating!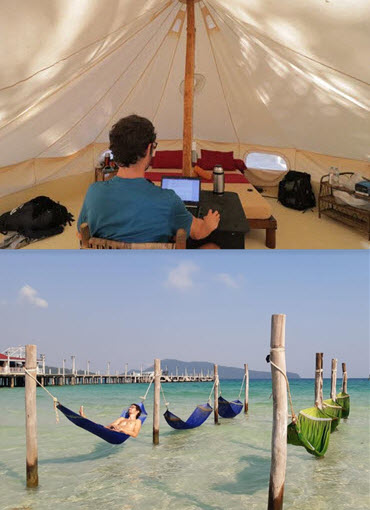 It takes time and effort to earn a substantial amount of money, but if you stick to a clear plan of action, you can achieve great results within a reasonable timeframe.
Think about it. People study hard for 4 years to prepare for the job market! Why not grow your own internet business for 1 – 4 years so you can never depend on a job for the rest of your life?
If the 'laptop lifestyle' appeals to you, check out my #1 recommendation and start working for yourself today!
Final words
Thanks for taking the time to read my PocketFlip app Review. I hope it was helpful!
If you have questions, feel free to ask in the comment section below. I am more than glad to help!
Stay safe and peace out!