This post contains affiliate links. For more information, visit our Affiliate Disclosure.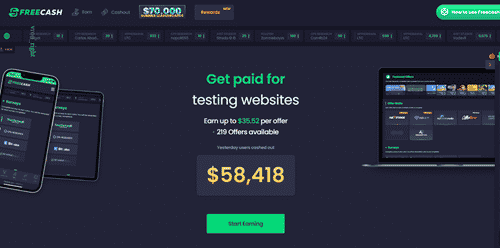 Welcome to my Freecash app review!
I have recently found a new reward app that claims the average member makes $17 per month. 
Its name couldn't be more attractive – Freecash!
Another thing that caught my attention about this application was the possibility of withdrawing as little as $0.10 via Bitcoin.
That's remarkable since most platforms set high payout thresholds to encourage users to complete more tasks.
The result? Many people who quit before reaching the target don't get paid.
So, I was excited to put Freecash to the test and see if it's worth the hype. Is it legit or fake? Will it transfer the money or not?
Let's find out!
Before leaving this post, don't forget to check the step-by-step program that helped me generate over $2,000 per month and quit my job in 2019. Free membership is available here! 
Freecash Review
Full Name: FreeCash
Company: Almedia UG
Eligibility: Worldwide
Payout threshold: $0.10 (Bitcoin via Coinbase)
Price: Free
Overall Rating:

4.3/5
What is Freecash?
Freecash is a GPT site and app that pays you to play games, answer surveys, and complete offers.
GPT stands for "get-paid-to" and refers to problems that allow users to complete simple tasks for cash rewards.
Launched in 2020, Freecash is one of the fastest-growing reward apps on the internet, and here is why:
It has one of the highest payouts in the industry and offers a variety of payment methods, including PayPal, gift cards, and cryptocurrency.
The Almedia UG operates the platform and its app has been installed over 100,000 times.
Simply launch the application, select the task, and follow simple instructions!
It's important to note that you cannot rely on Freecash as your primary source of income. But if you need extra cash, you can use the app in your spare time to help pay the bills.
The Freecash Success Stories!
I'm beyond excited to share some thrilling results from my journey with Freecash.
First, a huge shout-out to the dedicated community of over 4,500 individuals who joined Freecash through my referral link.
And guess what? Some made HUNDREDS and even more than $1,000! I'm not joking!
I have the screenshot of my referral's page to show you.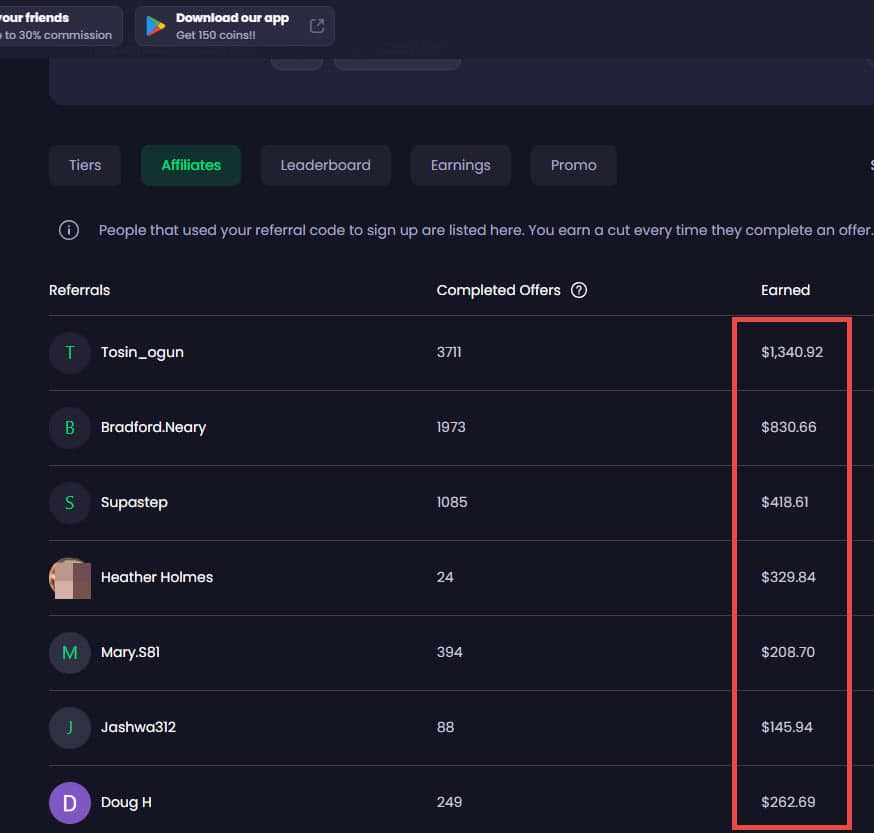 Those who put in genuine effort are reaping substantial cash rewards.
The takeaway? If they can do it, so can you!
> Install Freecash and Start Earning Today!
How Does Freecash Work?
Installation and Registration
If you want to complete tasks on the go, install the application on Google Play and create a free account.
You may also work from your laptop through the official Freecash website (freecash.com).
Signing up with Freecash is pretty straightforward! Click "Sign Up" and enter your email, username, and password.
You can also register using your Google or Steam account with just one click.
Welcome Bonus
As soon as you enter the platform, you will get a free case with a specific cash reward of up to $250.
To activate your welcome bonus, enter a referral code or type "free." Here is my code: 33717434. 
The chances of winning more than $2.50 are very slim. Also, I wish Freecash would be more transparent by providing the odds of winning different prizes.
I won $0.25, which is not bad considering I didn't have to complete any task.
The good news is that you'll get three more cases if you earn at least 1000 coins in the following 48 hours.
Coins vs. Rewards
Freecash will award you coins every time you complete a task. The exchange rate is $1 = 1000 coins. 
Depending on the offer, they may take a few days to credit into your account.
Freecash surprised me with its wide selection of payment methods.
Members can withdraw their funds via PayPal, Crypto (BTC, ETH, Litecoin, and Dogecoin), Visa debit cards, Amazon, gift cards, and even skins for ROBLOX League of Legends and Fortnite.
Another great perk is that users can cash out once they reach $0.10. So, you can request the payment without completing any task!
However, this low threshold only applies to Bitcoin withdrawals made through Coinbase.
It feels like a steal, but no… It's basically free cash given away as an incentive.
As for PayPal and gift cards, the minimum is $5, which is still low compared to other GPT sites.
The downside of Freecash is that it charges a 5% fee on PayPal transactions. That's a bummer for members who are not into crypto or gift cards.
How Do You Get Coins?
Freecash has partnered with leading companies in the marketing and advertising industry to give you a decent number of tasks.
Simply open the "Earn" tab and choose the ones you wish to complete.
Offers
Freecash provides a list of the most completed tasks in your country. This is an excellent place to start!
Most of them require you to install an app on your phone and create a free account.
Below the featured offers, you will find the different advertising platforms known as Offer Walls.
Hundreds of tasks are on each wall, so you'll never run out of opportunities to earn coins.
There are seven options listed in descending order of popularity:
Adgem
Adgatemedia
Aye Studios
lootably
Revu+
Offertoro
Wannads
I praise Freecash for helping members focus on those that give them better results.
Each wall receives a score from 1 to 100 based on the volume of recent payouts in your country. That's sweet!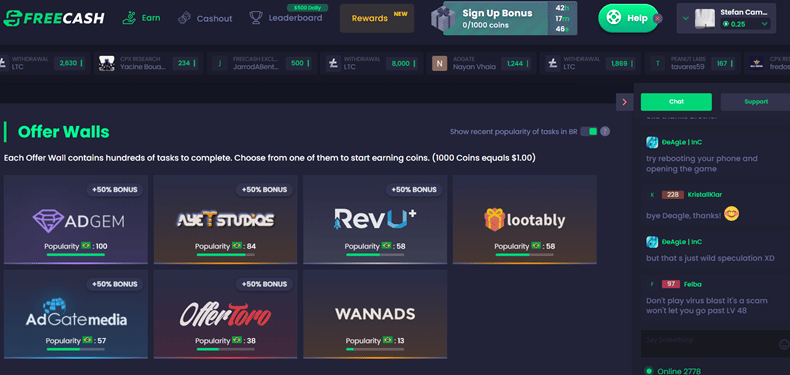 Members can earn coins by sharing their opinions, installing apps, subscribing to free trials, playing games, etc.
Choose a task from any network and read the instructions before starting. Then, complete all the requirements to receive the coins.
For instance, I came across an offer that required me to join another GPT site called Zoombucks and earn 3000 points ($3) in under 5 minutes.
Paid offers can help you earn more coins, but you must ensure they are worth your time and money.
Surveys
Freecash connects members with marketing research firms so they can collect coins by sharing their opinions.
You will access all surveys after selecting the provider and answering a few profiling questions.
Then, choose the survey based on the cash reward, the estimated completion time, and ratings.
The average survey in the United States pays between 500 and 1000 coins ($0.50 – $1).
Many people hesitate to complete surveys because they are concerned about privacy and identity theft.
Freecash ensures your data remains anonymous by keeping them in aggregate format.
In other words, no one can identify you based on your survey responses since it gets mixed up with data from other panelists.
The downside of surveys is that you might be screened out halfway through and waste time. It can be very frustrating at times!
I doubt many companies are trying to get free information from you to increase their profits.
Unfortunately, that's how the vast majority of survey panels work.
Surprisingly, there is one survey app that won't waste your time with disqualifications. Check out my 1Q app review!
Referral Program
Another opportunity to earn more coins is sharing your affiliate link with friends. For example, Freecash will give you 5% of all your referral earnings.
That's very low compared to most GPT sites that pay at least 10%. For example, this excellent GPT platform pays me 32% of referral earnings!
I realized you could earn more money by promoting Freecash through a CPA network called Mylead.
CPA (Cost-Per-Action) is a payment model in which you receive a commission if someone completes a specific task after clicking on your affiliate link.
This CPA network pays $7.65 when customers collect their first 2000 coins.
To promote the app through Mylead, you must create a free account, apply for the offer, and share your link.
Is Freecash Legit? Does it Pay?
Yes, Freecash is a legitimate platform for earning some extra cash online.
The platform is easy to navigate and provides hundreds of tasks across several offer walls and survey routers.
Members make decent money or crypto by completing high-paying offers and surveys.
However, not everyone has had a positive experience with the platform.
Many people complained that Freecash banned them for allegedly violating their terms of service.
The company sometimes claimed the user created multiple accounts despite denying it.
I don't believe GPT sites would ban users without a good reason. But who knows?
Another common issue is that it can be hard to qualify for surveys since each marketing study looks for specific demographics.
For example, a company may be willing to hear only from people from a specific age group and occupation.
It's important to understand that Freecash only works as a middleman and, thus, is not responsible for survey qualifications.
From my experience, the average user of GPT sites earns much less than $17. The main reason is that most tasks pay very little money and are time-consuming.
However, there are other factors to consider, such as your location, profile, and the types of offers you are willing to complete.
Pros and Cons
Pros
There are many offer walls listed in descending order of popularity.
Earn up to $17.25 per offer.
Withdraw via PayPal, Crypto, gift cards, and in-game currency.
The payout threshold is just $0.10
There is a live chat to request support 24/7
After creating an account, you can win anywhere between $0.05 and $250.
You can complete tasks either through the Freecash app or a web browser.
Cons
The affiliate program pays only 5% commissions.
You need to pay a 5% fee if you want to cash out via PayPal.
Conclusion
Freecash is still a newborn compared to well-established names like Swagbucks and Prizerebel.
Nevertheless, the platform looks promising and is now a strong competitor.
There are many offer walls, so rest assured you will never run out of tasks.
The 5% referral commission is very unattractive compared to other GPT sites. I assume Freecash sacrifices its referral program to pay more for surveys and offers.
You can make more than $17 daily, but only if you complete specific offers or invite hundreds of people.
Freecash is an excellent reward platform to earn a side income whenever and wherever you want.
But if you are searching for more lucrative strategies to help you earn a job-replacing income online, check out my top recommendation here!
Final Words
Thanks for reaching the end of my Freecash review. I hope this post has been informative and helpful!
If you have any questions or want to share your opinions about this app, use the comment box below.
Peace!