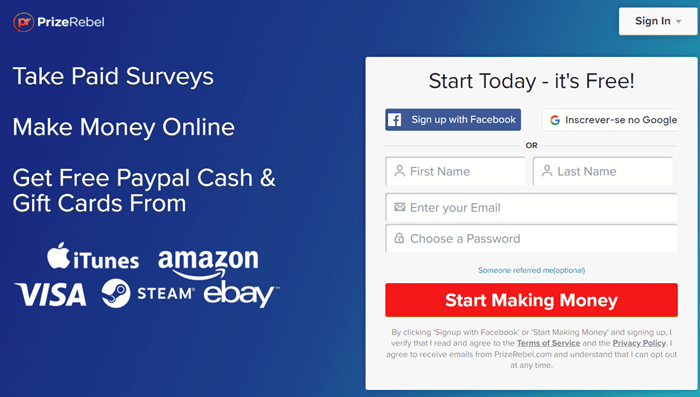 Welcome to my Prizerebel review!
This post contains affiliate links. For more information, visit our Affiliate Disclosure.
Want to supplement your income without breaking a sweat from the comfort of your home or on the go?
There are many opportunities at your fingertips, but there is nothing as simple as joining a GPT (get-paid-to) site like Prizerebel.
In a nutshell, Prizerebel pays members for sharing their opinions, completing sponsored offers, downloading apps, watching videos, and more!
Joining this platform is easy and doesn't require an app on your phone to benefit from their rewarding activities.
Simply visit the website here, create a free account, and browse the earning section with several Offer Walls and survey providers.
Although it provides a convenient way to earn extra cash, you certainly won't be able to earn enough to quit your job.
However, you can realistically make $1,000 per year on the side if you put in the work every other day. Click here and start earning today! 
If you would like to join this site, be sure to read my comprehensive review, where I explain in detail how it works, how much money you can make, and more!
​PrizeRebel Review
Platform Name: PrizeRebel
Website: prizerebel.com
Business Type: GPT
Payout Threshold: $5 (5,000 points)
Recommended? Highly recommended
Overall Rating:

4.7/5
What is PrizeRebel?
PrizeRebel is a huge GPT (get-paid-to) site that allows you to earn money by taking surveys, downloading apps, playing games, watching videos, and more!
The site was founded in 2007 by a former survey taker who envisioned a better platform for panelists.
During the last 14 years, Prizerebel has welcomed over 10 million members and paid out over 21 million US dollars in cash rewards.
The platform connects you with several marketing research firms that want to gather insights about products and services. This industry is HUGE!
>> Join Prizerebel for Free and Start Earning! 
On top of that, Prizerebel has partnered with many offer walls so you can get paid to try new apps, digital services, and more.
As with most GPT sites, it features a referral program where you can earn a percentage of what other people earn.
So, let's say you send your affiliate link to your friend via WhatsApp. He clicks on the link and joins Prizerebel.
In that case, you will earn between 10 and 30% of your earned points. That's awesome!
With this strategy alone, I generate over $300 per month without taking surveys or accepting offers.
Click here to discover the step-by-step program that helped me build this referral machine and earn passive income.
​Pros and Cons
Pros
Free to join.
High payout rates compared to other GPT sites.
Large survey inventory.
Low payout threshold.
It offers the highest referral program rate.
Get paid via Paypal and gift cards
Earn survey disqualification points.
It's available worldwide
Cons​
Depending on your profile, it's tough to qualify for surveys.
You are still trading time for money.
Opening an Account With Prizerebel
---
Prizerebel is open for residents in most countries, but you must be at least 18 years old to use the platform.
If you are between the ages of 16 to 18, you can also join Prizerebel with the permission of your parents or guardians.
You can create a free account in under 10 seconds by providing your name, email address, and password.
Alternatively, you can sign up using your Facebook account with only one click, which is so convenient!
I'd suggest using an alternative email when signing up for any reward website, as you may receive promotional emails and survey invitations.
Remember that you cannot collect points using a VPN (virtual private network). That's because survey firms and advertisers create tasks targeted to a specific location.
Activating your VPN can flag you as a member trying to bypass geographical restrictions. As a result, the platform can blacklist your account and block your access to surveys and offers from a particular provider.
​Points & Rewards
---
You can collect points whenever you complete a task for advertisers and marketing research companies.
These tokens are traded in for PayPal cash, Visa Prepaid, or various gift cards from Amazon, iTunes, Walmart, and more!
​Unlike Swagbucks, the conversion rate is pretty straightforward!
Regardless of your payment method, 1 point always equals $0.01. As such, you will get $1 for every 100 points.
Now that you know how the point system works, let's look at the most common tasks that will help you reach the minimum payout threshold.
Earning Prizerebel Points
Online Surveys
I believe the best way to amplify your Prizerebel points is to engage in marketing research studies.
The advantage of using Prizerebel is that you will always find many survey opportunities from different companies.
Here is a list of some of the leading survey companies you can choose to work with:
Toluna
Cint
Your Surveys
Sayso4good
Precision Sample
And many others
After choosing the survey provider, you must answer a few profiling questions.
The profiling survey collects key demographic information, such as age, gender, occupation, etc.
Once you apply for a survey, you should also expect to answer some screening questions to see if you satisfy all the study requirements.
Unfortunately, you will not be eligible for every survey opportunity, so the company will reject you after answering several questions.
Prizerebel will show you the estimated survey completion time and reward.
Usually, longer surveys award you more points, but as you can see from the examples below, that's not always the case.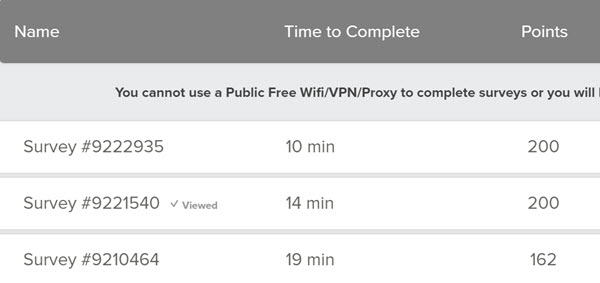 For example, the first survey is supposed to last for 10 minutes and awards $2 (200 points). In that case, the hourly wage is $12/hour, which is fantastic!
As for the third survey, the hourly wage is not even $5/hour.
To increase your earnings, always calculate your hourly wage and prioritize surveys that pay more.
​
Offers
As I mentioned, Prizerebel has partnered with third-party platforms (Offer Walls) where you can complete different types of offers.
Here is a list of the offer walls you will find in the member's area.
AdGate
Adscend
Persona.ly
OfferToro
Superrewards
RadiumOne
Pay close attention to the small print when completing offers.
Some of them will entice you to give your credit card details and subscribe to a free trial.
If you forget to cancel the agreement, they will automatically charge you for the product or service until you cancel your subscription.
Many people forget they subscribed to membership and will be charged monthly.
So, if you are willing to complete this type of offer, set up an alarm to remind you that you must cancel the subscription before the trial ends.
You should also understand how sweepstakes offer work.
These offers always ask for your email and phone number to enter a prize draw.
Once you tick the box, you accept receiving marketing calls and emails for the rest of your life unless you unsubscribe.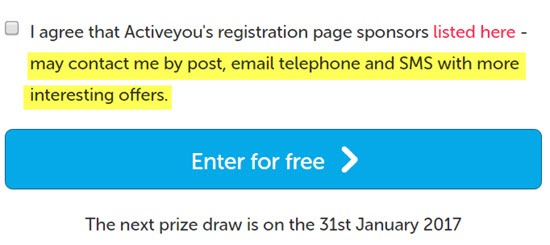 Thanks to GDPR, Europeans have the right to delete their personal data.
Also, they can participate without granting advertising consent, usually by emailing the advertiser. I have seen this option on many offers here in the UK.
If you live outside Europe, you may not see this option as companies don't need to comply with GDPR.
As you can see, you need to be very organized and read the terms and conditions carefully before completing offers.
At Prizerebel, you will find less intrusive offers that only require signing up for a survey panel or another reward platform. Those are 100% free!
​
Videos 
The easiest way to collect points at Prizerebel is by watching entertaining videos from a third-party provider called Hideout.tv.
First, sign up with Hideout.tv and link it to your Prizerebel account. It takes less than 1 minute! Then, choose your favorite channel and start watching.
You can expect to earn only a few cents even if you keep the video playing for 24 hours.
Micro Tasks 
​You can also complete micro-tasks provided by a company called Figure Eight.
Figure Eight is a crowdsourcing platform where you can complete easy tasks such as tagging, categorization, product data digitalization, and more!
You need to be fast and maintain a high accuracy rate to increase your badge level.
Users at higher levels get access to more tasks and better pay rates.
​
The Daily Challenge
The Daily Challenge allows you to earn a small bonus whenever you collect a specific number of points within a short period.
There are many levels!
To get 10 points on level 1, I had to reach 124 points in 12 hours. So, it's an extra incentive!
Account Levels
---
Prizerebel has five different account levels based on your total points earned.
These are Bronze, Silver, Gold, Platinum, and Diamond.
Higher levels will give you valuable perks such as:
Higher referral commissions.
Automatic Prize Processing
Special bonus
Prize discount.
Here is a table of points requirements and all the benefits of each account level:

​Referral Program – Earn Passive Income
---
Another great way to make money with Prizerebel is by inviting people to join the platform using your referral link.
People become your referral when they join Prizerebel after clicking on your unique link, which you can find in the "Invite" section.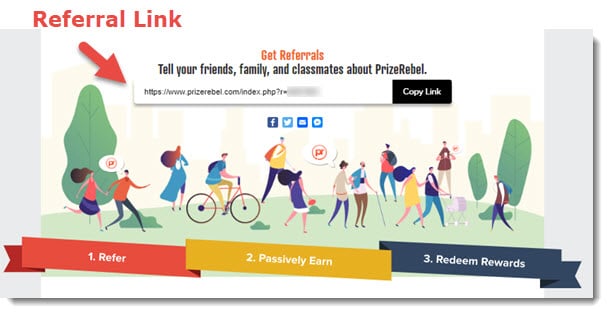 As a result, you will earn 20% on all your referral earnings for life! 
What's exciting is that the more people you invite, the more money you will earn on autopilot.
As I mentioned earlier, I currently have over 100 active referrals generating over $150 per month in passive income.
Now, you are probably wondering…
How can you invite so many people? The best way is to build a website or blog and recommend this platform to your readers.
First, you must attract a large audience to your site, which takes months of hard work.​ So, don't expect overnight results.
There are significant advantages and endless earning possibilities in promoting various platforms for revenue.
It is certainly worth pursuing this business strategy!
​How Do You Get Paid? 
Quick and Convenient
One of the standout features of Prizerebel that I absolutely love is its prompt payments and incredibly low cash-out thresholds.
One of the standout features of Prizerebel that I love is its prompt payment.
In fact, all reward claims on Prizerebel are completed within just 24 hours.
But if you're a Gold level member, your rewards will be processed lightning-fast – under 10 minutes! 
As a gold member for years, I can confidently vouch for their efficiency.
Every time I requested a payout, it landed in my Paypal account in just a few minutes. Talk about reliability!
It's important to emphasize that Prizerebel boasts one of the most user-friendly requirements among Get-Paid-To (GPT) platforms.
A Generous Threshold for Amazon Lovers
Take Amazon Gift Cards as an example. With just a 250-point balance, you're eligible for a payout!
That's equivalent to 2 GBP, marking it as one of the lowest cash-out thresholds in the GPT industry.
Multiple Cash-Out Options at Your Fingertips
But wait, there's more! Whether you're looking to cash out through Paypal, Visa card, or Amazon gift cards again, a modest 500 points is all you need.
And that instantly translates to a cool $5 in your pocket.
The range of gift cards available can vary depending on your location.
For instance, if you're in the UK, you're in for a treat.
From esteemed brands like Waitrose, Halfords, Marks & Spencer, to Tesco, and many more – there's something for everyone.
Game On: Rewards for the Gaming Enthusiast
And to all the gamers out there, Prizerebel hasn't forgotten about you.
Rack up your points and trade them for $10 gift cards from gaming giants such as Roblox, League of Legends, Steam, Nexon, and even Google Play.
Riding the Crypto Wave with Prizerebel
For those riding the crypto wave, Prizerebel's got something exciting too!
Gather 1940 points, and you can get yourself a $20 free Bitcoin voucher from azte.co.
Earning Proof
---
I cash out almost daily because I have thousands of referrals. Here is a screenshot of all my recent PayPal payments: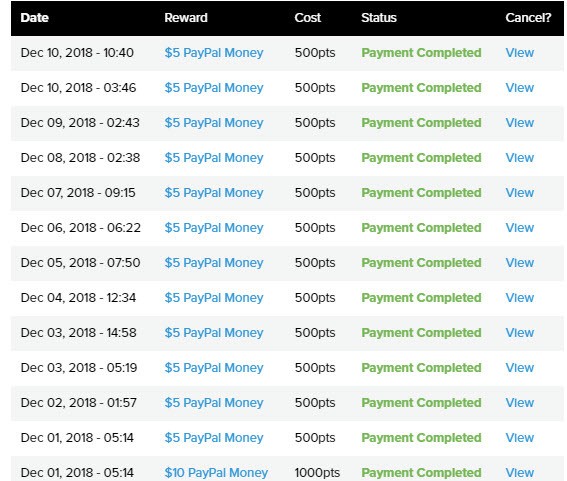 Still on the fence about Prizerebel's authenticity?
They've got you covered with their dedicated testimonial section.
Here, you can browse countless screenshots of actual payments from members who have cashed out.
These testimonials aren't just a few and far between; they're constantly updated with new success stories almost daily.
Share Your Success and Get Rewarded!
Once you've cashed out, you can get points for sharing your own success story!
Snap a photo of your payout and share it as a picture testimonial; Prizerebel will thank you with a neat 50 points ($0.50).
Or, if you're up for it, capture your excitement in a video testimonial to earn a whopping 200 points ($2)!
Final Thoughts
---
​PrizeRebel is a legitimate GPT platform where you make money for simple tasks.
This is one of the best reward sites I have come across, and it beats every app on the Play Store. There is simply no comparison!
This one should work well for you if you want to earn a few extra bucks completing surveys and offers.
You may also want to check out my extensive list of 100+ GPT websites to make money online.
​Verdict: Legit
​
Earn a Full-Time Income From Home
---
It's possible to earn a living online and be free to work whenever and wherever you want.
Yes, that will require commitment, but I can tell you it's worth every drop of sweat!
One of the best strategies is to build a website and promote other people's products as an affiliate marketer.
By writing valuable content on your website, you can promote products you believe in and earn generous commissions. Some companies, like Amazon, pay 6%, while others pay 50% and even 75%!
By the way, I am doing that to earn over $2000 per month in passive income. As my website grows, so does my income!
You may think this is not for you, but I have seen people from all walks of life succeed at this and transform their lives!
I was in your shoes in 2015, and I want to show you the proper steps so you don't fall for misleading claims out there.
The first thing you need is knowledge. Without it, you will be working for marketing research firms for peanuts. It would be best to have timely support from people who walked the way.
I highly recommend you get step-by-step training and support with Wealthy Affiliate, the platform I use.
They will help you set up the foundation of your online business through the first 10 FREE video lessons.
​>> Click here and check out my full Wealthy Affiliate review.​
​
Many successful people took this course, and now they reap the rewards by working independently from home or anywhere they want!
Final Words
Thanks for taking the time to read my Prizerebel review. If you have any thoughts or questions about this excellent GPT site, don't hesitate to leave me a comment below.​
Stay safe and peace out!