4
Is Peanut Labs a Scam? My Review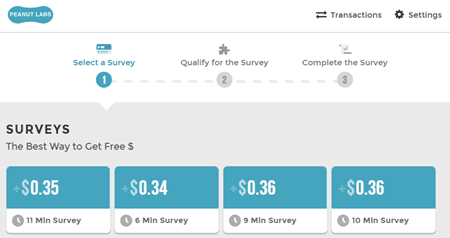 Peanut Labs is omnipresent in platforms that allow members to complete surveys, trial offers and simple tasks. I decided to investigate this platform to give you my honest opinion about it.
Is Peanut Labs a Scam or legit platform? Let's find out.
Peanut Labs Review
---
Platform: Peanut Labs
Website: web.peanutlabs.com
Price: Free
Legitimate
Business Type: Online Survey
2.4/5
What is Peanut Labs? 
---
Peanut Labs is a marketing research company headquartered in San Francisco, CA. The company was founded in 2007 by a team of entrepreneurs and has some impressive numbers to show off:
2.9 million active panelists.
300,000 new members every month.
$10 million rewarded every year.
671,000 surveys completed every month.
29 countries.
Their strategy is very smart and different from other survey panels.
If you visit the official website, you won't find an option for people to create an account and start using it. Instead, Peanut Labs partners with lots of companies and integrate their rewards platform within different websites such as:
Peanut Labs has to share its revenue with third parties. In return, it benefits from a much larger audience, which makes such partnership high profitable for both sides!
Peanut Labs' reward program allows users to participate in marketing research surveys, purchase discounted products, sign up for free trials, download apps and watch videos.
Pros & Cons
---
Pros
Cons
Very low-income potential.
It can be hard to qualify for surveys.
Some trial offers can be very tricky.
How Does it Work? 
---
Peanut Labs is integrated within many popular GPT (get-paid-to) websites like Cashcrate, Swagbucks, Inbox Pounds/ Dollars, and InstaGC.
So, you just have to sign up to these sites and search for a link that leads to Peanut Labs.
You don't need to create another account, but you will be required to fill up a quick profile questionnaire before you start taking surveys.
Online Surveys
Before you take a survey, you must answer pre-qualification questions that take a few minutes to complete. Depending on your demographics, it can be hard to qualify.
Be prepared to earn less than half the minimum wage with these surveys.
Offers
Completing trial offers may seem like an easy and quick way to make money online. However, don't forget that companies want to turn you into a customer, and that's why they are paying Peanut Labs to advertise their products to you.
For example, you can unwillingly become a customer when you provide a credit card information and forget to cancel your subscription to a 7-day trial.
Some offers ask you to make a purchase, in which case you need to calculate how much profit you will make. Sometimes it's is not even worth it!

Final Thoughts
---
Peanut is a legitimate platform, but it's not something that will change your life. The pay rate is too small and you may feel like you are wasting your life away. 
How I Prefer to Make Money Online
---
In 2015 I made a decision to start working for myself and eventually quit my 9-5 job. I wanted to become an entrepreneur, but I didn't want to build any business and become a slave to it!
No. I wanted more freedom and quality of life!
So, I discovered that an online business would be perfect for me. It would allow me to live life on my own terms and work whenever and wherever I want.
Since 2015, my online revenue has grown from $0 to over $800/mo!
I truly believe everyone is capable of building a successful online business with the right knowledge and mindset.
If you want to learn from the same step by step training that I followed 2 years ago, then check out my #1 recommendation below.
Just keep in mind that this is a long-term strategy to make money online, and it's only worth it if you give your business at least 1 year to grow. Less than that you are cutting yourself too short and you may get frustrated by the slow pace of results!
Nonetheless, this strategy is capable of giving you a sustainable and reliable income that you can rely on for years! Only those who stick to it and persevere succeed.
So, have you tried to make money with Peanut Labs? Did you get paid?
Feel free to share your comments below this post.
See you next time!
Stefan