The creators of the Cash Time App claim that you can earn money by simply downloading apps, watching videos, and answering Quizzes.
You probably know that these are terrible apps that will only make you waste time and patience. So, is Cash Time App a scam or a legit application? Does it really pay?
Read my review before you tap the shiny green install button.
You may want also want to discover my #1 recommendation, which helped me build an internet business from scratch and earn a job-replacing income from home. It's free to get started and 100% newbie-friendly!
Cash Time App Review
---
Name: Cash Time
Website: www.cash-time-app.com
Price: Free
Developer: Adprime Marketing Solutions LTD
LEGITIMATE
Overall Rating:

3.5/5
What is Cash Time App?
---
Cash Time app is a popular reward application available for Android devices.
The app allows users to earn Coins by completing offers, watching video ads, answering quizzes, and inviting friends.
Then, when you reach the minimum payout threshold requirement, you can redeem via Paypal and Amazon Gift cards.
It's similar to many other apps available on Google play, such as AppBounty, Bituro, and CashPirate.
Pros and Cons
---
Pros
Easy way to make money.
There are lots of offers and other opportunities to earn Coins.
The minimum payout threshold is only $5.
Redeem via PayPal and Amazon gift cards.
Cons
Very low pay.
Not available on iOS devices.

This reward platform is going viral! Cash out via PayPal, Visa, Gift Cards, and in-game currencies - Click here to find out how to generate an extra $10+ per day! 
How Does It Work?
---
You can download and install Cash Time for free on Google Play.
To start using the app, you just need to accept the Terms and Conditions, Privacy Policy, and rules.
However, you must sign up with your Facebook or email address before you are allowed to cash out. You can register by tapping on "more" in the lower right corner.
Please note that it's strictly forbidden to use VPN or more than one account per household. Also, the Cash Time app is only allowed for people over 16 years of age.
At the top, you will see the current number of Coins you have earned.
You need at least 6,250 Coins to redeem $5. 
Cash Time app has three different sections where you can collect Coins: Cash Clock, Discovery, Videos, and "More."
1. Cash Clock
The first thing you will see when you launch the Cash Time app for the first time is the Cash Clock.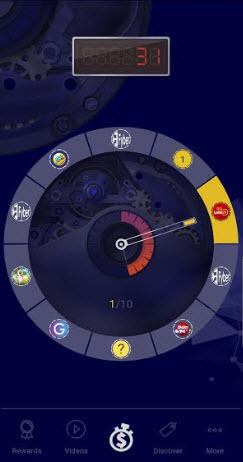 The Cash Clock consists of 12 different tasks that you should complete in chronological order.
These tasks include:
App installs/Offers
Advertising videos
Quizzes
Links to advertiser's websites
If the task is an app install or an offer, you will see the number of coins and the instructions that you must follow.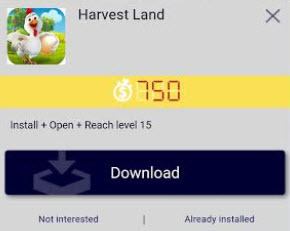 If you manage to finish all of the tasks within 24 hours, you will receive bonus Coins.
If you skip an offer or app install, they will show you an alternative until there is no other opportunity. In that case, you won't be able to proceed to the next task.
After 24 hours, the clock starts from the beginning, and you will have another chance to complete all the new tasks and earn the bonus.
Sometimes, and depending on your country, you will not see the clock because there are not enough offers available on that day. If this happens to you, open the app frequently as new opportunities appear all the time.
2. Discover
In the discover section, you will find some offerwalls (third-party platforms) with more opportunities to collect coins.
The current offerwalls are Fyber, Peanut Labs, Playtime, and AdGem.
Most of the offers are free registrations, app downloads, and free trials. For example, one of the offers requires you to install App Flame, sign up and play a game.
You will probably not receive the Coins immediately after accepting an offer. That's because the advertiser takes a few days (up to 30 days) to confirm that you have successfully completed the offer.
Pay close attention to offers that ask for your personal information and credit card.

If you don't want to receive marketing calls and emails, you should avoid offers that give you a chance to win supermarket vouchers and gadgets.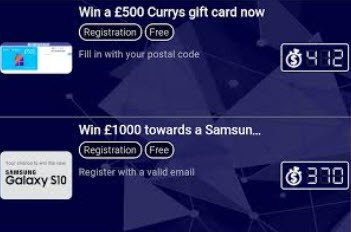 3. Videos
In this section, all you have do is tap play and watch the advertising video until the end for 20 – 30 seconds.
You will get 2 Coins ($0.0016) for each video, which is not very encouraging.
Usually, these ads are about other mobile applications. In that case, you will be directed to Google Play to download the app, but you don't need to.
Invite Friends
---
Another way of earning Coins is by inviting (referring) your friends to install the Cash Time app.
You will earn 100 Coins for each person that you refer. Also, you will get an additional 500 points when your friend reaches 500 Coins.
To invite friends, simply tap on "Discover," "Invite Friend," and then choose any method of contact such as email, SMS, WhatsApp, Messenger, etc.

Payout
---
Cash Time will process your payout request within two business days. You can redeem coins either via PayPal or Amazon gift cards.
IMPORTANT: If your PayPal email address is different than the one you used to sign up for, you should change it. Otherwise, you will miss your earnings!
To change your PayPal address, tap "More" and then Payout Details.
Conclusion – Is Cash Time App a Scam?
---
Some people called Cash Time App a scam because the company deactivated their accounts after the first payout request.
However, these people might have breached a rule such as the VPN one. We will never know!
In clause 5.1 of their Terms of Use, they say the contractual relationship between Adprime and the user may be terminated at any time.
So, from my understanding, they can delete your account even if you comply with all the rules. I think this is unlikely to happen, but there is a possibility.
In my opinion, the Cash Time app is not only legit but a great app to earn some pocket money from your phone. However, it's not 100% guaranteed that you will get paid.
Verdict: Legit
If you want o make more money with offers and surveys, Prizerebel is currently my top-rated GPT platform.
How I Make $1,000+ Per Month From Home
---
Imagine if you could make a full-time income online!
What would you do with your time and location freedom?
The possibility of making money from home or while traveling the world was exactly what motivated me to put in the work to build an internet business.
In short, I earn affiliate commissions for promoting other people's products through my website.
With affiliate marketing, you just need to focus on providing helpful content that ranks on Google and solves a problem. There is no direct selling or customer service!
For example, you can build a site about fitness (there are many other profitable niches) and include links that direct people to buy a related product on Amazon.com.
If people read your post, click on your link, and purchase any product on Amazon, you earn a nice commission!
Thanks to this excellent step-by-step course, I learned the ropes and got valuable knowledge to create a site, build an audience and start making life-changing commissions.
You don't need to have any special skills to start this business. However, it takes a lot of time and effort to get traction, so you should not expect overnight results.
>>Check out my number #1 recommendation review here to learn more!
Thanks for checking out my Cash Time app review. If you have any questions, feel free to leave a comment below, and I'll be more than happy to help.
All the best!