Welcome to my App Flame review!
Today I was browsing the Google Play store and discovered App Flame, an application that rewards users for downloading and playing games.
The idea of making money just by playing games seems extremely appealing and too good to be true.
So, you may be wondering, is App Flame a scam or a legit app to make easy money from your phone?
I installed this app and played games to see how much I could make.
I also read lots of real user reviews in search of anything that could make you disappointed.
Check out my review, as I will expose all you need to know about App Flame and give you my honest opinion.
By the way, if you want to learn the same method that earns me $1,300+/mo from my laptop, check out my #1 recommendation! It's Newbie friendly and free to get started!
App Flame Review
---
Name: App Flame
Company: Applike GmbH
Price: Free
Income potential: low
LEGIT
Overall Rating: 

2.2/5
What is App Flame? 
---
App Flame is an app that pays you to install and play different games on your Android device.
It was created by AppLike Gmbh, which is the same company that operates a very similar app called AppLike.
There are many apps like App Flame on Google Play. If you are interested in more alternatives, I also reviewed App Trailers and  Appnana.
Whenever you install and play a game, you will earn points called mCoins, which you can redeem for gift cards and PayPal once you reach the minimum payout.
Is App Flame a Scam? 
---
Even though I noticed many complaints against App Flame in the review section of the Play Store, I have no proof to call it a scam.
Some people face difficulties in earning the correct number of points or cashing out their balance.
However, it's important to understand there is no guarantee you will collect or cash out the correct number of points.
I know this because the "Terms of Use" states the following:
The Provider does not guarantee the user any winnings. In particular, the user has no right to the payout of a certain award. 
The "terms of use" also mention the provider can change the number of coins that can be generated per app at any time without stating reasons.
So, if you want to use App Flame to discover new games and have fun, do so without any expectations that you will earn a decent amount of money.
The pay rate is low, and there are no guarantees.
Pros and Cons
---
Pros
It's an easy way to earn some money.
The minimum payout is only £0.50 (in the UK).
Earn 5555 mCoins as a signup bonus.
Generous referral program.
It's available worldwide.
Cons
Extremely low-income potential.
Earnings are not guaranteed.
There are not many games available.
Only for Android.
There are many negative user reviews found in the Google play store.
How Does App Flame Work?
---
After installing the app, you can sign up with your email or Facebook account.

Also, you have to grant App Flame access to your usage data so they can detect your playtime.
Right of the bat, you will earn 5555 mCoins as a signup bonus, which will help you reach your first payout quickly.
Next, you will see a list of games you can install and start playing.
Different from Applike, App Flame displays the number of coins that you will get per minute of gameplay.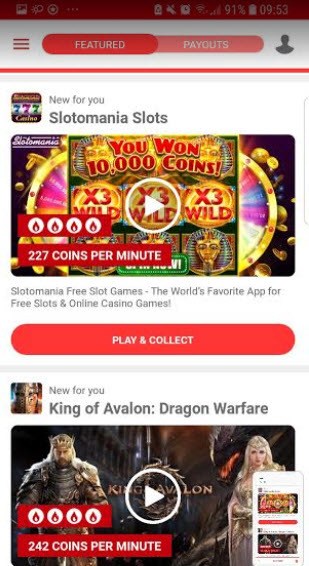 So, after playing a game called Coin Master for around 5 minutes, I earned 2677 mCoins.
In the UK, we need 12669 Coins to redeem for £1. So, in this case, I made £0.20 by playing 6 minutes, which is not bad!
Now, that doesn't mean if I play for 1 hour, I will make £2!
You see, the longer you play a game, the fewer coins you will earn for playing that particular game.
Here is what a user has to say about this:

So, eventually, it will take hours of gameplay for you to receive the same amount of coins you used to for playing 5-10 minutes in the beginning.
This continuous drop in revenue will force you to download and start playing another game, which is exactly what they want.
The reason for that is probably because App Flames is getting paid a limited amount of money per game that users try.

Referral Program
---
App Flame has a very generous referral program, which benefits both you and your referral at the same time.
You will get 250 points for every friend you invite, plus 25% of all their earnings. Not only that, but your friend will also earn 25% of all the coins you collect.
All you have to do is click the red button "Invite" to send your QR code to all the people you want or click on the blue button to share via Facebook.
Payouts
---
Once you've reached the minimum payout requirement, you can redeem your points via Paypal and various gift cards from your favorite brands like Amazon, Steam, iTunes, Starbucks, TK Maxx, and more!

This reward platform is going viral! Cash out via PayPal, Visa, Gift Cards, and in-game currencies - Click here to find out how to generate an extra $10+ per day! 
The minimum amount of you can redeem in the UK is 6399 Coins for £0.50 (PayPal).

Complaints 
---
App Flames has an outstanding reputation on the Google play store, with 4.5 stars out of 5.
However, if you check all the reviews, you will also notice many unhappy users.
Here are some of the complaints that I found:
It doesn't give the points as advertised.
It only gives credit for the latest game installed.
The coins per minute significantly drop after some time.
There are not many games.
Locked accounts.
Conclusion
---
App Flame is a legit application that you can use to play games and get rewarded.
But as I said, there are no guarantees, so don't expect you will make easy and unlimited money.
Many people have false expectations of making good money with this type of application.
The thing is, most users don't realize this is a business whose primary goal is to generate profits for game creators who advertise on App Flame.
As such, they can reduce your earnings to increase their profits. Yes, they make their own rules.
Unfortunately, you have no legal entitlement to the number of coins you expect to earn.
If you already play games on your smartphone, I think App Flame is great because you have nothing to lose.
If you consider playing games just to make easy money, don't get overexcited, or you may become very disappointed.
Verdict: Legit
How I Make Money Online
---
In 2015, I filled up surveys to earn some pocket money online.
It was a very unproductive activity because I was making less than the minimum wage.
I never imagined I would eventually create a website, work for myself and make over $1,000/mo from my laptop. But here I am!
After discovering an excellent step-by-step program, I learned how to set up a site with no special skills, attract an audience and earn affiliate commissions.
Now, I am going to be upfront with you here. You must put in the time and effort to earn a full-time income online, but it's possible!
Yes, you can learn everything for free on the internet, but in my opinion, nothing replaces a structured course and 24/7 support.
That's why I recommend a platform called Wealthy Affiliate. Click here to read my full Wealthy Affiliate review.
The owners, Kyle and Carson, will take you by the hand and help you build a solid foundation for your online business.
If you dream about quitting your job, working from home, or even becoming a digital nomad and traveling the world, this training can help you achieve your goals.
It worked for me, and this can work for you, too, if you are ready to work hard and give your business enough time to grow.

So, have you tried App Flame? Share your experience with us in the comment section below! 🙂
Thanks for reading!
Stay safe, and peace out!