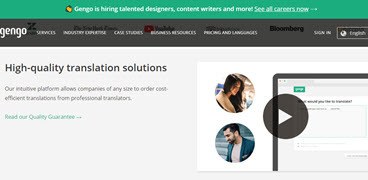 If you are trying to make money online and you know a second language, you may want to apply for a translation company like Gengo.
In this post, I am going to cover everything you need to know about Gengo and give you my honest opinion about it.
There are many opportunities to work remotely as a translator. So, why should you choose Gengo?  Is it a legit and safe platform to work for? What other people are saying?
Let's find out!
You may also want to check out the platform that helped me build an internet business from scratch and reach $1,000/mo. Click HERE to read my in-depth review.
What is Gengo? 
---
Gengo claims to be one of the top translation companies in the United Kingdom, offering translation services for more than 70 language pairs.
Yes, it is 100% legitimate and safe to work for!
The most common language pairs requested are currently English and Spanish, German, French, Japanese and Chinese.
Gengo is a global platform that provides services 24/7, meaning you can set your own schedule and work whenever and wherever you want. 
Pros and Cons
---
Pros
Flexibility.
There is no minimum amount of hours required.
No previous experience required.
Cons
Stiff competition (depending on your language).
There may not be as many jobs as you want sometimes.
Who is it For?
---
Gengo considers applicants from any country, and you don't need to have any previous experience as a translator.
To be accepted, you must be 18 years old and pass a translation test.
It's ideal for people who want to supplement their income and gain valuable experience.
How Much Money Can You Make? 
---
It depends on the language pair and other different factors such as the average pay in the industry as well as the cost of living where the translator is located.
For example, the pay rate for English to Spanish is lower than for English to Japanese.
You will know the pay rate before you start working on a project.
Unfortunately, Gengo doesn't provide a list of official pay rates for different language pairs because as I mentioned, it depends on other factors.
After some research on the internet, I found the following figures just to give you an example of what you can expect to earn.
Standard: $0.3 per word – $0.18 per character.
Pro: $0.8 per word – $0.48 per character.
Proofread: $0.4 per word – $0.24 per character.
Because you are an independent contractor, work is not guaranteed, meaning your income will depend on the demand for translation services.
According to some reviewers on Glassdoor, there are not enough projects to earn a full-time income. Depending on the language pair, there is a lot of competition.
One person said:
"…I have found that on an hourly rate, it does equal roughly $10 an hour for the speed at which I work at Pro Level."

How Does it Work? 
---
Application 
The application process is very straightforward. You just need to create a free account, select a language pair and take a 2-part translation test.
Gingo may not be accepting more applications for a particular language.
If there are no tests available, you can register your email to be informed of new vacancies.
Before you take the tests, you must read the translator resource page, which is full of tips and other vital information to help you prepare.
Your test will be reviewed within 7 days, and if you fail, you will be allowed to retake the test twice. So, you will have 3 attempts in total.
Start Translating
Once you have been accepted, the next step is to familiarise with the style guide and work platform.
There are 3 ways to find translation jobs available: work dashboard, email, and RSS feed.
Because competition is high and the job is available on a first come first served basis, you should claim the position fast.
However, you should be aware of the deadline, which assumes you will begin translating immediately.
So, don't jump in it too soon if you think you won't be able to meet the deadline.
Most texts are short blog posts and emails, but there are bigger projects too.
The work dashboard has all the essential information such as the translation level (standard or pro), language pair, text instructions, word or character count, and total rewards.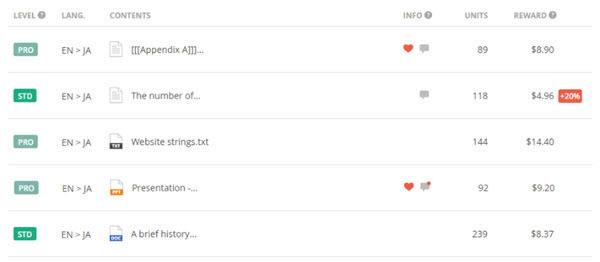 Once you submit your translation, the customer has 120 days to approve, reject or request corrections.
They will also provide a comment and rate the quality of your job from 0 to 5.
If you do an excellent job, customers will probably bookmark you as a preferred translator. When that happens, you will gain priority access to projects they post in the future.
You will know when you have priority when there is a heart sign on the work dashboard.


This reward platform is going viral! Cash out via PayPal, Visa, Gift Cards, and in-game currencies - Click here to find out how to generate an extra $10+ per day! 
Quality Score
Gengo measures the quality of your translations by using the weighted average score of all your projects.
It's crucial to keep your score as high as possible to access more projects.

If you score between 5 and 6, your translations will be reviewed more often, and if you fall below 5, Gengo will revoke your qualifications.
Requesting Payouts
---
Gengo pays only in US dollars via PayPal or Payoneer.
The minimum payout requirement $2 via PayPal and $20 via Payoneer, and there are different fees for each payment processor.
The payout is processed twice a month (10th and 25th), and you must request it at least 7 days in advance.
What Translators Say About Gengo? 
---
Whenever I want to know about the experience of working for a particular company I head to Glassdoor.
There are mixed opinions about Genro on that review site.
Most people like the opportunity to work from home and whenever they want.
However, some people complain about the low pay rate compared to other companies, the lack of translation jobs as well as the high number of competitors in the platform.
Final Thoughts
---
In my opinion, Genro seems like a great opportunity for people who want the flexibility of working from home.
Also, it's excellent for those who have fluency in another language but don't have any experience as a translator.
However, I don't think you can rely on this platform alone to make a full-time income.
So, you will probably want to apply for other translation companies if you're going to increase your earnings such as Appen and Linguistic Systems.
You can also create a profile on Freelance platforms like Upwork and Fiverr.
Verdict: LEGIT
How I Make Money Online
---
In 2015, I discovered how to grow an internet business, work for myself and earn a sustainable income online.
The business model that I use is called affiliate marketing, meaning I promote other people's products in exchange for commissions.
My job revolves around creating content for my website and recommending products and platforms that I trust.
The helpful articles that I create attract internet users searching for information on Google.
When people click on my links and purchase a product or sign up to a platform, I earn commissions. This is called affiliate marketing.
What I love about having a website is that I have significant control over my income.
So, the more I work on it, the more my chances of attracting more people and grow my monthly income.

Besides, I am not trading time for money as all the work I have done keeps attracting potential customers 24/7.
It gives me the freedom to make money while travelling and enjoying life.
It takes time and effort, and there are many things to learn! But if this is a type of business that appeals to you, check out my Top recommended program.
I was a complete newbie when I joined, but I was able to achieve remarkable results thanks to their excellent training and support. 
Thanks for reading my post about Gengo! If you have any questions or want to share your experience, feel free to leave a comment below.
Stay safe and peace out!