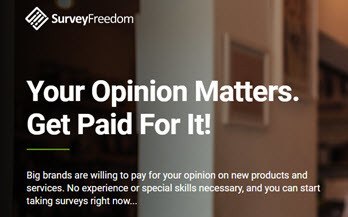 Yesterday I found this website called Survey Freedom while searching for new opportunities to make money online.
It suggests you can achieve Freedom as you can work as much as you want from the comfort of your home.
All you have to do is share your opinions with big brands.
Now, you are probably wondering, is Survey Freedom a scam? How much can you make?
Read this review carefully to really understand how Survey Freedom works and why it's practically impossible to make a living taking surveys.
By the way, if you want to discover the same method that earns me $1,000+/mo from my laptop, check out my #1 recommendation!
Survey Freedom Review
---
Name: Survey Freedom
Website: https://www.surveyfreedom.com
Price: Free
Overall Rating:

2.5

/5
Unrealistic Expectations 
---
The thing that makes me cringe most about some websites is when they give people false expectations.
I wish I could wake up, open my laptop, take a few surveys and call it a day.
Unfortunately, it's extremely hard to earn a decent income with online surveys.
Survey Freedom claims most studies pay between $5 – $15, but they are certainly overestimating.
I am confident of what I am saying because I have been reviewing panels for the last 3 years, and I've never been invited for a $5 survey. NEVER!
From my experience, most of them pay less than $2 and usually take 10 – 15 minutes.
What is Survey Freedom? 
---
At first glance, you may think Survey Freedom is a survey panel operated by a marketing research company like Toluna or YourSurveys.
Not really!
The truth is that Survey Freedom is just an affiliate website that connects you with third-party survey providers.
I have reviewed many similar sites such as Survey Compare, Paid Surveys UK, and Opinion City.
By connecting, I mean they just provide links to other platforms and tell you to create an account with each one of them.
The current companies they are affiliated with are:
InboxDollars – get-paid-to site.
Survey Junkie – survey panel
i-Say – survey panel
Survey Freedom will then earn a commission on all your earnings.
That's why they are very optimistic about how much money you "can" make.
How Does Survey Freedom Work?
---
After you click on the green button "Start earnings", they will ask you questions about your gender, age, and how much money you would like to earn.

According to Survey Freedom, the purpose of these questions is to see which surveys you qualify for.
However, I don't think this is the case since they are just an affiliate site that is not responsible for handling surveys.
The list of monthly earnings you wish to earn starts at $500 and ends at $5,000+.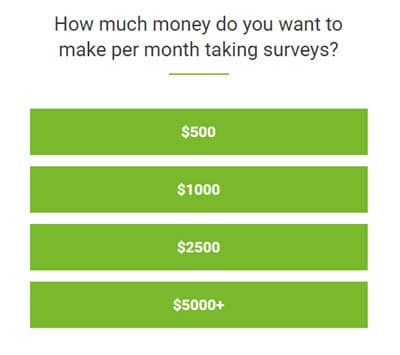 I am yet to find someone who makes $500 per month just for taking online surveys.
It's not easy because you won't qualify for every opportunity, and the pay rate is very low!
After that, you will get a success message saying you qualify for over 3,000 surveys from 3 providers.
That's when people get overexcited and quickly provide their name and email address.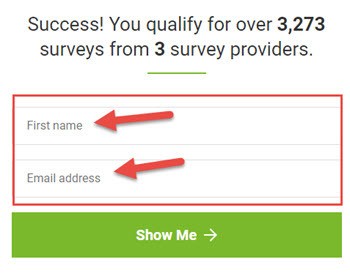 Trust me, that is definitely not the real number of surveys available!
Next, you will be encouraged to join all the 3 platforms to reach your earning goals.
Each site will send survey invitations to your inbox, and you can request a payment when you reach the minimum balance of that website.

Those are legitimate and reputable companies. So, I am confident you are safe with them!
How Much Money Can You Really Earn? 
---
It depends on the number of opportunities available and your profile (country, age, job, gender, etc).
As I said, most marketing studies pay less than $2, but the main problem is that you will waste a lot of time trying to qualify for them.
Each study targets a specific group of people by asking pre-screening questions.
As a result, you will spend 1-5 minutes (or more) answering unpaid questionnaires only to discover you don't qualify.

This reward platform is going viral! Cash out via PayPal, Visa, Gift Cards, and in-game currencies - Click here to find out how to generate an extra $10+ per day! 
I used to take surveys in the past, and I know how frustrating this industry is!
So, how much money can you earn?

Well, you must be relentless to make $200 per month taking surveys. But it's possible!
How much time are you going to spend? A Hell lot!
The fact is that you will earn much less than the minimum wage, so you can't rely on surveys to pay the bills.
Is Survey Freedom a Scam? 
---
Survey Freedom is just acting as an advertiser, directing you to legit marketing research companies.
So, no, it's not a scam, but they are trying to make you believe you can earn $1000+ per month with online surveys, which is not realistic.
Most people don't even reach $200 due to frequent disqualifications and the low pay rate.
Verdict:

Legit
How I Make Money Online
---
I wasted a lot of time trying to qualify for surveys in the past, and all I could earn was around $50 per month.
Luckily, I discovered an excellent online business training and community that showed me step by step how to make money with affiliate marketing.
So, basically, I write content on my website and promote products and platforms as an affiliate.
When people click on my links and buy a product, I earn a nice commission.
After following that training and working consistently, I am about to quit my job in a few months.
The best part of owning an online business is that it allows me to make money while I am travelling.
Many people become digital nomads and start living in different countries with a very low cost of living.
Why? You may ask. Well, because they can work from their laptops and earn in USD.
Check Out My TOP Recommended Program HERE >>
I hope my Survey freedom review was helpful to you. If you have any questions, feel free to leave me a comment below.
Stay safe and peace out!