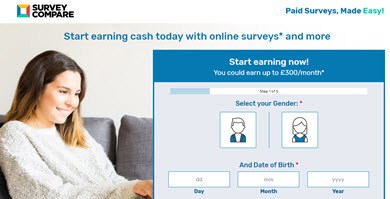 Welcome to my SurveyCompare review!
SurveyCompare claims they will match you with the best companies so you can earn up to £300 per month by taking online surveys.
This amount of money could help you cover all your transportation and food expenses for the whole month!
The idea of taking easy surveys and earn an extra income from home looks very enticing, but can you really trust SurveyCompare? Is it legit? What will happen after you give them your contact details?
I've put together this full SurveyCompare review to explain how it works and give you my honest opinion.
If you are willing to put in an extra effort, I highly recommend you check out my #1 recommendation, which is the platform helped me reach $1,600 per month working from my laptop. It's free to get started and 100% newbie-friendly!
SurveyCompare Review
---
Product Name: SurveyCompare
Website: surveycompare.net; join.surveycompare.net
Company: Marketing VF Ltd
Price: FREE
Business Type: Online Surveys
Overall rating: 3.4/5
What is SurveyCompare?
---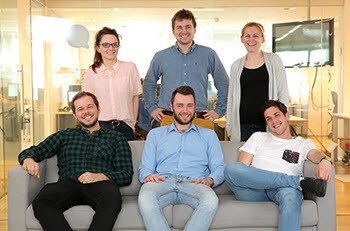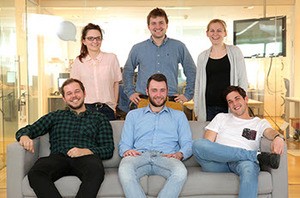 SurveyCompare is a website owned and operated by a London-based company called Marketing VF Ltd.
It's not a survey panel that gives you direct access to surveys, nor is it responsible for payments.
Instead, SurveyCompare just gives you a list with leading marketing research companies so you can sign up with them and start taking surveys through their platforms.
Big retailers like Tesco, Boots and Top Shop hire these companies to gather demographics and opinions from a large group of people.
Your opinions are used to identify consumer behaviours and market trends that will help retailers improve and launch products and services.
Is SurveyCompare Legit?
---
Yes, absolutely! I can assure you that SurveyCompare is a legitimate and trustworthy website.
I checked the existence and reputation of Marketing VF on the internet, and my research resulted in no red flags.
As I mentioned before, SurveyCompare only connects you with marketing research companies, so they are only acting as an affiliate. Meaning, they will earn a commission whenever you complete a survey with their trusted partners.
There are many similar sites out there such as Survey Spotter, TopPaidSurveys, Paid Surveys UK, and SurveyVoices.
Now, many people are afraid of providing their contact email to these companies, and I can totally understand that.
According to the Privacy Policy, SurveyCompare will use your contact details to sign you with their partners, send you emails about other offers, among other things.
You can always opt out at any time by sending a message to [email protected].
First Impressions
---
SurveyCompare has two different homepages: surveycompare.net and join.surveycompare.net.
Each site has a slightly different marketing approaches, but both of them will give you the same survey list. So, in practice, they are the same!

Surveycompare.net
This is the old version, which has lots of information about the company, the earning potential of different survey panels, and a very helpful FAQ.

As soon as I visited the homepage and read the FAQ, I knew there was nothing to worry about. In fact, I was impressed with their honesty and the opportune warning on scams.
Here is a quote that I took from the website:
"We always tell people that doing paid surveys will make you "pocket money", not a full-time salary. We would strongly advise you to stay clear of any websites that claim you can get rich by taking paid surveys."
There used to be a time when unscrupulous marketers tried to sell you a list of secret survey sites to earn thousands of dollars. I believe these deceitful sites are still there, so be careful!
You should never pay for any membership in hopes to earn more because all legitimate survey sites are free of charge.
What I like about SurveyCompare's homepage is that it provides a list of survey partners with their cash incentives, minimum payout, and average survey length.
Through the blog, there is are also lots of information about other side hustles such as mystery shopping, data entry and typing jobs.
join.surveycompare.net 
This version is currently used as part of their paid advertising strategy.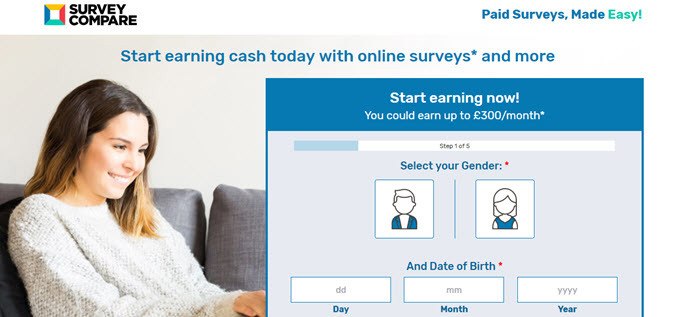 Different from the other version, this page has much less information and claims that you can earn up to £300 per month.
The reason why SurveyCompare is making this claim is to encourage more users to sign up. After all, who wouldn't like to earn an extra £300 per month?
They are not the only ones doing that. SurveySpotter, and TopPaidSurveys also make this claim based on the assumption that the average survey pays £3.

So, by taking 5 surveys per day, 5 days per week, you could potentially earn £300 per month. Well, from my experience, that is the best-case scenario.
Can Your Really Make £300 Per Month?  
---
I need to be honest with you so you have a more realistic expectation towards online surveys. Reaching £300 per month by sharing your opinions is a big challenge!
The reason is that most surveys actually pay less than £1.50, and many of them pay even less than £0.50!
The proof is in this screenshot that I took from Branded Surveys' platform, which is one of their survey partners: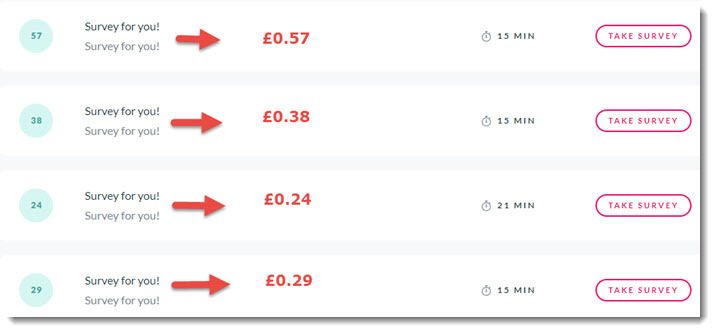 This reward platform is going viral! Cash out via PayPal, Visa, Gift Cards, and in-game currencies - Click here to find out how to generate an extra $10+ per day! 
I never came across an online survey that paid £3 or more. So, from my point of view, to say that the average payout is £3 is an overstatement.
Update: I have finally discovered a survey panel that pays at least £5 per survey! Unfortunately, this top-rated panel is not on SurveyCompare's list of recommendations.

Most surveys that you will receive on your inbox from SurveyCompare's partners pay £0.15 – £0.60 for a 10-20 min survey.
Not to mention that you will get disqualified many times because you are not a good match.
Therefore, trying to complete 5 surveys per day, 5 days a week can be very time-consuming and soul-draining. 
Yes, it's possible to earn £300 per month, but you will have to spend a considerable amount of time on your computer every day. I'd say at least 4 hours per day!
In other words, you will be making much less than the minimum wage in the UK. If you are in a difficult financial situation and you have nowhere else to run, it's better than nothing, though.
Pros & Cons 
---
Pros
It automatically signs you up with multiple survey panels, saving you time.
It features reliable survey panels that offer lots of survey opportunities.
Free to join.
Honest and transparent.
Cons
In my opinion, they don't provide the best survey sites.
To cash out, you have to reach the minimum payout threshold required by each survey panel.
You will receive emails about other offers.
How Does it Work? 
---
Registration
The registration is free and takes just a few seconds. All you have to do is provide your email, date of birth and select your gender.
After signing up, you will get a list of the recommended survey companies. The list contains a brief description, the reward options and signup bonuses of each site.
Also, there are links to the Terms and conditions and privacy policy. Here is one example:

Survey Panel Selection
You can select as many survey panels as you want by clicking on the blue button "Join Now".
In order to receive as many surveys as possible and maximize your earnings, SurveyCompare recommends that you tick all the boxes. There are currently 10 legit survey platforms on the list:
YouGov
Toluna Influencers
Opinion OutPost
Swagbucks
Maximiles
Mingle GFK Media View
Vindale Research
LifePoints
Valued Opinions
Swagbucks is actually a get-paid-to site where you can make money by completing different tasks, not only surveys.
Next, click on "Sign up and Start Earning" and complete a short questionnaire with your full name and address.
SurveyCompare will automatically sign you up to all of the survey sites that you've selected.
Each site will send you a confirmation email that you need to open and click on the link to activate your account.
That's it!
From now on, you are going to receive daily opportunities in your email and you are free to complete as many surveys as you want.
Keep in mind that you will receive surveys directly from each marketing research company. So, you won't need to sign in to SurveyCompare anymore.
You will waste a lot of time! 
Companies are always selecting a specific group of people to offer the most relevant data for their clients. Let's say they need opinions about a specific brand of dog food.
The idea is that only dog owners are eligible to complete that survey. Therefore, they will check your profile and ask you some qualification questions to make sure you are a dog owner.
Trust me, you will be disqualified for many surveys, so a large part of your time goes to waste.

Many people get very frustrated when they spend 5 minutes or more answering questions only to get disqualified.
Check out this user review on Trustpilot:

The thing is, SurveyCompare is not responsible for surveys or qualification as they are just an affiliate site.
Besides, being screened out is something that happens with most panels, so there is no way around it. Either you accept you will waste time, or forget about taking surveys.
It's unfortunate that companies may be collecting lots of information from panellists for free, but there is nothing we can do about it.
Payments 
---
After confirming your email, you have to play by the rules of each panel. Thus, you have to reach the minimum payout threshold of each platform to be able to withdraw your money.
For example, Lifepoints require a minimum of £3 whereas Opinion Outpost requires just £2.50.
Notice that some online surveys like Toluna will give you points that you can redeem for cash rewards. So, check the value of the point and calculate your reward before completing surveys.
Conclusion 
---
SurveyCompare is not a scam. It is nothing more than a website that connects you with reputable marketing research companies in one go. It works as a middleman!
When you subscribe to SurveyCompany, they will automatically register you on the survey platforms of your choice, saving you a little bit of time. It's not a big deal, really! 
Upon registration, you will start receiving surveys invitations in your inbox from all of the companies involved.
It would be better if you could complete surveys through SurveyCompare itself in order to centralize your earnings and cash out faster. In that case, the site would have to turn into a GPT.
There are already lots of great GPT platforms that connect you with not only marketing research companies but also advertisers willing to pay you to try their apps or services.
One of the best ones is PrizeRebel, which has been rewarding members since 2007!
Verdict: Legit
I don't recommend online surveys as a long-term strategy to make money online. If you need money for yesterday, then go for it. But if you want something that can really help you achieve financial independence, then keep reading the next section.
How I Prefer to Make Money Online
---
After wasting a lot of time with online surveys back in 2015, I discovered that the best way to make money online was to build an online business.
You don't need to be any more skilled than you would filling out a survey. All you do is write helpful articles and promote products that people might be interested in. Just write as if you were speaking to your family or friend.
By taking advantage of affiliate marketing, you make commissions whenever people click on your links and buy products directly with the retailer. It's a win-win situation!
There is no need to create a product, buy inventory, deal with customers or employees. That's why you can work remotely, whenever and wherever you want!

Let's say you create a website about organic skincare. Once you have a decent number of visitors to your site, you can sign up to affiliate programs and start promoting related products. Amazon, for example, pays 6-10% for each sale.
Check out other more profitable affiliate programs in the organic skincare niche:

This is just one example, but you can build a profitable site around your passions and interests!
You can start working part-time in your spare time and eventually make enough commissions to go full time.
Let's Compare Online Surveys With Affiliate Marketing!
---
Before I was completing surveys for 2 hours per day, 5 days a week to earn around $100 per month.
Well, after building my site and working 3 to 4 hours per day, I'm at the point where I am making around $1000/per month.
It's not a full-time income here in London, but here are some important factors to consider:
I'm not trading my time for money, as the website keeps working 24/7 for me. If I decide to take a break or a holiday, no worries, the money will keep coming as passive income.
The income potential is unlimited. The more I work on it, the higher my monthly revenue in the future.
What are your financial goals? $1,000/month?  $10,000/month? Affiliate marketing can give you that. Online surveys can't!
If you want to start your own business, I highly recommend the same step-by-step training that I followed two years ago. You don't need any experience as they will walk you through the whole process step by step.
As a matter of fact, they will give you the first 10 lessons, 2 websites for life and 7-days of premium support for free!
>> Click Here and Check Out My No. 1 Recommendation Review
Final Words
I hope my SurveyCompare review was helpful to you. If you have any questions or thoughts, feel free to leave your comment below.
See you next time!
Your friend
Stefan