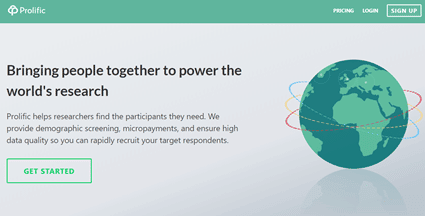 Welcome to my Prolific Academic Review!
If you are reading this post is because you want to join a reputable survey company that pays a decent amount of money for your time.
Many people consider Prolific Academy one of the best survey panels on the internet!
There are two main reasons for that: The excellent rates of pay and the fact that panelists never get screened out! 
Not only you will get paid over £5 per survey, but you won't waste your time with survey disqualifications.
How can it get any better than this?
Prolific was launched in 2014 and has been joined by more than 70,000 participants all over the world.
In this review, I would like to cover everything you need to know about Prolific and give you my honest opinion about it.
How much money can you make? Why does it stand out from other companies?
Let's find out!
TOP RECOMMENDATION

This reward platform is going viral! Cash out via PayPal, Visa, Gift Cards, and in-game currencies - Click here to find out how to generate an extra $10+ per day! 
If you want to work remotely and earn a full-time income online, check out my #1 recommendation. This is the same program that helped me reach $1,600 per month and quit my job in 2019. 
Prolific Academic Review Summary
---

Name: Prolific Academic
Website: www.prolific.ac
Company: Prolific Academic LTD
Opportunities: Online Surveys
Pay rate: £5+ per survey
Rewards: Paypal and Circle
Minimum redemption: £5
Supported Countries: UK, US, Canada, New Zealand, and most European countries
Similar Sites: PureProfile, One Opinion, Branded Surveys

LEGITIMATE

Overall Rating:

4.5/5
What is Prolific Academic?
---
Prolific Academic is a survey panel founded in 2014 by a UK-based company with the same name – Prolific Academic Ltd.
It works as a crowdsourcing platform where academic researchers and businesses filter participants and ask them questions to help with their marketing studies.
When you join Prolific Academic, you have the opportunity to share your opinions on different subjects and earn cash rewards.
Most studies are carried out by academic institutions and are a lot more interesting than traditional soul-draining surveys. 
According to the website, studies pay at least £5 per hour (UK) / $6.50 (US Dollars), which is an excellent pay rate compared to other survey panels.
Another great aspect of Prolific Academic is the high level of transparency of the platform, which shows all the details of the survey before you commit to it.

For example, they will show you the survey description, how much you will get paid per hour, the average completion time, and even the survey quota.
Pros and Cons
---
Pros
Earn cash – No points, vouchers, or entries for prizes.
Quick sign up.
Very transparent.
Excellent rates of pay compared to other panels.
Interesting surveys.
Most surveys don't have a pre-qualification phase. So, you won't waste time with screened outs.
Payments are processed twice a week.
It's available in many countries.
No hype.
Cons
No sign-up bonus.
There are not many survey opportunities depending on your country and profile.
You have to reserve a place quickly.
Some people don't get emails.
There are cashout fees.
How Does Prolific Academic Work? 
---
Signing Up
Prolific is currently available in most OECD countries, and you must be at least 18 years old to participate.
The registration is free and very straightforward. First, you have to provide some basic information about yourself such as your name, email, country of residence and date of birth.
Next, you have to confirm your email address as well as your phone number.
Complete Your Profile
After you log in, it's crucial that you take the time to complete your profiling questions, which you can find in the "About You" page.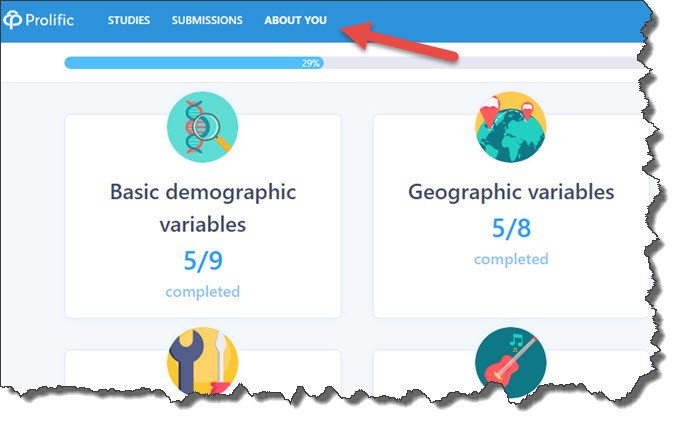 There are currently 15 categories including education, general health, interests/hobbies, and personal finance.
A complete profile will help clients filter the ideal candidate for a particular study.
So, the more questions you answer, the higher your chances to be invited.
Different from most survey panels, Prolific Academic will effectively use your profile to qualify you.
Therefore, you won't waste your time answering repetitive questions and getting disqualified.

Compared to other panels, you are making 5 times more money in less than half of the time!
Taking Surveys
After you complete your profile, click on "Studies" located on the top menu to check if there are any surveys available.
As soon as I joined Prolific, I received my first survey invitation.

As you can see, they give you all the details before you decide to take part.
They go even as far as showing you the average reward per hour, which is great because you will know exactly the value of your time.
Most survey sites do their best to hide the actual value of their surveys with a confusing point-based system. Well, not with Prolific Academic!
I took part in this survey, which took around 15 minutes and earned £1.75.

Another valuable information that they provide is the number of places remaining.

As the number of participants is very restricted, you have to reserve your place as soon as possible so you don't miss the opportunity.
Most surveys take anywhere from 5 to 20 minutes.
Usually, the researcher will review and approve your submission within 1 – 3 days. However, it can take up to 21 days.
Once approved, the reward will be credited to your account instantly.
Another thing I like about Survey Prolific is that it gives you the details of all the surveys people completed in the past.
Therefore, you can have an idea of how much money you can expect to earn in the future.
I noticed many surveys paid £6, £8, £10 and even more than £12/hour!
UPDATE: Unfortunately, Prolific has removed the past survey's history for some reason.
How Much Money Can You Make With Prolific? 
It depends on your demographic and especially your country.
People in the UK and the US are usually satisfied with the number of invitations they get every month.
Many people in both countries are making over $100 per month!
Email Invitations
Prolific is supposed to send you email invitations whenever a survey matches your profile.
In April 2019, I received 14 survey invitations as you can see below: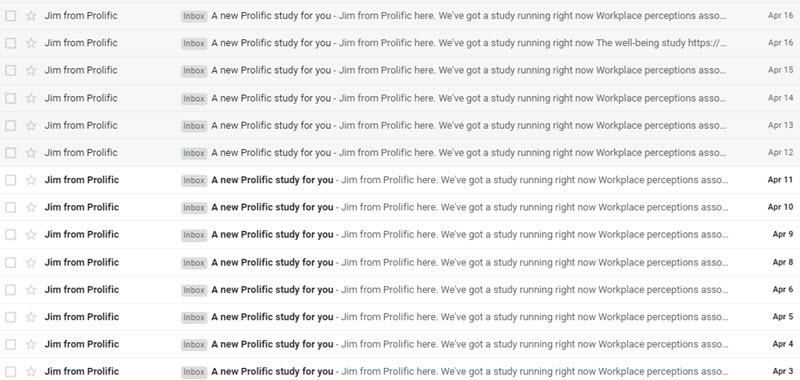 However, some people claim they are not receiving invitations, so I advise you to log in regularly to check for new studies.
Be Careful!
---
You can rest assured Prolific Academic won't screen you out halfway through the survey like other panels do.
However, they can reject the study if it doesn't meet certain quality standards.
For example, Prolific will reject your submission based on the speed at which you have answered the questions.
So, read all the questions carefully, and don't rush through the survey.
Prolific pays really well, so you don't want to get on their blacklist.
Cash Out
---
To cash out, you will need to set an email linked to your Paypal or Circle account.

Prolific Academic sends out payments every Tuesday and Friday after your request.
It's important to note that the minimum payout threshold is £5, but if you are using Circle, you can pay fewer fees by cashing out over £20.
By the way, here are the fees for both Paypal and Circle payments of under £5:
Paypal: 2.9% + 20p
Circle: 1% + 10p
User Reviews
---
If you search for user reviews on the internet, you will be impressed by how much people praise Prolific Academic.
There are many positive reviews TrustPilot, SurveyPolice.com, and Reddit.
Whatever the site, the overall rating is always excellent!
Everyone likes the fact that they are not disqualified like in other survey sites and that it's easy to reach the minimum payout of £5.
This user claimed that he earned more with Prolific than with all the other sites combined. He just completed a survey that paid him £5!

But of course, no company is free from complaints. The most common complaints are regarding the lack of surveys and the fact that Prolific doesn't send survey invitations by email.
Final Thoughts
---
Prolific Academic is undoubtedly an excellent survey panel, and I agree that it stands out from most panels.
That is because the site is very transparent, honest, and offers the BEST pay rate for multiple-choice questions.
Not to mention they are doing an excellent job in using the profile questions to qualify people instead of wasting their time as other panels do.
In my opinion, Prolific is indeed the best Survey panel of 2020!
I highly recommend Prolific Academic for anyone willing to complete surveys and earn some pocket money.
There are only two main problems: surveys are not very frequent, and they can reach the quota very quickly.
You can find more survey opportunities with Prizerebel, which is currently my top-rated GPT site.
Verdict: Legit – Highly Recommended
My NO. 1 Strategy to Make Money Online
---
I used to take surveys in the past, but luckily I discovered a strategy that helped me earn a full-time income from my laptop.
The strategy is called affiliate marketing, and this is how it works:
I write blog posts that rank high in Google's search results.
People find and read my informational articles/reviews.
They discover great products that I recommend and visit the merchant's website through my affiliate links.
 I earn a commission for every sale!
You can build a business around your passions and interests and turn it into a profitable affiliate business.
What I love about having an affiliate website is that I don't have a boss to tell me what to do, and I earn money even while I am on vacation! 
If you are interested in learning the proper way to build your site and succeed, I suggest you check out my No.1 recommendation review.

It's a remarkable community-based platform with step by step training, live chat (24/7 support) and all the tools you need to grow your business.
That's the same platform I use to grow my business, which is currently earning me enough money to cover all my living costs in London.
If you want to learn more about it, click the link below to read my full review.
Final Works
Thanks for reading my Prolific Academic review. If you think this article was helpful to you, please share it with other people who might benefit from this Panel.
Also, if you have any questions, feel free to leave a message below. I'm more than happy to help! 🙂
Stay Safe!