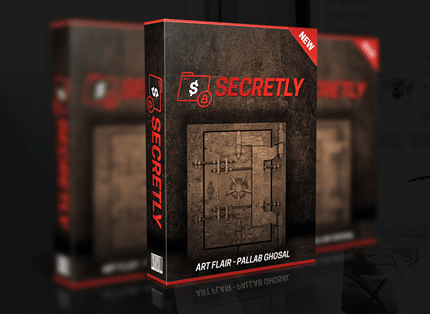 Secretly has just released on Warriorplus and is already on top of the charts. It's a course that will show you how to take advantage of an untapped traffic source and supposedly help you make $251.50 per day. Is Secretly a scam or legit?
Let's find out!
By the way, if you want to discover a non-BS method that earns me $900+ per month from my laptop, check out my #1 recommendation.
Secretly Review
---
Name: Secretly
Website: www.artofmarketing.academy/secretly/
Price: $11.82

[yasr_overall_rating size="medium"] 1.5/5
The Hype
---
Secretly is for sale on a digital marketplace called Warriorplus, which is geared towards individuals who want to promote or buy courses in the "make money online" niche.
The creator has released many other products such as Incomely, Passive Profits Breakthrough, 6-Minute Profits, Rapit Profit Ninja to name just a few.
What is common in all of these courses is the hype.
Secretly is trying to make you believe this is a brand new FREE traffic source when in fact, it's not free at all!

Also, they claim this is a set and forget traffic in demand and that you just need to work 15 minutes per day.
You don't need SEO, regular blogging,  product creation or shady practices.
Oh, I see…
Seriously, guys. I have reviewed hundreds of similar products that don't live up to the hype. The internet is oversaturated with the latest shortcuts that will finally solve your financial problems. But the thing is, without a proper foundation for your affiliate business, you may end up getting nowhere.
What is Secretly?
---
Secretly is advertised as a step by step video course and a case study that show you a brand new method to get free traffic.
Of course, he will not tell you what the traffic source is, but I am here to spill the bins and say it's all about solo ads and bing advertising. 
Let me show you how this method works, so you understand the risks involved and why I think it's not worth your time and effort.
Pros and Cons
---
Pros
Easy to follow lessons.
Cheap training.
You can make money with this method, just probably not as easy and as fast as you may think.
Cons
It's overhyped.
Solo ads and bing advertising is not free traffic!
You will be in a risky position paying for advertising without any guarantees.
Losing money is easy!
Upsells.
How Does it Work? 
---
Far from "brand new," the method is actually one of the most rehashed by the so-called internet "gurus." It consists of setting up a squeeze page to capture leads (email subscribers) and direct people to an affiliate offer.
When people sign up to your list, they will be instantly directed to your affiliate offer, and if people purchase the item, you earn a commission.
Besides, as you now have their email address, you will be able to send follow up sequences (automated emails) using an autoresponder.
That's right! You don't need blogging nor creating your own product. BUT, you still need traffic. And that is the big challenge here.
Unfortunately, Secretly won't teach you free traffic strategies. Instead, you will have to use solo ads and bing advertising, both paid and not very effective when it comes to promoting squeeze pages.

If you want to know why solo ads may not be a great option for beginners, check out this articles on solo ads. 
Not a Traffic Source! 
In module number 7 – The Secret Traffic Goldmine, they recommend you to use Pushcrew, which is a plugin on your WordPress site that sends out notifications (calls-to-action) and collect people 's emails without the need of an autoresponder.
I have to confess this is a great plugin, but only if you have a blog, which is not the case when you follow Secretly's course. So, what's the point, may I ask?
In reality, Pushcrew is not a traffic source, only a plugin that helps convert traffic into new subscribers and eventually sales. Therefore, there is no point installing this plugin if your website doesn't provide value to your readers.
Is Secretly a Scam Then? 
---
Because of all the hype and the fact that they try to make you believe in money with little effort, I know many marketers that would call Secretly a scam.
Personally, I wouldn't call it a scam because you will learn something from the training. Also, you can make money with the method, but if you are just starting out, be prepared to lose money as you may spend more on advertising and don't make enough sales to cover the costs.
Not to mention, you will have to purchase a landing page builder and an autoresponder to set up the system. It's a real business, so the more money you put in, the more you can lose if you don't have skills to track and improve your squeeze page's conversion rate.
By the way, they will try to sell you done-for-you funnels that supposedly have a high conversion rate and will make you lots of profits. But be careful!
There are no guarantees this page will convert well.
In fact, many people end up losing money with this strategy as lots of targeted traffic is required, but not cheap.
Final Thoughts
---
I don't like the way Secretly was advertised and don't recommend using this strategy to earn affiliate commissions.

Secretly is not a scam, but it gives unrealistic expectations and makes you believe you will tap into promising free traffic sources. Well, that's not the case.
There is nothing new about this method, which is quite risky, especially for newbies.
Verdict: Not Recommended 
How I Prefer to Make Money Online
---
Personally, I build my business around providing value to people.

This reward platform is going viral! Cash out via PayPal, Visa, Gift Cards, and in-game currencies - Click here to find out how to generate an extra $10+ per day! 
I just create product reviews and other informational posts that help people. There is no need to deal with customers, physical products or suppliers.
I am my own boss, and I get free traffic from Google's search results. So, when people search for information, they find my articles and visit my site. That's basically how I run my business…

My site is all about ways to make money online. But you can build a website about anything you want and earn affiliate commissions by promoting only the products that you believe will benefit your audience.
There are lots key information and tutorials that you need to follow to start your business from scratch. So, that's why I recommend a structured step by step program and community that will back you up at any stage and make sure you are in the right direction.
If you are interested in learning more about the strategy and training platform that I personally use to build my internet business, check #1 recommendation below.
[thrive_megabutton mt="Click Here and Check Out My No. 1 Recommended Program" st="" color="green" link="https://myroomismyoffice.com/wealthy-affiliate-score-9-7/" target="_self" align="aligncenter"]
Thanks for checking out my Secretly review, and I hope it helps you make an informed decision. If you have any question, feel free to ask in the comment section below.
Your friend
Stefan