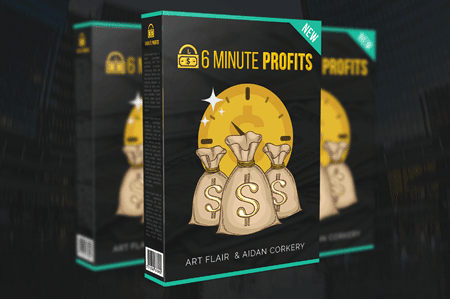 Art Flair has just released 6 Minute Profits that is going to show how to make over $100 in just 24 hours and with just 6 minutes of set up. He says you have never seen anything so fast and simple in your life. So, is 6 Minute Profits a scam or legit opportunity?
Find out the truth within my review below. By the way, don't forget to check out the strategy that earns me over $700 per month from my laptop – Click here for details!
6 Minute Profits Review
---
Product: 6 Minute Profits
Website: artofmarketing.academy/6mp-live/
Price: $8.58 ~ $97
Owner: Art Flair
Score: 5/10
What is 6 Minute Profits?
---
6 Minute Profits has been promoted as a secret and fresh formula that allows anyone to make money online by tomorrow.
Art is trying to set his training apart from the rest by claiming it has nothing to do with rehashed old methods of list building, paid traffic, or YouTube marketing.
He goes on to say that the biggest problem is that online marketers have been limiting their promotions to the same group of people and that these strategies are not as profitable as they used to be.
So, here is the truth about this course: 6 Minute Profits will teach you how to set up viral Facebook Lives so you can promote affiliate offers to people that are watching you.
Pros and Cons
---
Pros
The lessons are easy to follow.
You can make money with this method.
There is a 30-day money-back guarantee.
Cons
Unrealistic expectations.
You need to have a massive and targeted audience on Facebook, and that takes time to build up.
The method itself is not scalable.
3 Upsells
How Does it Work?
---
The strategy is simple in theory, but it doesn't mean it's going to be easy. Basically, you will have to create a Facebook account and start sending friend requests to people that may be interested in the type of products you will promote.
For example, if you are in the "make money online" niche, you should search for people on Facebook groups that are related to that.
Then, you set up a Facebook Live, which allows you to broadcast live videos to your contacts from your phone!
The key idea here is to send FB Live requests with a title and description that catches people's attention so they can jump in and listen to what you have to say.
Note that you will have to prepare your presentation so you can deliver relevant information and solve people's problems in your niche.
While you are broadcasting, you will get comments from people that are watching you. When that happens, you should send them a private message with an affiliate link to the product you are promoting. If the person clicks that link and buys the product, you will get an affiliate commission.
Here is a screenshot from the first video lesson, which gives you an overview of the method: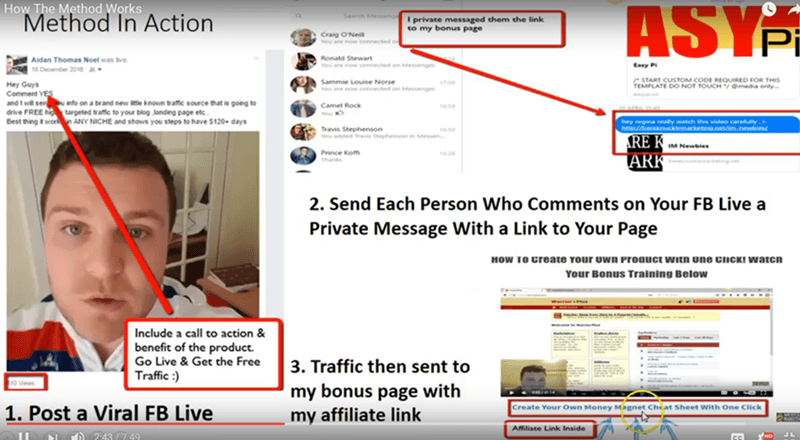 Here is the course overview:
The power of Facebook Live.
How to set up a Facebook Live.
How to make your live broadcasts go viral.
Case Study and results.
How to automate your FB Lives if you are camera shy.
Can You Really Make $100 in Just 24 Hours? 
---
Well, it's not impossible, but I would say it's unlikely you achieve that on your first day.
First of all, you should have a huge number of followers on Facebook, and that takes time! You see, not everyone will be willing to accept your invitation so, it's not a quick process.
The next step is to convince people to stop and listen to what you have to say. And here are two important questions for you:

Are you comfortable speaking in front of the camera and do a nice presentation?
Are you excited and knowledgeable about your niche?
If you have never done it before, then you realize you have a long journey ahead. All the process of studying your niche and preparing your presentation will require lots of time and effort.
Think about how difficult it can be:
Only a small percentage of people will stop and watch your live broadcast. However, not everyone who does is going to send a comment and click on your links.
Finally, only a small percentage of those who click the links will end up buying the product.
In my opinion, making money with this method alone is a bit of a challenge!
Upsells
---
Right after you purchase the front end product, Art Flair will try to sell you three upsells that amount to $161!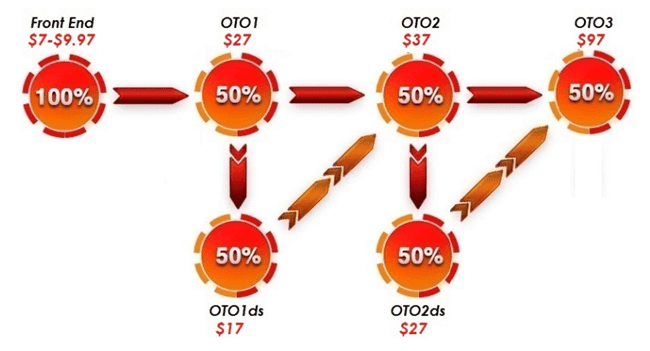 Upsell #1 will give you additional 5 case studies and advanced training with tips to increase commissions.
The Upsell # 2 is a done-for-you package comprised of squeeze pages, marketing campaigns, niche ideas, and affiliate offers you can promote.
Finally, upsell #3 will give you the right to sell 6 Minute Profit and keep 100% of the profits (reseller's right).
Final Thoughts
---
6 Minute Profits is not a scam, but the sales page promotes the idea of quick and easy profits, which I am totally against.
Facebook Live can be set up within 6 minutes, and you can actually earn commissions in 24 hours. But first, you need to have a huge audience that is willing to watch your live broadcast. You also need to research and prepare your presentation.

So, this is not as easy and quick as they claim to be.
In my opinion, this method is useful when combined with other strategies like blogging and YouTube.
The problem is that if you rely solely on this method, you may have to create live broadcasts every day in order to make daily commissions. And that's not scalable because you are still trading your time for money.
Verdict: Legit
My #1 Recommendation 
---
I prefer growing a website along with a YouTube channel so I can get free traffic that will keep coming for years and generate passive income.

This reward platform is going viral! Cash out via PayPal, Visa, Gift Cards, and in-game currencies - Click here to find out how to generate an extra $10+ per day! 
If you want to build a solid online business, make passive income online, and live life on your own terms, then check out my top recommendation. 
This is an all-inclusive platform where you will get proper training, tools and 24/7 support from six-figure earners!

And the great thing about it all is that you can sign up for a free trial account with no strings attached!
Thanks for reading and I hope this review helps you make an informed decision. If you have any thoughts or questions about 6 Minute Profits, feel free to leave a comment below.
See you next time!
Stefan