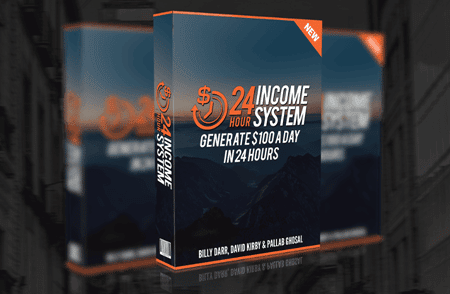 The creators of 24Hr Income System are claiming there is an instant traffic source that allows you to bank $100+ in the next 24 hours. Not only can you make $100+ in the next 24 hrs, but you can also do it every single day, over and over!
Is 24Hr Income System a scam or a legit opportunity? Check out my honest review below and discover the truth behind this method.
Don't forget to learn the real strategy that earns me over $700 per month in passive income online – Click here for details!
24Hr Income System Review
---
Product: 24Hr Income System
Website: https://billydarr.clickfunnels.com/24hr-income-system
Price: $6.95 up to $97
Owner: Billy Darr, David Kirby, and Pallab Ghosal
Score:

3/10
What is 24Hr Income System?
---
According to the sales page, 24Hr Income System is a step-by-step video training program that teaches you how to make $100 in 24 hours! Amazing, right?
These guys are claiming this only takes 30 minutes to set up and you are ready to go! Besides, you don't need any experience or special skills as everything you need is covered in the course.
I know the hype does not convince you, and you want to know what the training is all about.
So, here is the information that is missing: 24Hr Income System will show you how to promote products as an affiliate using YouTube videos.
Pros and Cons
---
Pros
The lessons are easy to follow.
You can make money with this method, but not so fast.
There is a 30-day money-back guarantee.
Cons
Overhyped
Unrealistic expectations
You can lose money with paid traffic
It's challenging to rely only on YouTube to bring $100 daily. It lacks a solid foundation.
Lots of Upsells
How Does it Work?
---
You probably know that people are making money on YouTube, so what is it so special about this method?
To be honest, nothing! There is no secret traffic method here!
24Hr Income System is basically trying to sell you the dream of making quick and easy money online with a system that people are using for years!
They will teach you how to choose a product to promote and sign up for affiliate programs such as JVZoo, Amazon Associates, WarriorPlus, Clickbank, among others.
The idea is to create review videos that, according to owners, are going to rank instantly and start getting visitors.
When people get interested in the product you are promoting, they will click on the affiliate link that you will insert in the video description.
Here is one example I found on YouTube:
The link will direct people to the sales page, and you will be able to earn a commission if someone buys the product.
Also, you will learn how to use paid traffic methods to advertise your videos and get more views. They say you can invest only $5-$10 per and make over $100 in a few hours!
What You Will Get
14 Step-By-Step Tutorials
A real life case study
Three bonuses that will teach you to get more traffic and make more sales.
Can You Really Make $100 In Just a Few Hours? 
---
Sure, it's possible to upload a video on YouTube and be lucky enough to rank high and get a nice commission. However, that is extremely unlikely if you are just starting out and you have very few subscribers.

Ranking on YouTube for lucrative affiliate offers is harder than ever because experienced marketers have been using this strategy for years!
So, the competition is fierce out there, which means you will have to be patient and work hard to grow your YouTube channel for months and probably over a year before you start getting significant free traffic.
Now, as I said, 24Hr Income System will show you a paid traffic method, so you don't need to rely on good rankings.
Well, in my opinion, that is a risky strategy that I don't recommend for a beginner.
The reason is that you don't how many viewers will click your links and buy the product. It depends on how convincing you are in promoting that product, and most importantly, how good that product is.
There is a lot of testing with this method, so you must be willing to spend a lot of money in the process.
Therefore, unless you really have some experience as an internet marketer, it's unlikely you will make $100 in just a few hours.
4 Upsells
---
Right after you purchase the first product (frontend), the owners will try to sell you another four expensive upsells that amount to $188!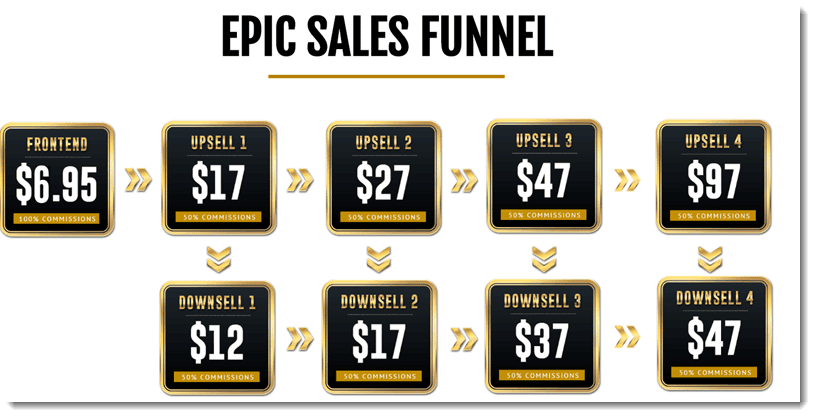 The frontend product is just the entry point, and as you can see, you will be encouraged to buy the other upsells to take full advantage of what this method entails.
There is a small discount when you try to leave the page, but it's frustrating when you buy a course only to discover there is more stuff you need.
The reality is that the first product is just a bait that gets you into their highly profitable sale's funnel. Just to be clear, I mean profitable for them, not for you, of course.
I haven't tried the upsells, but I've been reviewing similar courses of over two years, so I know what to expect from this type of "opportunity."

The done-for-you marketing campaigns they usually sell are just a complete waste of money! And what about the coaching programs? Well, these so called "gurus" never convince me to try them…
Final Thoughts
---
24Hr Income System is not a scam, and the training is not that bad. However, you can't expect to work just 30 minutes and make $100 daily.
You will probably feel frustrated when you realize it's not so easy as it seems. It takes time to create relevant product reviews, rank high, get subscribers and eventually to make consistent sales.
Verdict: Legit

This reward platform is going viral! Cash out via PayPal, Visa, Gift Cards, and in-game currencies - Click here to find out how to generate an extra $10+ per day! 
What I Recommend
---
It is possible to create many streams of passive income online and finally achieve the lifestyle of your dreams. It's not only possible, but anyone can do this with patience and perseverance.
If you are ready to work towards building these remarkable income streams, then I highly encourage you to check my #1 recommendation.

This is an all-inclusive platform that will help you build a solid foundation for your online business without having to jump on risky strategies.
The great thing about it is that you can sign up to a free trial account with no strings attached!
Final Words
Thanks for reading and I hope this review helps you make an informed decision. If you have any thoughts or questions about 24Hr Income Systems, feel free to leave a comment below.
See you next time!