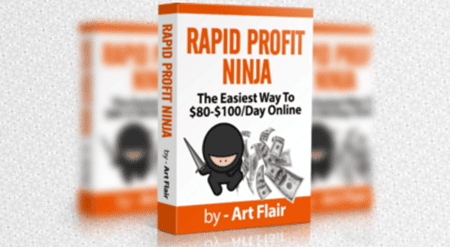 Art Flair is promising to show you the easiest way to make $80-$100 per day online! He says his method just requires a small amount of work per day and it's completely free to get started. Is Rapid Profit Ninja a Scam or legit training?
There are so many ways to make money online, but most of them are very ineffective or blatant scams! So, check my review and discover the truth about Rapid Profit Ninja.
Don't forget to discover the real strategy that earns me over $700 per month in passive income online – Click here for details!
Rapid Profit Ninja Review
---
Product: Rapid Profit Ninja
Website: http://artofmarketing.academy/rpn-sales-v2/
Price: $8.61 up to $197
Owner: Art Flair
Score:

3/10
What is Rapid Profit Ninja?
---
It's so annoying when you are enticed to buy a course without having any idea of what you will learn. I mean, these marketers are not forcing you to buy their products, but they are promoting in a way that is extremely attractive and at the same time mysterious!
They just want you to buy into the mindset of making lots of money without significant effort, into the hype. Rapid Profit Ninja is another one of those products!
It's all about using a free tool to create graphic designs and sell them via freelancing platforms such as Fiverr and Upwork.
Pros and Cons
---
Pros
The course is easy to follow.
There is a 30-Day money back guarantee
Cons
The sales page is overhyped.
It gives you unrealistic expectations.
The lessons cover the very basic and won't help you stand out from thousands of highly skilled competitors.
It includes tactics that you may not be willing to use.
The wrong mindset to achieve success.
How Does it Work? 
---
Rapid Profit Ninja consists of a 27-page PDF and a few walkthrough videos and bonuses.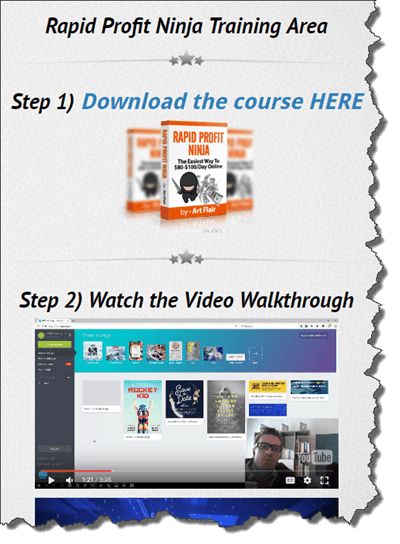 The main strategy is to promote yourself as an expert graphic designer and use tools such as  Canva and Pixrl to create banners, flyers, and posters.
And by the way, don't forget to use a picture of a cute girl in your profile!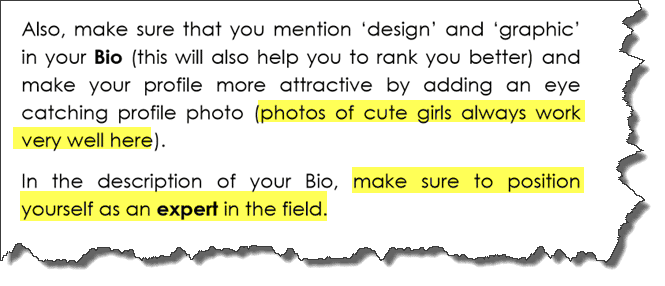 It all seems very easy, but what Art doesn't tell you is that the competition for freelance jobs in these platforms is absurd so you will need to stand out!
It's not possible to simply call yourself an expert and expect people will flock to your profile begging for your gig. No!
You can only stand out by having lots of positive reviews, which means you have to do a great job. And that takes time and effort!
Sometimes years of experience as a graphic designer won't suffice to make the level of income Art is claiming you can make. The reason being is again, harsh competition!
Excellent designers are working for years on these platforms, and it's tough to even start getting a little bit of exposure.
Art also gives you sneaky tactic to get fake 5-star reviews. To be honest, I don't think this is the right path to becoming a successful freelancer with Fiverr. You can use this trick for a while, but as you will be selling to real people that will provide real reviews as well. Which means you have to do a great job to maintain your 5-stars.
Can You Make $80-$100 Per Day?
You're unlikely to start making $80-$100 per day quickly by creating posters and fliers with Canva.com! You need to do stand out from the crowd by becoming a highly sought-after designer, and that requires a lot of learning and practicing.
Therefore, and in my opinion, Rapid Profit Ninja is not enough to help you make the level of income Art is claiming you can make.

In fact, the training doesn't even cover the basics of graphic design. It's only a quick guide to show you the possibility of becoming a freelancer.
Is Rapid Profit Ninja a Scam Then? 
No, it's not a scam because you can actually learn a few things and make money with this method. The problem is the way this training has been promoted.
Upsells
---
After you purchase the front end product, Art will try to sell you 3 upsells.
#1 – Advanced Training Package for $19: Learn how to double and triple your profits.
#2 – Done for Your Package for $27: You will get 2 real-life case studies, 30 DFY listings and three extra money making methods.
#3 – Coaching and access to the private mastermind group for $197
Do you think it's worth investing more money into this "opportunity"?
Final Thoughts 
---
Rapid Profit Ninja just opens your eyes to the possibility of making money as a freelancer and shows you some basic online tools to get started. The training is very basic, and you will have to work very hard to achieve $80-$100/day as a freelancer.
The reality is that you will compete with thousands of REAL and highly skilled graphic designers. So, it's not as easy as it seems!

What I can say is that there is no shortcut to becoming a successful freelancer. You need to work hard and market yourself very well to climb the ranks and become a freelancer that people can trust. Only then you can think about the rewards for offering an excellent service!
My #1 Strategy to Make Money Online
---
Freelancing is a great way to make money online, but some disadvantages put me off.
I don't like to meet deadlines and, most importantly, I don't like to trade my time for money.
If you want to earn a substantial income online, then I highly recommend you build an online business. With an online business, you have much more freedom, and your income is unlimited. 
What I like most about having an online business is that I can take holidays while the business keeps working and generating commissions on autopilot.

This reward platform is going viral! Cash out via PayPal, Visa, Gift Cards, and in-game currencies - Click here to find out how to generate an extra $10+ per day! 
For example, last July I went to Greece for two weeks and was still able to make over $600 while I was away! Isn't it awesome?
If you want to start and grow an internet business, I encourage you to take a look at my #1 recommendation review.

This platform is the same one that I use to learn and grow my affiliate marketing website. What's unique about it is the huge community of thousands of entrepreneurs that help each other on live chat and forums. But don't take my word for it, get your free trial account here and see if you like. There is no credit card required!
Well, I hope this post was helpful to you. If you have any questions or comments about Rapid Profit Ninja, just leave your comments below.
I'll See you next time!
Stefan