Hello there, wonderful people!
I see you're keen to know more about the man running the show at MyRoomisMyOffice.com.
Your curiosity is appreciated; I too, love getting to know people's stories!
I'm just a guy from a small Brazilian town called Sao Carlos. After graduating in 2009, I was bitten by the infamous travel bug.
The desire to see the world was just too strong to resist!
And so, London called in 2009, and I answered – and boy, am I glad I did!
Over the next four years, my journey took me from the UK to Germany, with numerous travels around Europe. It was a never-ending adventure!
During these three years, I jumped from job to job, working in temporary jobs to fund my trips.
I worked as a waiter in London and an ice cream maker in Germany.
Yes, I was the ice cream maker of a huge Gelateria over there (a shop that sells Italian ice cream). Take a look at my happy face! 😛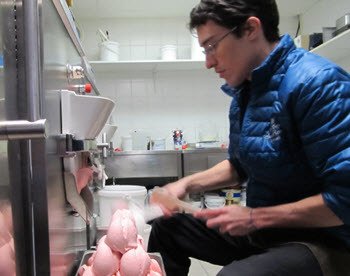 Making ice cream for an Italian Gelateria may sound sweet, but 15-hour workdays for nine months were quite a challenge.
Yet, would I do it again? In a heartbeat!
However, the weight of my 30s was getting heavier, and I felt the need to save money and eventually pursue a career.
I went as far as starting a part-time Master's degree in London to offset my lack of experience and get a fresh new start.
But deep inside, I was unhappy with the prospect of being stuck in a permanent 9-5 job for the rest of my life!​
At the same time, I found a stress-free job as a Kitchen Porter in a coffee shop.
It was not a dream job, I know, but at least it was something that kept my mind sane if you know what I mean.​
Now, because of the high living costs in London, I couldn't save much. This drove me towards the virtual world in search of additional income.
I stumbled across inefficient methods such as online surveys and microjobs.
I also found many scams involving deceitful MLM companies and binary options software that would suck my wallet dry.​
And then, the game-changer: Wealthy Affiliate (WA). The platform opened my eyes to the possibility of owning an online business and earning a significant income while working from my laptop.
They taught me how to set up a website, work for myself, and earn affiliate commissions that could realistically overtake (by far) my full-time income at the coffee shop.​
Embracing an online business meant freedom – the freedom to work on my terms, control my income, and continue my love for travel without the stress of finances.
Determined, I poured my heart and soul into it, unwilling to continue earning a minimum wage for others.
All this led me to a drastic decision:​
I Quit My Master's Degree!
​
So radical was my commitment that I walked away from my Master's degree, opting to focus on my venture.
With the exceptional training, motivation, and support from Wealthy Affiliate, I never looked back.
Today, I take immense pleasure in helping others while earning a decent income.
It is very rewarding because of the opportunity to share knowledge and experience. It is also a very creative process.
A website is your unique piece of art!
So, My Room is My Office is based on the idea that you can create a business from your room or anywhere.
I know this is a dream that can be pursued and attained.​
Nice to meet you! I want to give you a warm welcome to my website!​
If you need any help, you can always drop me a message below, send an email to [email protected], or get in touch by my profile via WealthyAffiliate.com (here is the link – it requires a free sign-up with Wealthy Affiliate).​
Thanks for reading!
Stefan​