Hi, everyone!
You are here to know a little bit about the beautiful face behind MyRoomisMyOffice.com.
Thanks for your curiosity, I also love to read other people's stories! 🙂
I am a Brazilian guy from a little town called Sao Carlos. After I finished my uni in in 2009, I decided it was time to see the world no matter what.
You know the travel bug, right? LOL
So, off I went to London in 2009, and I loved it!​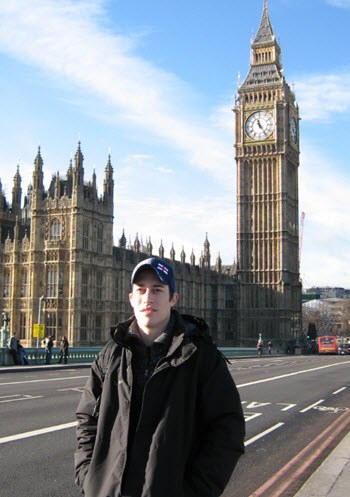 Many things happened from 2009 to 2013. I lived in UK for one year, and another nine months in Germany. I also traveled to many countries around Europe with my wife and it was just incredible!
During this three years, I was jumping from job to job, working in temporary jobs just to fund my trips.
I worked as a waiter in London and as an ice cream maker in Germany. Yes, I was the ice cream maker of a huge Gelateria over there (a shop that sells Italian ice-cream). Take a look at my happy face! 😛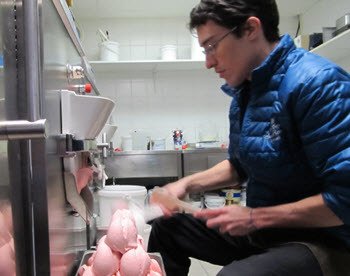 Working 15 hrs per day for 9 months was not funny at all!
If I could turn back time, I would do it all again. However, the weight of my 30's was getting heavier, and I felt the need to save money and eventually pursue a career…
I went as far as starting a part-time Master's degree in London to offset my lack of experience and get a fresh new start.
But deep inside, I was unhappy with the prospect of being stuck in a permanent 9-5 job for the rest of my life!​
At the same time, I found a stress-free job as a Kitchen Porter in a coffee shop. I'm working with this company for 3 years already! It's not a dream job, I know, but at least it's something that keeps my mind sane if you know what I mean.​
Now, because of the high living costs in London, I couldn't save much. That was when I started looking for ways to make money online.​
I stumbled across some inefficient methods such as online surveys, paid-to-click, and microjobs. I also found many scams involving deceitful MLM companies and binary options software that would just suck my wallet dry.​
Then, I discovered Wealthy Affiliate (WA) and the possibility of building an online business. This changed everything!​
They taught me how to build an online business, work for myself and earn affiliate commissions that could realistically overtake (by far) my full-time income at the coffee shop.​
An online business would allow me to work whenever and wherever I want and to take control of my own paychecks.​
I put my heart and soul into it because I realized this is the only way I could keep traveling the world and living the lifestyle I've always dreamt of, without putting myself into financial trouble.
​I am also sick and tired of working for other people and earn a terrible minimum wage!
All this led me to a drastic decision:​
I Quit My Master's Degree!
​
I left my Master's degree to focus on my own business, and I am glad I did. It was a tough decision, but I wouldn't be so confident if it were not for the excellent training, motivation and support I get from Wealthy Affiliate.
​The good thing about it is that you get the chance to earn while you help people all over the world. It is very rewarding because of the opportunity to share knowledge and experience. It is also a very creative process. A website is your unique piece of art!
So, My Room is My Office is based on the idea that you can create a business from your room or from anywhere you want. I know this is a dream that can be pursued and attained.​
Nice to meet you! I would like to give you a warm welcome to my website!​
If you need any help, you can always drop me a message below, send an email to [email protected] or get in touch by my profile via WealthyAffiliate.com (here is the link – it requires a free sign up with Wealthy Affiliate).​
Thanks for reading!
Stefan​