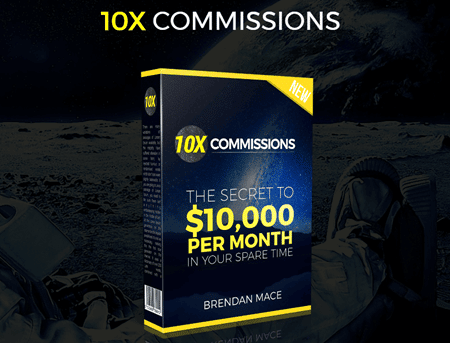 Brendan Mace wants to teach you a secret method to reach $1,000 within 30 days! Impressed? Well, this is just the start as it also comes with step by step training on how to make $10,000/month within just 90 days!
Can you trust this guy? Is 10x Commissions another scam?
I know you are pretty excited to learn that strategy and finally live the life of your dreams, but I encourage you to read this review before you take the plunge.
For in-depth training on how to build a solid online business, check out my highly recommend platform.
10x Commissions Review
---
Product: 10x Commissions
Website: 10xcommissions.com
Price: $13.80 ~ $997
Owners: Brandon Mace
Score:

5.5/10
What Is
 10x Commissions?
---
10x Commissions is a training developed by Brandon Mace, which is also the author of  Zero Hour Work Days, Five Figure Freedom and a few other courses.
According to Brandon, 10x Commissions is the most in-depth training that he's ever released. I hadn't seen any of his previous stuff, but I was very skeptical as he is using the same overhyped sale's pitch to urge you to buy their products.
For example, saying that a piece of training will teach you how to earn $1,000 online in less than 30 days doesn't look right.

It's highly unlikely this will happen.
To be honest, not even the most expensive courses and mentorships in the World can make such claims. All they can do is teach you the path, but they can't promise you anything! The reason being is that probably 99% of your results depends on how effectively you apply the method, and not on the training itself. The problem is that many people are not willing to put in the time and effort.
Nonetheless, I understand that many great courses go over the top to promote their stuff. So, with that in mind, I decided to buy 10x commissions to give you my honest opinion.
Pros and Cons
---
Pros
The lessons are easy to follow.
It's affordable.
Good tips for those who want to make money promoting JVZOO and WarriorPlus products.
Cons
Basic training: it doesn't cover important things that are needed to get high Google rankings. The lesson about WordPress also falls very short.
No niche selection training. Deciding on a niche is the first and most important step for every online marketer!
Overhyped: As a newbie, you can't expect to earn $1,000 within the first month.
No support – You are on your own unless you buy the coaching, which is $997.
Lots of upsells
Lots of promotions within the course.
How Does it Work?
---
The entire course is comprised of a welcome video and another 14 video lessons that last between 4-19 minutes.
You have to keep in mind that you will see affiliate links below each video that will encourage you to buy hosting, autoresponder, sale's page builder and other software for your online business. Don't go so fast because all of them combined can easily amount to hundreds of dollars per month!
Not only that, the first video is an invitation to participate in a live orientation call training by Michael Cheney.
Well, it turns out that the live training is long gone and what's left is the recorded video where Michal Cheney will try to convince you to buy his 7-figure franchise for a hefty $1997!
The 10X Commission Strategy
It's not within the scope of this review to expose the whole strategy, but I can give you an idea of what you will learn.
Brandon will teach you how to:
Get hosting and set up a website/blog: A website is essential for all internet marketers.
Get traffic to your blog.
Create a Youtube channel to do product reviews and promote them as an affiliate.
Create an Aweber account.
Increase your conversion with a bonus page
Create a bonus delivery page and an interesting strategy to get free buyers leads.
Perform email marketing with bonuses.
Build a landing page.
Use post commenting and Facebook to get free traffic.
Buy solo ads.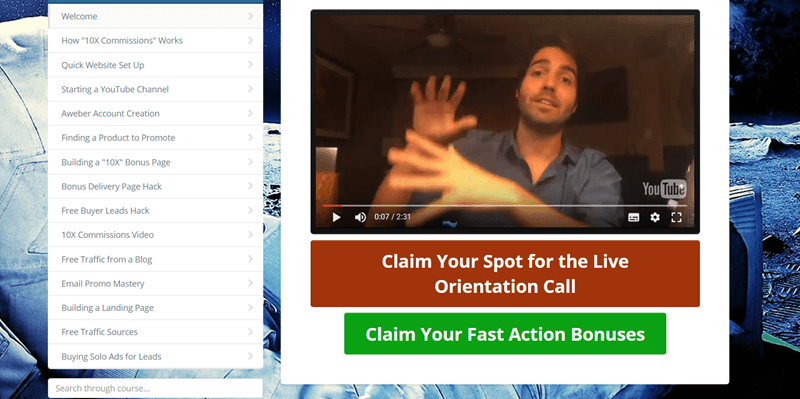 As you can see, this is all internet marketing, which is pretty legitimate. All online marketers use one or a combination of these strategies to promote their own products or other people's products as an affiliate. There is nothing secret about it!
The key aspect of this training is that it encourages you to promote digital products listed on JVZoo and WarriorPlus. You can find different types of info products over there, but the "make money online" courses dominate both platforms.
If you want to promote these products, you should create reviews and publish on your blog and Youtube channel. That's how you get free traffic!

Can you make a lot of money with this strategy?
Yes! But in my opinion, it's not really nice to promote any product just for the sake of money.
You want to build a strong reputation and feel good promoting something you actually believe people will benefit from.
Unfortunately, most digital products you find on such platforms falls very short in quality. Therefore, you will have a hard time making a lot of money while promoting only excellent products.
You see, most affiliates don't really care about the quality of what they are promoting. They only care about money, regardless of whether it can benefit the customer or not. Those are the ones who make a lot of money!
I am not saying 10x Commissions encourages you to do that. I am just saying that it's common practice of JVZoo affiliates to promote what's most profitable for them.
The Training
---
10x Commissions will show you some interesting strategies and tips to increase conversions. The videos are easy to understand, but I think newbies can become a bit lost as it doesn't offer a step by step approach.
The lessons offer very basic information on how to get free traffic from blogging. As a content marketer, I consider SEO (search engine optimization) crucial for creating an authority site, and 10x Commissions falls very short on that. Click here for my recommended training.
If you are new to all this, you will definitely need more training on how to use WordPress.
Bonuses
You will get some bonuses with your 10x Commission product. These bonuses are video lessons from marketers including Ben Martin, Michael Cheney, and Brandon himself. I skimmed through some videos, and all I can say is that they will give you more tips on Youtube, Facebook, and email marketing.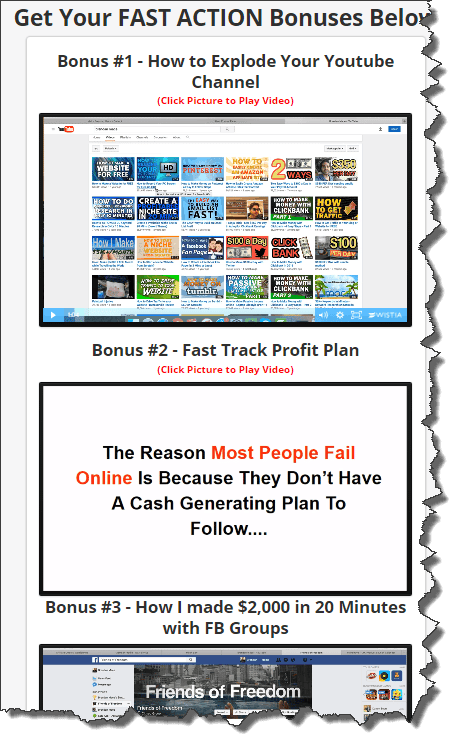 Upsells
---
After purchasing 10x Commissions, Brand is going to bombard you with one upsell after another. It starts with a cheap done-for-you campaign ($4.95), all the way up to $997 for coaching.

The done for you campaigns can save you a lot of time if all you want is money. However, only you can to do the heavy lifting of getting traffic to your sale's pages.
Final Thoughts
---
10x Commissions is a basic training on how to make money online using different marketing strategies. There is a lot more to learn when it comes to internet marketing, so this should be considered an introductory course.
I am not a big fan of the idea of building a business around promoting JVZoo and WarriorPlus products. It's difficult to find a great product on these platforms, and the "make money online" niche is not something everyone feels comfortable with.
Also, when you are just starting out, you want to keep your costs low, so you don't feel frustrated. Imagine spending hundreds of dollars per month on fancy software at a time where you don't even have the traffic. It would be a waste of money!
Verdict: Legit 

This reward platform is going viral! Cash out via PayPal, Visa, Gift Cards, and in-game currencies - Click here to find out how to generate an extra $10+ per day! 
My Advice to You
---
I highly encourage you to start an internet business around something you are genuinely interested in. That's because you will have to spend many hours of your life dedicating yourself to writing and helping people in your niche. You should enjoy what you do, you see?

Also, you need to keep in mind that building a highly profitable online business takes a lot of time and effort. You can't expect to earn hundreds, let alone thousands in your first year!
Don't jump on it with this mentality or you will become deeply frustrated. But also, don't give up on your dream just because of the hard work involved. The opportunity to make money with an online business can transform your life!
If you want to build a niche website around your passions and interests, then check out my #1 recommendation.
It's an all-inclusive platform where you will get:
Awesome step-by-step training in affiliate marketing
A community of thousands of online entrepreneurs that help each other.
High-quality hosting for up to 25 websites.
Keyword research tool and much more!
This is the best training that I've come across. And the great thing is that you can get a FREE starter membership so you can try and see if you like.
>> Click Here and Read My #1 Recommendation Review
That's it for now. I hope this post was helpful to you. If you have any questions about 10X Commissions, feel free to ask in the comment box below.
See you next time!
Stefan