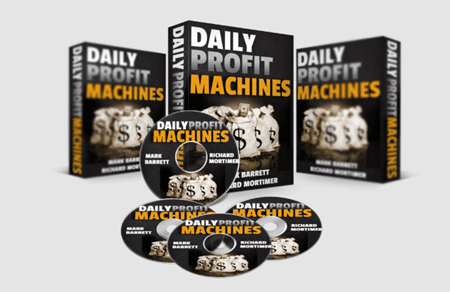 Daily Profits Machine is being promoted as a brand new method to make $100/day while getting a 100% opt-in rate. Can you believe that?
So, what's behind Daily Profits Machine? Is it a scam or legitimate?
Check out this review where I present my honest opinion about it.
By the way, if you are serious about building an online business, check out my top recommendation – the same step by step course that used to reach $700/month.
Daily Profits Machine Review
---
Product: Daily Profits Machine
Website: dailyprofitmachines.com
Price: $9.64
Owners: Mark Barrett and Richard Mortimer
Score:

7/10
What Is Dialy Profits Machine?
---
Daily Profit Machines is a video training developed by two experienced internet marketers called Mark Barrett and Richar Mortimer. It will help you understand the framework to build sales funnels for your own products or other people's products (affiliate).
The method focuses on email marketing and paid traffic. Therefore, you should expect to spend a significant amount of money to set up the systems and get the leads for your funnel.
When I saw the sale's page for the first time, I just couldn't believe the idea of getting 100% opt-in rate. In fact, I very skeptical it would help anyone start making any money at all!
So, I decided to the buy and see how everything works.
How Does it Work?
---
I will not explain step by step the method itself and show you all the tools that the training recommends. Otherwise, I would be exposing the whole business, which is not my intention with this review.
Basically, Rich will teach you how to set up a sale's funnel, which comprises of an autoresponder (software to sent out emails automatically), a traffic source (visitors), and the product.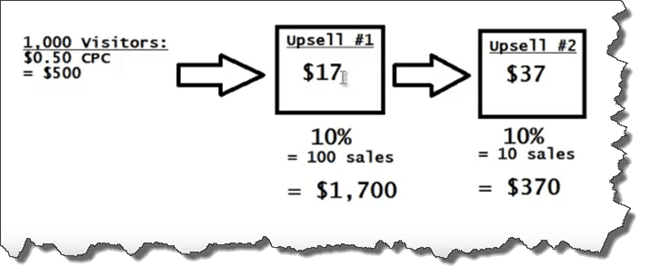 The main functions of a funnel are to collect people's emails (leads) and promote offers through a sale's page. But how to get people (traffic) to land on a funnel in the first place?
Usually, many online marketers buy traffic through solo ads. Click here if you want to understand what solo ads are.
Through solo ads, online marketers get clicks to their opt-in pages, but that doesn't mean all of them will actually opt-in. In fact, it's very hard to get 30% sign-ups, let alone 100%!
So, how is it possible that Daily Profits Machine is promising a 100% conversion rate?
Well, the owners will show you a traffic platform that allows you to buy leads straight away!
It's not that 100% of people are magically signing-up! No. The difference from solo ads is that here you are buying leads instead of clicks.
It's an interesting concept because instead of people seeing your website, the first thing they will see is your email, which puts emphasis on email marketing.
Is it Really That Profitable? 
---
If you have been an internet marketer for a while, you know how important it is to build a list of email subscribers. So, the opportunity to buy leads may be very tempting as you can tap into an unlimited source of traffic!

BUT,  I need to give you a word of caution here….
Buying leads is not a guarantee of any money in your pocket! You can have thousands and thousands of subscribers, but if your email marketing campaign is not compelling enough to make people buy, you will waste a lot of money.
With this traffic platform, you can expect to spend $25 for 45 leads!
So, even though you get leads for all the money you invest, you still need a good conversion rate to make your funnel profitable.
You can only know how well it converts if you experiment a lot! So, you need to be willing to lose money until you get things right.
The system will be more profitable if you have your own product (ebook, online training, etc.5). However, you can also use the strategy as an affiliate and promote other people's products. In that case, you will earn a percentage of the sale which will reduce your profit margin.
It can be hard! And because you are investing a lot of money in every test, it can be a frustrating experience!
The Training
---
The training is comprised of 10 videos lessons divided into five parts:
Comparison (A comparison between the 2 different funnels).
Software needed
Traffic source
Set-up software
Set-up products
For the small price, we can't expect a top-notch course, but I acknowledge Richard did a good job in teaching his method.
Personally, I found the course very easy-to-follow. Also, There are many links directing to additional training, and PLR articles, which is nice.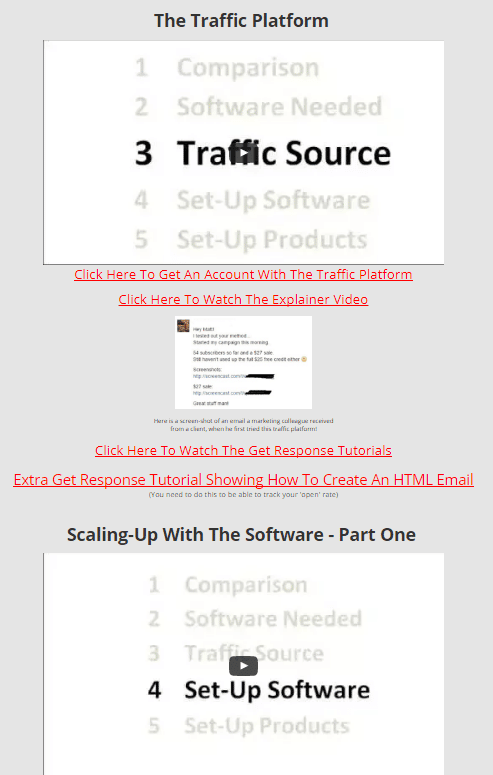 I don't recommend the training and strategy for complete beginners. That's because you should have a high converting email sequence to generate a positive ROI (return on investment). That can only be achieved with experience, which in turn requires lots of testing.

Pros and Cons 
---
Pros
The training really shows you how to get leads from 100% of your investment.
The lessons are thorough and easy-to-follow.
It's cheap!
Cons
It's risky for beginners.
Overhyped.
Although the course is cheap, you still have to invest in software and traffic.
Wrong mindset: It promotes the idea of easy and quick money.
Final Thoughts
---
Daily Profits Machine is a legit and pretty decent training. However, you should not expect to make $100 daily as quickly and easily as they claim, especially if you are a newbie.
As I said, the complete beginner can struggle with the concepts and the fact that he needs to invest a lot of money with software and traffic.
So, it can be very risky for those of you who have little experience in your niche marketing and doesn't know how effective your marketing campaigns are.
Verdict: Legitimate

This reward platform is going viral! Cash out via PayPal, Visa, Gift Cards, and in-game currencies - Click here to find out how to generate an extra $10+ per day! 
My #1 Strategy to Make Money Online
---
If you are a beginner or you don't feel comfortable paying for traffic, then I highly encourage you to build a website and do content marketing. The idea here is to write helpful content and attract people from search engines like Google and Yahoo.
It takes time to get good rankings and free visitor to your website, but it's worth it! This method is safer and more sustainable in the long term.

If you want to build your website and learn the strategy that I use to get over 1000 FREE visitors to my site every single day, then take a look at my #1 recommendation. 
It's a great all-inclusive platform that will show you step by step how to build a solid foundation for a niche website and earn big commissions with affiliate marketing. By the way, it's free to test drive!
That's it! Thanks for reading and if you have any questions, just leave me a message below.
Your friend
Stefan