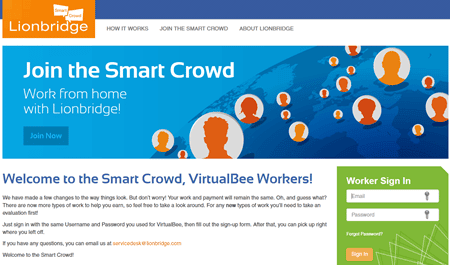 Many platforms offer the opportunity to make some extra cash from home by completing simple tasks. But you need to be careful with the ones you choose. Today, I will am going to talk about a platform called The Smart Crowd, formerly Virtual Bee.
Is The Mart Crowd a Scam? And if not, Is it worth your time and effort?
Let's see!
By the way, if you are serious about making money online, don't forget to check out my #1 recommendation at the end of and discover the strategy that earns me over $700/mo.
The Smart Crowd Review
---
Platform: The Smart Crowd
Website: thesmartcrowd.lionbridge.com
Price: Free to Join
Score:

7.0/10
What is The Smart Crowd? 
---
The Smart Crowd is a crowdsourcing platform that was acquired by Lionbridge Technologies, Inc. in 2012. At that time, the platform was called Virtual Bee, but 2015, it was merged with Lionbridge's own outsourcing platform and rebranded to The Smart Crowd.
With a global workforce of more than 100,000 people, the company provides different types of opportunities such as data entry, data research, and translation jobs.
So, no. The Smart Crowdge is not a scam. It's similar to other micro jobs sites such as Clickworker, Amazon Mechanical Turk, and Microworker.
Pros & Cons
---
Pros
Free to join.
Work whenever and wherever you want.
No qualifications required.
Cons
Jobs opportunities are not constant.
Many people (including myself) think that data entry jobs are boring.
You need to be very fast and accurate. Otherwise you hourly wage drops dramatically.
Who Is It For?
---
Anyone who is over 18 years old can participate. As the tasks are quite simple, so there is no need to have specific qualifications or any experience!
The only thing that is required from you is that you complete a few demographic questions and placement evaluations.
Although the jobs are simple, you should be able to work fast and accurately. Also, you should have a decent text comprehension and be good at grammar, spelling, and punctuation.
Now, because of the huge number of people competing for the same cushy jobs, the payment is usually less than the minimum wage in many countries.
For citizens in Asia and Africa, for example, completing such tasks can help significantly with the bills, but if you are from a 1st World Country like the USA, or the UK, your time can be extremely undervalued!
It's also important to understand that you will complete tasks as an independent contractor, so there is no employment agreement between you and Lionbridge.
How Does it Work?
---
Signing up
The sign-up is free, and all you have to do is answer a few basic demographic questions (address, education, employment, etc. ).
Placement Evaluations
Placement Evaluations are tests that you should complete so that the company can select participants according to your scores and specific skills. You will receive a score from 0 – 100 for each test.
The tests are currently comprised of:
Reading comprehension in English: 10 questions about an English article.
Business address matching: Here you are shown 2 addresses, and you need to determine whether they are the same or not.
Reading Comprehension in a second language: Chinese, French, German, Italian, Japanese, Koren, Polish, Portuguese, Russian and Spanish.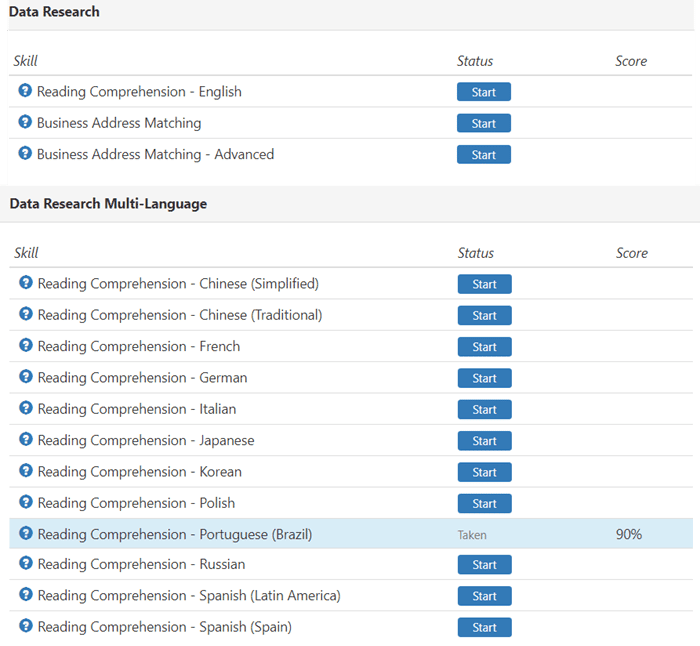 You should complete at least one test to be considered for work. However, the more tests you take and the higher your score, the more jobs will be available to you.
I found the reading comprehension quite easy, but the business address matching can be tricky sometimes, so be careful. There is no time limit to complete these questions, so don't rush because there is only one chance to complete each evaluation.

After you finish the tests, you should keep checking your email for new work opportunities. Don't be surprised to get very few opportunities in the beginning.
Work opportunities can be sparse.People can wait for weeks without getting any job, so The Smart Crowd can't be considered a reliable income source.
Types of Jobs
---
There are three main categories of jobs available:
Data Services
Data cleansing: detecting and correcting inaccurate data.
Metadata Tagging: Summarizing basic information about data to make it easier for companies to find or work with them.
Data enrichment: research and make judgments to enhance and refine raw data.
Categorization: Categorizing data attributes.
Global Testing
You can be hired to make sure software, mobile devices, and apps are functioning properly and look great.
Language Services
If you speak a second language, you can deliver translation and interpretation services.
How Much Can You Earn?
---
The payment varies according to the complexity and length of the job involved. For example, you should expect a translation to pay more than a simple data tagging.
The Smart Crowd doesn't offer any earnings estimative on their website, but one thing you need to keep in mind is that companies look for crowdsourcing as a way to reduce their costs significantly.
With that said, you should expect to earn less than the minimum wage for most data entry tasks.
From my research, I found out that the payout ranges from $3 to $15 per hour, depending on the job and especially on how fast you are.

Final Thoughts
---
The Smart Crowd is a legitimate website to work with.
You can make money completing simple tasks as a crowdfunding worker, but you won't always have work and the payout usually less than what you would get as a freelancer. Therefore, you can't rely on it to work full time from home.
If all that you want is supplement your income and you don't mind earning less than minimum wage from your computer, then give it a try!
Verdict: Legitimate
My Recommendation
---
If you dream about making a full-time income from your laptop while working whenever and wherever you want, then you are much better off building your own online business.

This reward platform is going viral! Cash out via PayPal, Visa, Gift Cards, and in-game currencies - Click here to find out how to generate an extra $10+ per day! 
It's not difficult to set up your business and work for yourself! I got started two years ago without ANY knowledge, and now I am making over $700 per month in passive income with my website.
That means I am free to work as I want and get awesome commissions that will eventually overcome my monthly salary at a coffee shop. Just bear in mind, I work on my business 25-30 hours/week, and I do that while working at my day job at the moment.

If you want to start your own internet business, check out Wealthy Affiliate. It's the same platform that I use to get all the training, support, and tools to build my own business. It worked for me and thousands of other online entrepreneurs, so I am sure it will help you too as long as you take action after each step by step lesson.
That's it for now! Thanks for reading and if you have any questions, just leave me a message below.
Your friend
Stefan