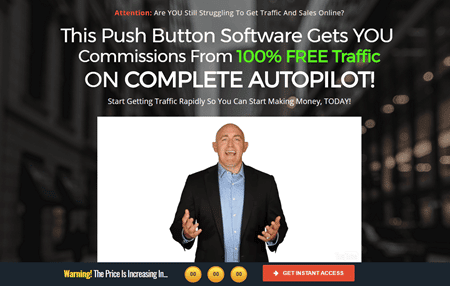 Push Button Traffic is promising to get thousands of visitors to your site totally hands-free. With a push of a button, you can get free, high-converting traffic without a product of your own, an email list, and even without content creation!
Can you trust this software to earn passive income online? Or is it a scam?
Check out my review below before you buy into this shortcut!
Push Button Traffic Review
---
Product: Push Button Traffic
Website: pushbuttontraffic.org
Price:

$

32.86

Score:

1/10

Recommended?

No
What Is Push Button Traffic?
---
At first glance, you might think that Push Button Traffic gets you free traffic like magic to your site. But it's not like that!
Push Button Traffic is a simple software that automatically pulls up existing content on the internet and publishes articles on your site as if you were the author.
So, in reality, the software doesn't automatically bring in visitors to your website. It only automates the process of content creation by searching and copying other people's articles.
This software is the classic shortcut for those who crave for instant results without significant effort. It's very similar Curation Studio.
Does it work? Well, in the next section I am going to show you all the reasons to believe it doesn't!
How Does it Work?
---
Push Button Profit is a plugin that you will install on your WordPress website.
Once activated, the first step is to choose a keyword that is related to the articles that you want to create. Then, the software will generate a selection of long tail keywords that will become titles of different articles.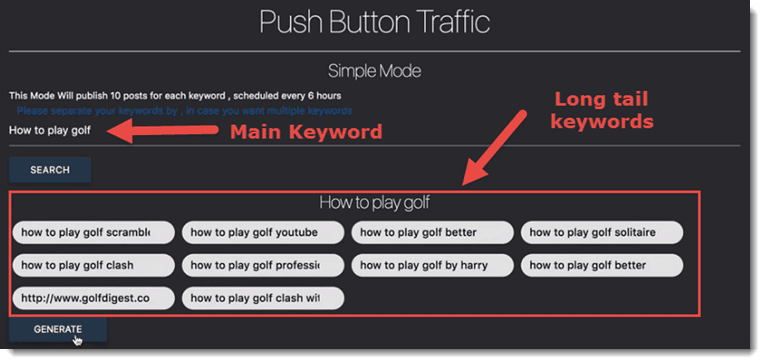 The software has a built-in scraping program that collects existing web content around those keywords and publishes them on your site according to a particular schedule.
The auto-generated article is considered duplicate content by Google, which will quickly identify that that content already exists on the internet. As a result, it will place your article in such a low position that you will rarely get visitors!
In other words, you will have a hard time getting traffic!
This is added to the fact that the resulting article is usually very shallow, sometimes containing less than 500 words. That is because the software will copy small paragraphs from complete articles, and paste on your site without a care – without a human touch.
So, even if you magically get some traffic, the content will certainly not convert very well because people won't be motivated enough to read that.
Pros and Cons
---
Pros
Cons
It gives you unrealistic expectations about your business.
Google doesn't like duplicate content, so it will be almost impossible to get free traffic.
It won't help you build a high traffic, high converting website.
Prices
---
There are three different license options available: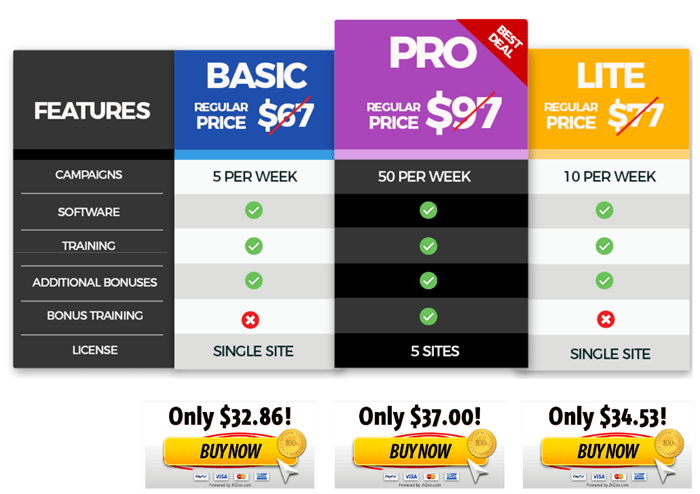 As you can see, you can't create unlimited campaigns with Push Button traffic. If you choose the Basic License, you can only target 5 keywords per week for one website.

If you choose the Pro License, you will get 50 campaigns for up to 5 websites. Besides, it also comes with bonus training.
Is Push Button Traffic a Scam?
---
The sale's page promises that you will get thousands of visitors today! Also, it sells you the idea of making money while your sleep and without any upfront work.
Still, I can't claim Push Button Traffic is a scam as you are buying a product. But it doesn't mean it will work so well as advertised.
Verdict: Not recommended
Conclusion
---
I have been building an affiliate marketing website for two years, and I know what it takes to bring a constant and substantial flow of quality traffic. It takes a considerable amount of time and effort!
Most people give up or fall for scams because they are not willing to work and commit to the long term. They want results right now!
However, if you want to succeed, you have to accept the fact that it takes time for Google to rank your articles on the first page, so more and more people find your site.
Trust me. You will get higher rankings as long as you keep adding unique and helpful content to your audience.
My # Recommendation!
---
If you are serious about building an online business, then I highly recommend Wealthy Affiliate. It is an excellent platform that provides step by step training, 24/7 support and all the tools you need to build your website.
I have been a member for two years now, and I am very happy, for they helped me grow a lucrative website that generates over $700/mo. The training really works for those who stick to it and take consistent action.
That's it for now. I hope this post was helpful to you. If you have any questions, just drop me a message below, and I will be more than willing to help.

Your friend
Stefan