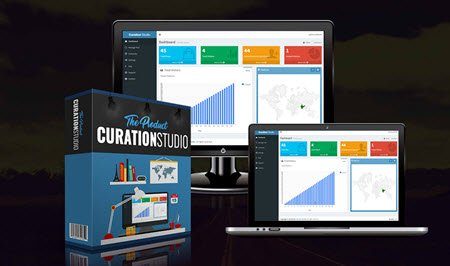 Emma Anderson wants to sell you a shortcut to make money online. With Curation Studio, you won't have to work hard to build a prosperous online business. It's hard to believe, right? So, is Curation Studio a scam or legit?
Check out my review before you invest your money.
For a comprehensive training on how to build a real online business, check out my recommend platform.
 Curation Studio Review
---
Product Name: Curation Studio
Website: curationstudio.co
Price: $27.90 + Upsells
Owner: Emma Anderson
Overall Rating: 

1.3/10
What is Curation Studio? 
---
Curation studio is an APP that allows you to pull existing content from the web, and quickly paste into your own website.
Curation Studio is actually a Web Scraping software rather than a Curation software.
It's important to know that when you just copy and paste content using this software, you are essentially stealing content from the internet and not curating it.
Pros and Cons
---
Pros
60-day money back guarantee.
Cons
Google doesn't rank duplicate content, so you can't take advantage of free organic traffic.
It can only get traffic from social media platforms. So, you must be strong on social media, otherwise, you will struggle.
You are probably infringing copyright laws if you just copy and paste content.
What is Curation? 
---
Many popular websites use curation, such as Digg, Buzzfeed, The Huffington Post, and many others.
Curata.com provides a nice definition of curation:

This reward platform is going viral! Cash out via PayPal, Visa, Gift Cards, and in-game currencies - Click here to find out how to generate an extra $10+ per day! 
[pullquote align="normal" cite="http://www.curata.com/blog/the-definitive-guide-to-content-curation/"]Content curation is when an individual (or team) consistently finds, organizes, annotates, and shares relevant and high-quality digital content on a specific topic for their target market."[/pullquote]
According to the same author, curation cannot be performed by a computer algorithm.
So, when done the right way, curation is definitely not content theft. You just visit the article you want to share, write a basic description and link to it on your site.
Here is an example from Digg.com: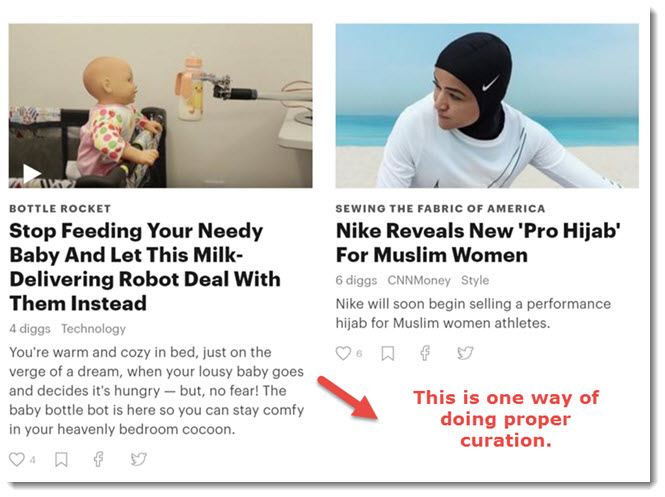 However, the way Emma is advertising Curation Studio makes people think they can copy everything they want and start making money.
This strategy doesn't work and infringes Copyright laws.
How Does Curation Studio Work? 
---
If you don't have a website, the first step is to buy a domain and hosting for your site. Then, you have to connect your WordPress blog with Curation Studio through a plugin.

After you select a keyword (search word), the software will automatically search related articles and media (images and videos) in multiple sources like Google, Amazon, eBay, Wikipedia, and Youtube.
Next, you just have to drag and drop the content you want into your blog post and voila! It's ready for publishing!
As you can see, Curated Studio has been developed for the laziest of the laziest people. Not only you are encouraged to get content from website's content, but you don't even need to search for the victim.
After you publish the article, you can select all the social media networks you want to share your content with. Then, you are good to go!
The software automates everything!
You can also use the spinning feature, which will replace words and phrases with synonyms. Article spinning is a strategy to avoid duplicate content, but it always generates weird texts that no one likes to read.
Easy Peasy, But Google Won't Let You Prosper!
---
You are probably wondering why people are still working hard to create quality content for their blogs when they can just copy other people's content?
Because it doesn't work!
Google's mission is to provide relevant and unique content for the user.
If you just copy what is already on the internet, Google's algorithm will quickly discover that what you have on your site is not unique. It's duplicate content!
Duplicate content will hardly ever rank on the first page of Google because it doesn't add value.
As a result, your entire website made of duplicate content will fall into oblivion, and you will not get traffic (visitors) from Google or another search engine.

Final Thoughts
---
Curation Studio is web scraping software that will automate the process of sourcing content from other websites.
It's not a scam. However, it's not a method to get organic traffic. That is because Google will not rank your site well, and you will lose a great source of free quality traffic.
Without organic traffic, you have to rely on Social Media and paid advertising to attract visitors to your site.
For that reason, I don't recommend Curation Studio.
If you want to build a solid internet business that can supplement or even replace your salary entirely, then check out my #1 recommendation below.
It will walk you through the process of building a website the right way, so you get free quality traffic from Google.
Click Here for My #1 Work at Home Recommendation 
Thanks for reading this article and I hope it helps you make an informed decision. If you have any questions, feel free to leave a message in the comment box below.
Your friend

Stefan