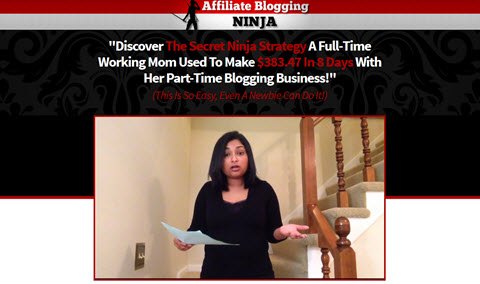 Shreya Banerjee has created Affiliate Blogging Ninja to teach you how to build a profitable blog and work full-time from home. But can you trust her training? Or is Affiliate Blogging Ninja a Scam?
In this review, I am going to expose all you need to know about this course and give you my honest opinion about it.
For a comprehensive training on how to build a solid online business, check out my highly recommend platform.
Affiliate Blogging Ninja Review
---
Product Name: Affiliate Blogging Ninja

Website: affiliatebloggingninja.com

Price: Frontend $9.97, Upsells 1: $37, Upsell 2: $197
Owner: Shreya Banerjee
Overall Rating: 6/10
What is Affiliate Blogging Ninja?

---
Affiliate Blogging Ninja is an online marketing training developed by Shreya Banerjee and launched in March 2017.
In the sale's page, Shreya talks about her motivations and struggles to make money online.
After starting a blog, she realized how hard it was to keep it updated, and that's when she discovered a system that allowed her to profit with only 2 hours Of work per month!

Such claim certainly raises a red flag because, let's face it, 2 hours per month is nothing for a blogger that wants to attract a significant audience.
Shreya also promises you will get an unfair advantage over other bloggers. But hey, for only for $9.97?
I couldn't resist, so I decided to buy and put it on a test.
The Training



---
After the initial purchase, Shreya will try to sell you more training, PLR products, and a done for you blog. I never recommend you buy upsells before you take a look at what you will get from the front end product.
The main training, which is called Blog Ninja, is comprised of 6 modules and 27 video lessons. It will walk you through the process of building a blog – from choosing a domain name to getting traffic and monetizing your blog.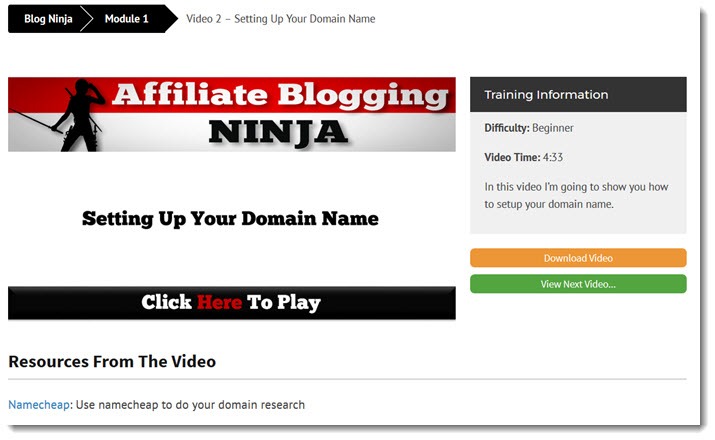 Where is The Ninja Strategy?
The lessons are very easy to follow, and there are useful tips that every blogger can benefit from. You will learn how to find blog ideas, how to schedule your posts, how to find affiliate programs, among many other things.
However, I am still trying to find the "ninja strategy" that will help me work just 2 hours per month.
The reality is, there isn't!
In order to make decent money from blogging, you need work much more, especially in the beginning. Ideally, you should work at least 2 hours per day to make it work in a reasonable timeframe.
I am 100% host with you because I have been a blogger for almost two years and I know there are no shortcuts.
No SEO Training
Another thing I need to criticize is the module 5 dedicated to traffic sources.
You will learn how to get visitors (traffic) through forums, guest blogging, Youtube, and Facebook.  The problem is that organic traffic, which is free traffic from search engines like Google and Yahoo, is completely ignored!
You need to learn at least the basics of Search Engine Optimization (SEO) to compete fairly and grow as an authority in your niche market.

We, as online marketers, know that SEO  is very powerful! To give you an idea, 98% of my visitors find my site after performing a Google search. I wouldn't have achieved the level of success I did without a solid SEO training.
Affiliate Blogging Ninja won't teach you how to take advantage of this important traffic source, and therefore, you can struggle to attract lots of highly targeted visitors to your blog.
This makes me wonder, where is the unfair advantage that Shreya promised to you?
Service Recommendations
Shreya recommends a lot of services such as domain registrar, web hosting, premium themes, graphic software, and autoresponder. If you buy all these services, you will spend a lot of money.
If you are just starting out, you don't need all that, except for your domain name and web hosting.
Now, her recommended web hosting is iPage, which doesn't have a very positive rating among online marketers. IPage offers one of the cheapest services out there, but it has a terrible downtime and very slow site speed.
Support And Facebook Group

---
If you need a hand with your blog, you can send a support ticket. I haven't used the service, so I can't provide an opinion about it. But you shouldn't take longer than 24 hours to get an answer.
As for the Facebook group, it has only 72 members at the time of writing this review. So, as you can expect, the community is still very quiet. Maybe this situation changes as Affiliate Blogging Ninja becomes more popular in the future.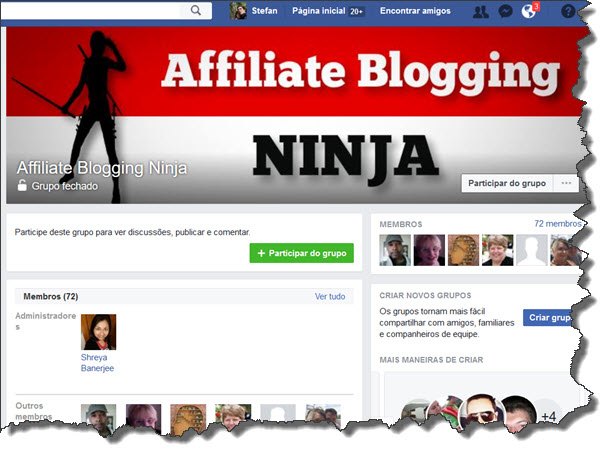 Pros and Cons
---
Pros
The training is easy to follow, and it's well structured.
You can apply the strategies to any niche market.
It's affordable.
Cons

No SEO training – Organic traffic is completely ignored.
Very basic training.
No free trial.
Unrealistic claim. Unless you are very experienced and super fast, it takes much more than 2 hours of work per month to run a profitable blog.
The community is still very small.
There are 3 upsells
Final Thoughts – Is Affiliate Blogging Ninja a Scam?



---
No, Affiliate Blogging Ninja is a legitimate training platform.
I would give it a higher score had the course provided SEO training, which is essential for every online marketer.
Besides, I didn't like the unrealistic claim that you will work only 2 hours per month. If you want incredible results, you need incredible commitment. And this applies not only to internet marketing but to everything in life!
Verdict:
Legit
What Now?
---
If you want in-depth training, expert support, and a very active community (800,000 members) to share your blogging experiences, then check out my recommended platform.

This reward platform is going viral! Cash out via PayPal, Visa, Gift Cards, and in-game currencies - Click here to find out how to generate an extra $10+ per day! 
Thanks to this reputable platform, my blog has become incredibly profitable within 2 years, and now I am very close to achieving a full-time income and quit my 9-5.
You too can achieve impressive results if you follow their step by step training, take action, and give your business enough time to grow.

By the way, it has a free starter membership, so you don't lose any money if you don't like it! But I am sure you will… 🙂
Click Here and Read My #1 Recommendation Review
That's it for now. I hope this post was helpful to you. If you have any questions or want to share your opinion about Affiliate Blogging Ninja, feel free to do so in the comment box below.
See you next time!
Stefan