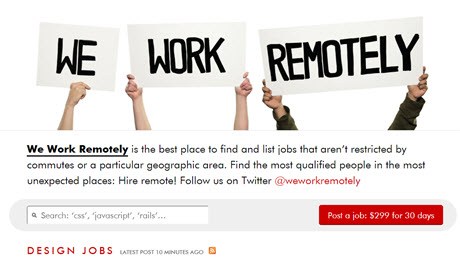 Are you trying to find a proper job that allows you to work remotely? If the idea of working from home or from anywhere appeals to you, then We Work Remotely may help you out.
If you want to become an online entrepreneur and live life on your own terms, check out my #1 recommendation.
We Work Remotely Review
---
What is
 We Work Remotely? 
---
We Work Remotely is like any other job site, except that companies are posting only jobs that can be done remotely.
The platform connects users with high-caliber positions in companies all over the World. Therefore, you should ideally have higher education and lots of experience for it.
Contrary to 99% of "work-at-home" sites out there, We Work Remotely doesn't show you freelancing, online survey, offers or any other "make money online" opportunity. It's  specialized solely in full-time or part-time contracts.
It's important to mention that companies are paying $200 to post one single job for 30 days. This is a strong indication the platform attracts individuals with excellent qualification and expertise.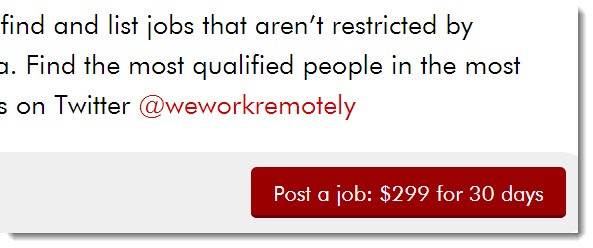 Job Types
---
There is a wide variety of jobs in the following categories:
Programming
DevOps and Sysadmin
Marketing
Business/Exec and Management
Design
Customer Support
All other jobs
Programming and Design are by far the most sought after categories, with new vacancies available almost every single day.
So, if you are a software engineer, a ruby developer, or a web designer, you will probably find a position waiting for you right now.
Can You Work Anywhere, Anytime? 
---
Yes, you can work from home or your favorite cafe. However, even though the job is remote, some companies prefer workers to be located in specific time zones or countries. Besides, some companies do require that you occasionally travel for meetings.
Can you work anytime?
It depends. Some jobs allow you to set your own goals and work independently, while others require you to follow the  9-5 schedule.
How Can You Apply? 
---
We Work Remotely don't handle applications directly. They just show you the job description and the application method.
At the end of each job description, you will see either a link to the job application or an email through which you can send you CV, cover letter. Usually, you should also send your portfolio or samples that attest your expertise.
The recruiting process varies, but you can expect to go through an interview as any other job. The difference is that the interview will probably be carried out through a video call.
The Pros and Cons of a Remote Job
---
Pros
Many people dream of working remotely to have more flexibility and freedom.
You can save time and money by avoiding the daily commute, which is a huge benefit.
You can choose to live far from the big centers, which can lower your living costs and increase your quality of life.
It's is a REAL job with excellent remuneration and benefits like heath plan, pension, etc.
Cons
You are still working for a boss, and you know how painful it can be.
If you like socializing, you will probably miss the face to face interaction. This can be a lonely job for most people.
Some people find it hard to be productive when they are at home with so many distractions. You need to be well-organized and self-disciplined.
You can work longer hours to meet deadlines.
Final Thoughts
---
We Work Remotely is an excellent platform for both people interested in working online and companies that search for the best candidates.
I love the idea of working online. It has many obvious advantages over a traditional job. However, I dislike the fact that I would still be working for a boss.
Also, you may find yourself working more hours to meet unrealistic deadlines, which is not fun at all!

Is There An Alternative? 
---
Yes! If you want to work remotely and have more flexibility in your life, you can build an online business and become an internet entrepreneur.
Personally, I think it is better than working for somebody else.
Why?
Well, not only you can work from anywhere, but you also have the freedom to set your own schedule and go on holidays whenever you want. Not to mention, the income potential is unlimited!
A website is a foundation for any online business. With a website, you can attract potential customers all over the World!
If you are interested in building your online business, then check out my #1 recommendation. It offers an excellent step-by-step course and support from a community of over 800,000 online entrepreneurs.
That's the same platform that helped me build my site and reach a part-time income so far. It's scalable and grows the more I work on it.
Click Here for My #1 Recommendation Review
Thanks for reading! I hope this article was helpful to you. If you have any question, don't hesitate to leave me a message below.
See you next time!
Stefan