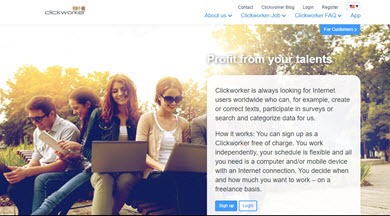 Welcome to my Clickworker review!
People from all over the world are joining Clickworker to work remotely and earn some extra income every month.
Is Clickworker a scam?
No, I am confident that it's 100% legitimate!
The platform has over 1.8 million active workers, from which 10,000+ are logged into the platform at any given time.
That's very impressive!
One of the most significant advantages of sites like Clickworker is that you don't need any formal qualifications or work experience to get started.
Another key benefit is the possibility of making your own hours and working as much as you want.
All you need is a computer or mobile device connected to the internet.
Clickworker is a legit website, but now you may be wondering if it is worth your time. How much money can you earn per hour?
In this review, I am going to cover all you need to know about Clickworker and give you my honest opinion about it.
You may also want to check out the step-by-step program that helped me reach $1,300+ per month working from my laptop (no special skills required).
Clickworker Review Summary
---
Product Name: Clickworker
Website: www.clickworker.com
Opportunities: Micro jobs (categorisation, tagging, data entry), text creation, proofreading, translation.
Supported countries: Worldwide
Minimum redemption: 5 Euros (PayPal), 10 euros (Transferwise)
LEGITIMATE
Overall rating:

3/5
What is Clickworker?
---
Clickworker is a crowdsourcing platform where you can complete small digital tasks known as micro-jobs.
A micro job is usually a small part of a large project that must be completed by many workers in a short period.
Even the simplest of tasks such as data categorization, web search, and copy editing can't be automated by computers yet.
Therefore, companies still need human brains, but they would never hire permanent staff only to perform simple and repetitive tasks.
Instead, they take advantage of crowdsourcing platforms to get the job done. That's where you come in.
As a clickworker, you can complete tasks whenever they become available and get paid a fixed amount per job.
Each job pays differently according to its complexity and the average time to complete.
Clickworker has recently launched an app where you can complete tasks on the go.
There are other similar crowdsourcing platforms on the internet.
The most popular and trustworthy ones are mTurk, Remotasks, and Figure Eight (former CrowdFlower).

What Types of Jobs are Available?
You can find different tasks such as text creation, product descriptions, translation, editing, data categorization, tagging, and web research.
I will cover those in more detail in the "Job Types" section.
RECOMMENDED: Click here to see my no.1 recommendation for making money online.
Pros and Cons
---
Pros
It's available Worldwide.
There are no fees.
Most tasks are relatively simple.
You don't need to have any formal qualifications.
Get paid weekly via PayPal or SEPA.
The minimum payout threshold is only $5.
You can complete tasks from both desktop and mobile devices.
Quick registration.
Your balance will never expire.
Cons
You will earn less than the minimum wage most of the time.
Job availability is not consistent.  There are some dry periods with very few jobs available.
Assessments may not be available, and you won't see many opportunities without completing at least the basic ones.
There are not many jobs depending on where you live. The US probably has more work than other countries.
Some tasks have poor guidelines.
Who Is Clickworker For?
---
Clickworker tasks can be accomplished by anyone who can browse the internet and follow instructions accurately.
Also, you must be of legal age in your country to join.
Although you don't need any formal qualification, you may have to pass some basic assessments to qualify for specific tasks.
These assessments are mostly designed to check your English, writing, and other personal skills.
Clickworker is used mostly by individuals who have little or no freelancing experience.
How Does Clickworker Work?
---
Register
The registration is very straightforward and free of charge.
You need to provide your name, date of birth, home address, email address, username, and password.
Next, you should check your email and click on the confirmation link to activate your account.

Complete Your Profile
When you log into your account for the first time, head to your Clickworker profile and complete all the four categories.
About me: Here, you should provide information about yourself, your career, and education. You can also submit your personal blog if you have one, as well as any work sample that you may have.
Languages: Show them all the languages that you speak. You can upload a certificate as proof.
Skills: If you have some experience in copywriting, you can select all the type of texts you are proficient in. You can also submit a certification of training or degree in translation.
Hobbies and Know-how: Select all your hobbies and expertise.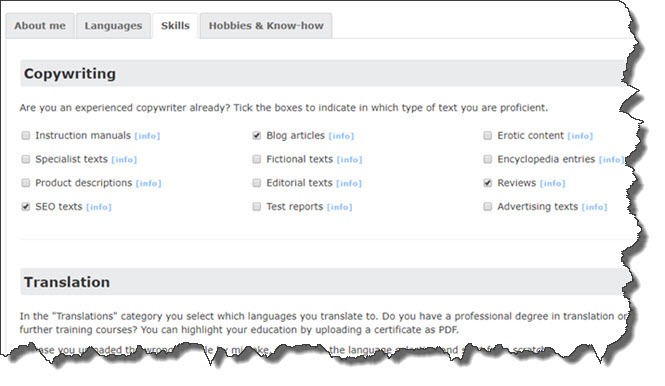 Complete Assessments
You are also encouraged to complete assessments to qualify for jobs.
There are two types:

This reward platform is going viral! Cash out via PayPal, Visa, Gift Cards, and in-game currencies - Click here to find out how to generate an extra $10+ per day! 
Basic Assessments: Receiving a high score on these tests will enable you to complete more tasks in the future.
Project-specific assessments: You need to pass these assessments to get access to specific jobs.
Unfortunately, both the basic and project-specific assessments may not always be available.
The only thing you can do is to keep checking every day for a new opportunity.

How Much Money Can You Make With Clickworker? 
It's difficult to estimate as it depends on your country, the types, and the number of tasks that you complete.
You can make over $10 per hour with Clickworker, but the average is much lower.
Also, you must be fast and accurate. Otherwise, your wage will drop significantly.
Can you Make $500 Per Month With Clickworker? 
In a Reddit thread, one people reported making $400 – $500 a month.
Yes, $500 per month is attainable, especially if you live in the UK or the US. It also depends on the type of tasks that you will be doing.
For example, translating jobs probably pay over ten times more than categorization.
However, don't expect to make the same amount of money every month as job availability is not consistent. 
I found another Reddit thread where two people were talking about their earnings with UHRS.
The person from the UK claimed that he/she made $110 in the first week and $60 in the following one.
The other one used to make $50 – $150 per week, but after a year, his earnings dropped to $5 – $10 per week.
MY STORY: Discover the step-by-step program that helped me reach a full-time income from home.
Keep Your Score High
As a Clickworker, you won't have a boss, but that doesn't mean you are not being monitored.
The corrector will assign you an average score based on the last 25 job evaluations.
If your average score drops below a certain level,  you won't have access to specific projects.
Some tasks can be very tricky, and you can make mistakes that impact your accuracy level.
So, before starting any task, read all the instructions carefully and focus all your attention on the job.
Job Types
---
There is an incredible variety of jobs on Clickworker. Next, I am going to explain some of them so you know what to expect.
Categorisation
Your job here is to separate different products into categories or tags. It's simple, but sometimes, it can be very tricky!
When I first joined Clickworker, I decided to complete a categorization task.
My job was to categorise pieces of clothing, shoes, and accessories.
Here is a screenshot of what I had to endure: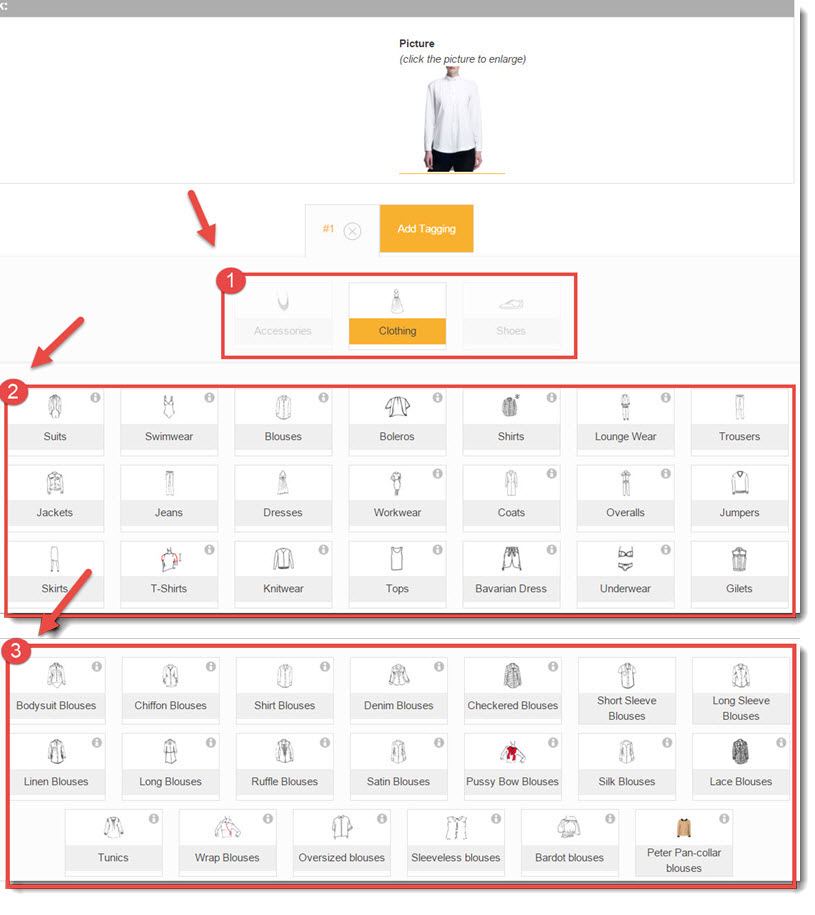 The first two steps were easy, but the third one was much more specific.
I was overwhelmed by so many categories of dresses, coats, jumpers, tops, and blouses!
Product Data Digitalization
Your job is to digitalise the product's information from different files like pdf, Excel, illustrations, and catalogues.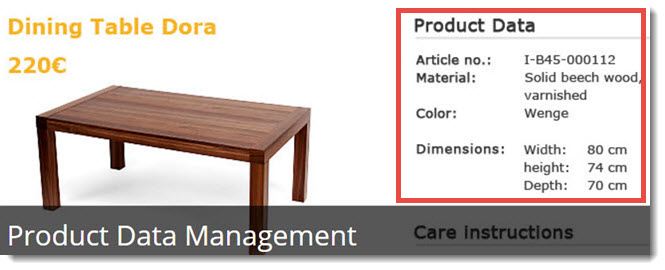 Image and Video Tagging
Tagging is the process of assigning a relevant word or phrase to a text, image or video.
For example, let's say you went to Google images and searched for a Greek beach called Porto Katsiki.
The owner of that picture had to use the tag "Porto Katsiki" so that you could find that image.
You will see a picture or video and choose the most relevant tag for them.
As a matter of curiosity, George Eastman House, the world's oldest photography museum, hired Clikworker in 2011 to tag and catalog 400.000 images from their International Museum of Photography and Film.
That was a large and impressive project accomplished by many Clickworkers all over the world.
Here is an example of their digital catalog: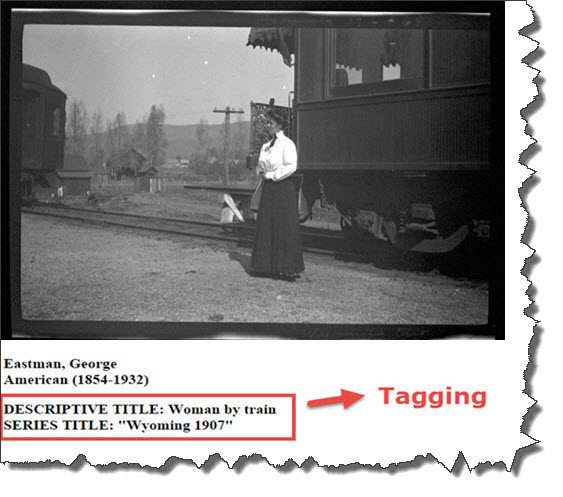 Text Creation
Text creation is likely the highest-paying job inside Clickworker, and it's not for everyone.
If you want to write texts on Clickworker, you should score high on the assessments.
Also, Clickworker will select only those who match the knowledge, language, and interests.
Here are some of the texts that you may be required to write:
Search Optimized Texts: Texts containing specific phrases or words (keywords) – usually for blogs and websites
Glossary: Definitions involving particular topics, such as fashion, financial, animal, food, etc.
Travelling destinations: Write about cities, countries and tourist attractions.
Company profiles: Write "About Us" pages and other company information.
Usually, you will have to write short texts of 250 or 300 words focused on a particular keyword.
When you submit your content, Clickworker proofreaders will check it for spelling, grammar, and style.
If the text has mistakes or falls short of expectations, it will return to you for revision.
There are many complaints about revisions as many freelancers don't agree that they are necessary.
The pay rate for simple texts about everyday topics is around $3 per text.
As for high-quality texts about challenging topics, you can earn more than $10 per text.
If you write three articles in less than one hour, it is possible to earn a decent hourly wage with Clickworer.

However, you could earn more by working as a freelance writer at Upwork, People Per Hour, or Text Broker.
Proofread
When you complete further assessments, you can be eligible to proofread the work of others and get paid around $0.50 per 250-word text.
Translation
Clikworker has thousands of qualified translators from over 70 countries.
If you can show proof of proficiency in a second language, you can get access to translation jobs.
There are currently five language combinations available:
English – German
German – Franch
German – Dutch
Italian – Germany
Spanish – German
You will be required to translate product descriptions, blog articles, instructions for computer games, glossaries, and more.
The pay rate is less than $0.07 per word, which is less than the average rate reported by ProZ.
Mystery Photographers
Depending on your location, you can find some mystery photographer opportunities.
Your job is to take pictures of products, sale displays, tourist attractions, buildings, restaurants, menus, etc.
These pictures will help companies in many different ways
You can expect to earn a few cents per task.
Online Surveys
Clickworker has partnered with a survey company called Peanut Labs, so you can get paid to share your opinions.
The pay is meager, and you can waste a lot of time with survey disqualifications.
UHRS 
Depending on your location, language skills, and availability, you may find two assessments to qualify for UHRS.
UHRS (Universal Human Relevant System) is a partner website operated by a different company.
This platform provides additional micro-jobs that you can complete through Clickworker.com.
All jobs you complete using this platform will be paid via your Clickworker account.
UHRS jobs usually involve the categorization of internet data and web pages.
If you want to learn more about UHRS, check out this pdf guide.

Other Jobs
Here are other jobs that you can find on Clickworker:
App Testing: give your feedback on an app's design and identify usability issues.
Audio and Video Jobs: Record short audios and videos that will help develop speech recognition and image recognition.
Web search (data entry): Your job here is straightforward. It involves searching for data on the internet as well as inputting or updating information.
Payments
---
Clickworker processes payments via PayPal and SEPA in most countries.
If you live in Venezuela, Turkey, Namibia, or Nigeria, you will receive payments via Transferwise.
You will get paid whenever your account exceeds 5 euros (PayPal payment) or 10 euros (Transferwise payment).
Jobs that you do on Clickworker.com usually pay after 7 days, whereas UHRS jobs pay after 28 days.
PayPal payments are processed from Monday to Friday, and bank account users get paid on the 7th or 8th of the next month.
As you are an independent contractor, you are responsible for submitting your tax return.
Conclusion
---
Clickworker is a legitimate micro job site where you can get paid to complete relatively easy tasks from your computer.
Anyone who speaks English and can follow simple instructions can benefit from Cickworker.
However, it's more suited to those who don't have a lot of experience as a freelancer.
In my opinion, there are two main problems:
The pay rate is too low.
There are periods when there are not many jobs available.
Content creation and translation are the highest-paying jobs available at Clickworker.
Nevertheless, the pay rate is very low compared to what people earn on freelance sites like Upwork and Fiverr.
How to Make $1,000+ Per Month With Your Own Online Business
---
If you are serious about making a full-time income from home, I highly recommend creating an affiliate website.
Using this business model, you are your own boss!
You decide what you should write about, and you don't depend on anybody to offer you the job.
The great thing about having a website is that it will work and generate commissions for you 24/7.
It doesn't matter if you are sleeping or traveling around the world!
If you attract a significant audience to it using the strategies you can learn here, you can make a good passive income.
Anyone can build a website nowadays, as the process has become hugely simplified.
I started my own internet business four years ago when I found Wealthy Affiliate (WA).
Wealthy Affiliate is an excellent training and community platform for people who want to become online entrepreneurs and work 100% remotely.
If you want to learn more about WA and my story, check out my full WA review here.

Final Words
Thank you for taking the time to read my Clickworker review. I hope it was helpful to you.
So, have you tried Clickworker? Do you think it's worth it?
Feel free to share your thoughts and ask any questions you might have in the comment section below.
I wish you all the best!
Your Friend,
Stefan