14
Is Clickworker a Scam? Avoid Micro Payments!

I discovered Clickworker last year, but I refused to work for such a little payout. Is Clickworkers a Scam? No, it's not! But let's face it, an estimated 2 € /hour is something that not everyone is prepared to accept, even with the advantage of working from home.
In this review, I am going to cover all you need to know about Clickworker and give you my opinion whether it is worth the time and effort.
By the way, if you want to work remotely to achieve time and location freedom, don't forget to check out my #1 recommendation. This is the same platform that helped me start my online business, work for myself and earn $900+ per month.
Clickworker Review
---
Product Name: Clickworker
Website: www.clickworker.com
Price: FREE
Business Type: Crowdsourcing
Overall rating:

3/5
What is Clickworker? 
---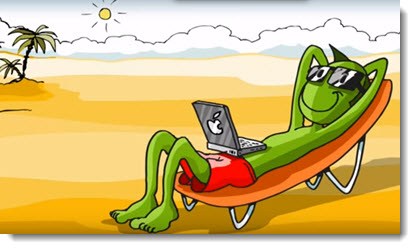 Clickworker is a legitimate platform where you can work as an independent contractor doing micro jobs.
Micro jobs are part of a client's project that is broken down into smaller tasks to be completed by a large number of people.  You can work on your computer whenever you want.
As an independent contractor, you work when jobs are available and make money per tasks completed. Besides, each job pays differently, according to complexity and time required.
Clickworker is similar to other popular websites/companies that offer micro jobs such as Amazon Mechanical Turk, ClickSense, and CrowdFlower. However, Clickworker usually pays more and cover more countries.
Which jobs are available? You can find different tasks such as text creation, product descriptions, translation, editing, data categorization, data tagging, among others. I will cover those in more detail in the "Job Types" section.
Pros and Cons
---
Pros
Available Worldwide
Payout via Paypal and bank account
Low cash out threshold ($5 for Paypal and $10 for bank account)
Quick to register and complete the profile
Cons
Less than the minimum wage, most of the times
Unrealistic earning potential
Insufficient number of jobs depending on where you live
Who is It For? 
---
Anyone who can browse the internet and read simple instructions can complete the tasks.
Although formal qualification is not mandatory, you are encouraged to complete a profile and pass some basic assessments to qualify for specific tasks.
These tests are mostly designed to check your English and writing skills.
Getting Started
---
Registration is straightforward and free of charge. You just need to provide your name, email, and password.
Next, you should complete your profile, which includes general questions, skills, languages, hobbies/know-how. There is also a space to provide work sample.
You are also encouraged to complete an assessment to qualify for more jobs. Unfortunately, these assessments are not always available, and you need to keep checking.
Looking at the FAQ, I discovered the assessments are used to qualify you for UHRS.
What is UHRS? It is a website that partnered with Clickworker, which also offers micro jobs. This means additional opportunities for you.
All the jobs you complete using the UHRS platform will be paid via your Clickworker's account. Depending on your location, language skills, and availability, you will eventually find two kinds of assessments – the UHRS I (basic Englis Language questions) and UHRS II (just the creation of an ID with live.com).
How Much Will You Get Paid?

 
---
Each task will pay you differently according to the level of difficulty, the required knowledge and skills and the expected amount of time and research necessary.
They say you can earn over $10/hour and that they expect the average payment to be $9/hour. Such statement is unrealistic because most people will never have a chance to complete high-paying tasks.
I don't doubt that it is possible, but such opportunities are scarce and depend mainly on which country you live and how fast and accurate you are.
The vast majority of jobs will pay you cents for each task. If you account for all the jobs you can do in one hour, I would say it is not unusual to get paid less than $2/hour.
Job Types
---
Categorization
Your job is to classify different products into categories or tags. It looks simple, but if you are not used to the many terms involved, you may take a long time and make mistakes that impact on your accuracy.
Accuracy does matter, and if you are not good enough, jobs will be inevitably reduced.
After I gave the website a second chance to write this review,  I was shown pieces of clothing, shoes, and accessory and asked to categorize them. It was a disaster! I didn't know there were many different categories of dresses, coat, jumpers, tops, and blouses.
Here is a screenshot of what I had to face:
The first two steps were easy. The problem was the third one, which was much more specific.
Every time I completed this 3-step process I netted 0.01 €. There were over 6.000 of these tasks available, but I only finished 50 before my patience was gone. When I returned for more a couple of hours later, the tasks were no longer available.
Product Data Digitalizatio

n
In this task, you will have to extract product's information from different files like pdf, Excel, illustrations, and catalogs.
 It is just a matter of copying the information that is transferred to the customer's online shop platform.
Image and Video Tagging
Tagging is assigning a relevant word or phrase to a piece of information a text, image or video).
For example, let's say you went to Google images in search of a Greek beach called Porto Katsiki. The owner of that picture had to use the tag "Porto Katsiki" so that you could find that image. That's precisely your job!
You will see a picture or video and choose the most relevant tag for them.  You can expect to earn cents for every tagging, as the job is quick and easy.
As a matter of curiosity, George Eastman House, the world's oldest photography museum, hired Clikworker in 2011 to tag and catalog 400.000 images from their International Museum of Photography and Film.
That was a vast and impressive project that was accomplished by people all over the world. Here is an example of their digital catalog:
Text Creation
Text creation is likely the highest paying job inside Clickworker. These are some of the texts you may be required to write:
Search Optimized Texts: Texts containing specific phrases or words (keywords) – usually for blogs and websites
Glossary: Definitions involving particular topics, such as fashion, financial, animal, food, etc.
Traveling destinations: All about cities, countries and tourist attractions.
Translation texts
Company profiles
They will select only those who perform well on the assessments and those who match the knowledge, language, and interests. You will have to write texts of usually 250 or 300 words and perhaps include a keyword
You will have to write 250 or 300 words and maybe add a keyword to the text.
After submitting your content, it will be proofread for spelling, grammar, and style by another Clickworker. People complain a lot about this revision as they have to waste time complying with additional requirements.
The payment is $3.00 or less for each 250-word article. So, if you are fast and write three articles in less than one hour, it is possible to earn a decent hourly wage.
However, it is challenging to write 750 words in just one hour, especially when you need to research about three different topics.
When you complete further assessments, you can be eligible to proofread the work of others for around $0.50 per 250-word text.
Mobile Crowdsourcing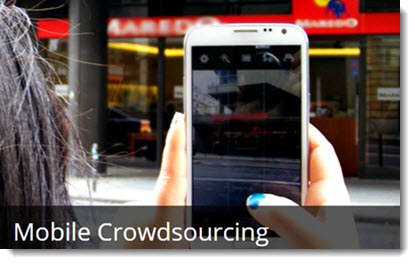 This involves a variety of outdoor tasks using your phone. They are usually looking for pictures or information that can be used for travel/cuisine websites, online shops, and yellow pages.
You can get paid for taking pictures of tourist attractions, buildings, restaurants, menus as well as for address verification and geographical coordinates. The payout is also expected to be in the range of cents per task.
Online Surveys
Since 2015, Clickworkers can now fill up surveys for cash. Again, they will select only people who match the required target group.
The pay is very low (less than $1 for 15-20 min) as expected, and the prequalification questions can be a complete waste of time.
Cashing Out
---
Clickworker pays both via Paypal and bank account. There is a minimum threshold you need to reach before you cash out. It depends on the payment method selected.
For Paypal, the minimum is $5, and for payments via bank account, the minimum is $10.
Payments can take up to 7 days when the job is done with Clickworker and up to 21 days in case the job is processed via UHRS.
Conclusion
---
Clickworker is not a scam, but the low-income potential is shocking. Many people complain about the lack of jobs and that they only receive tasks worth less than 5 cents. That's discouraging!
For those who can afford to invest time into something meaningful, I highly recommend creating a website and monetizing it via affiliate marketing.
In this business model, you are your own boss! You decide what and how you write and you don't depend on anybody to give you "job."
Your website will be working and making commissions 24/7, which will give you the freedom to work from anywhere, whenever you want! As importantly, anyone can build a website nowadays, as the process has become hugely simplified. You just need to focus on creating helpful articles for your audience.
You can learn more about this method by checking out my #1 recommendation review. It's an excellent affiliate marketing training and community for people who want to become online entrepreneurs and work 100% remotely.
I am sure you will learn a lot from the free membership available and see the huge potential of this business model.
Click Here and Check Out My #1 Recommendation Review
Have you tried Clickworker or another crowdsourcing platform? Do you think they are worth it? Feel free to leave any questions or comments below. I am always here to help you out.
Your Friend
Stefan