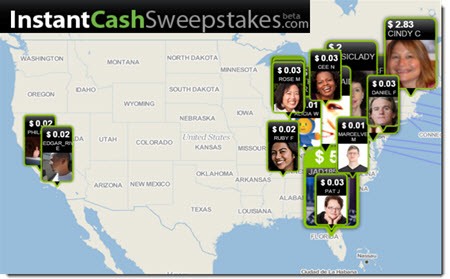 I discovered another website where you can answer simple questions to make money online. The surveys were so easy and so quick that I thought I had seen a mirage.
After a bit of research, I found the site is running since 2008 and that it has many positive reviews on the internet. But can you really make money so easily? Check my Instant Cash Sweepstakes review and see if you can fill your pockets with yet another opportunity.
Unfortunately, the cash rewards are only available for US residents. If you are a UK, Canada, Ireland, and Australian resident, I recommend another interesting alternative called Swagbucks. Better yet, if you want to aim for a serious online income, check my #1 recommendation.
Instant Cash Sweepstakes Review
---
Product Name: Instant Cash Sweepstakes (ICS)
Website: http://www.instantcashsweepstakes.com/
Price: FREE
Owner: AYTM company (co-founder -David Handel)
Business Type: Online Surveys
Score: 6.3 out of 10
What is 
Instant Cash Sweepstakes
---
Instant Cash Sweepstakes (ICS) is a website where you complete quick surveys for instant cash and entries for two prizes – $50 and $2.
The website is owned by AYTM, which is a company specialized in target market research. AYTM provide personalized studies and gather valuable consumer insights for companies interested in improving their products or services. How do they collect all this valuable information? Through Instant Cash Sweepstakes.
I will explain all the details below, but first, look at the pros and cons so you can get a general impression.
Pros & Cons
---
Pros
Simple, quick and entertaining surveys.
Excellent referral program.
You can create surveys and earn more entries for prizes.
Cons
The website doesn't give a clue about the probability of winning the prizes.
You cannot accumulate tickets after a 24-hour period.
Only for US residents.
Signing Up, Complete Your Profile and Get Started
---
Before you answer the polls, you need to sign up and complete a very simple profile. The profile includes simple demographic questions such as your gender, education, address, income level, marital status among a few others.
The surveys are simple and comprise only 3 questions each. They are interesting and fun most of the times, which is a big advantage over other websites.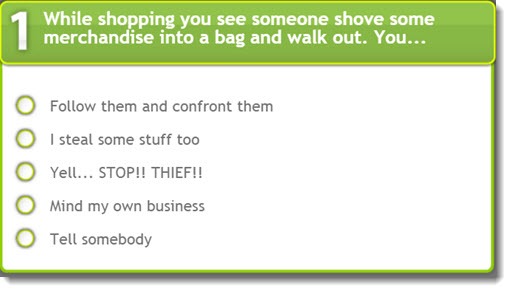 Earning Tickets, Coins, and Instant Cash
---
The focus of the website is to reward you as entries for the daily prize draw.
Every survey will give you a different number of tickets and coins that you can use for a chance to win the sweepstakes.
There are two prizes. The $50 drawing is held only once a day and the $2 prize is given once every 4 hours.
The difference between tickets and coins is that the first can only get entries for the $50 drawings whereas the coins can buy you entries for the $2 prizes and extra tickets.
Another important difference is that all the tickets will be automatically entered after the 24-hour. Coins will never vanish, meaning that you can accumulate and use them as you with.
In the next screenshots, you can see the tickets tab and the coins tab, both at the right of the screen:


When you click "Buy more?", you can buy more tickets with your coins. Every coin can be converted to 5 tickets!

The prize is awarded for one single ticket or one single coin at a time. Consequently, the more you have, the more your odds of winning.
There is a limit to how many surveys you can complete in a given 24-hour period. When you reach that limit, you will receive the message:
Enough Already! You're frying your brain!

Come back in 2 hours and 59 minutes
Don't worry guys! My brain can handle much more than that! 🙂
Instant Cash Rewards
Not every survey will earn you instant cash, which is a shame. Sometimes, ICS pays only 1 or 2 cents for your opinion. Considering AYTM charges their customers $0.95 for every survey you respond, don't you think you deserve at least $0.01 guaranteed?

Create Surveys and Earn More Tickets!
You are also encouraged to create new surveys. You will earn 100 tickets instantly for every new survey that you create. That's pretty cool! However, you are not allowed to write more than one survey in a 3-hour period.
Increase Your TrustScore Level and Earn More Tickets! 
The TrustScore is a scoring system based on how many honest surveys you have answered. You start at level 1 and the more you participate, the more your level builds up. How do they check for trustworthy answers? Well, It is not clear but I guess they design some polls that require some obvious answers. If they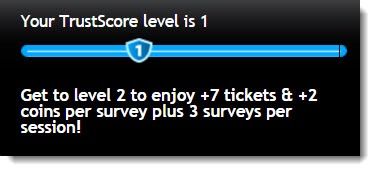 suspect you are not reading the polls, you might get low scores. Again, this is just a guess.
When you reach level 2, they will give you 7 extra tickets and 2 extra coins per survey. Besides, you will be able to complete additional 3 surveys per session.
3- Referral Program – A HUGE Potential 
---
The referral program offered by Instant Cash Sweepstakes is the best among all the other rewards websites that I have reviewed so far. This is the best way to make money with Instant Cash Sweepstakes.
When you invite someone to join the website, this person becomes your referral. So, what happens? All the money (except the $50 prize), tickets and coins that your referral earns are also credited to your account – YES! 100%. In contrast, other rewards websites usually give you only 10%.
How do you refer someone? How do they know you invited someone? Through a unique referral link that you receive the moment you sign up.
This link is located at "Invite More Friends" inside "My Profile". You just have to copy the link and send via email, social media, websites or blogs. When someone clicks on your link and joins the website, they become your referral. This is my link:

Another interesting fact! If your referral invites other people, 100% of the coins that they earn will be yours as well. So, you are getting coins from your referral's referral!
Your Chances of Winning – My Honest Opinion
---
Ok, the surveys are painless and fun, but what are the chances of winning? Unfortunately, ICS is not transparent about it.
The FAQ says they use an algorithm that randomly chooses the winners. Therefore, the more tickets you have compared the total tickets entered the drawing, the more your odds of winning.
I am sure the chances of winning are small, especially for the $50 drawings. Some website owners have a legion of referrals, so they surely have a powerful advantage in this game.
Let's suppose you get 1000 tickets per day completing the surveys while someone with 20 referrals is getting 20.000 tickets on autopilot.

This guy has 20 times more chances than you. Add this to the fact that thousands of people are taking part in the drawings daily!
With that said, unless you refer lots of people, you need to be very lucky!
Cashing Out
---
You must reach a minimum threshold of $2 to cash out, and the only method is via PayPal. Make sure you include your exact email linked to your Paypal account.
Final Thoughts
---
Instant Cash Sweepstakes is an interesting website where you earn entries for prizes and instant cash from time to time. It has many rules, but once you understand the basics, it's easy to go through.
The potential to make money is low because you depend on the sweepstakes to win the $2 or the $50 prize. In case you are not lucky enough, you have to rely on the $0.01 or $0.02 given out randomly, which is not very encouraging.
The total number of tickets and coins entered each drawing is not available for us, so it is impossible to see how hard it is to win a prize.

This reward platform is going viral! Cash out via PayPal, Visa, Gift Cards, and in-game currencies - Click here to find out how to generate an extra $10+ per day! 
The referral program is the icing on the cake. Having referrals is a good deal because you are earning the cents, $2 prizes, tickets, and coins without the need to waste time with the surveys.
The Better Way to Make Money Online! 
---
The internet marketing is not only the best way to make money with ICS but also the best way to make money online. An internet marketer creates websites and is able to promote much more profitable products and services.

It requires perseverance, but it is not difficult! It is a proven business model that has the potential to generate thousands of dollars a month. What motivated me to work with internet marketing was the real possibility to quit my job live a freedom lifestyle.
If you are interested, check my guide on how to become an internet marketer!
Thanks for your taking your time to read my article. I hope it was helpful! Have you tried Instant Cash Sweepstakes? Have you earned any prize at all? Please, feel free to leave your comments or questions below.
Check my #1 recommendation to make money online
Your friend,
Stefan