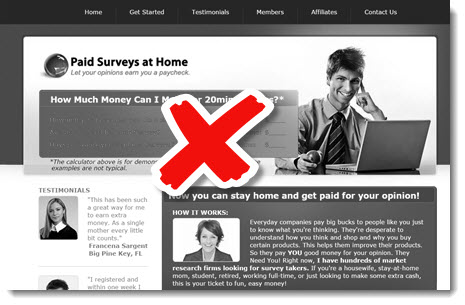 In this review, I am going to cover all you need to know about Paid Surveys at Home and give you my honest opinion about it. Is Paid Surveys at Home a Scam or legit?
Well, some people think it's a scam because of the realistic earning claims.
There is one testimonial where a guy claims to have made $20 for completing his first 20 minutes survey. As I have never been paid more than $2 for a simple questionnaire, I was naturally very skeptical.
Paid Surveys at Home Review
---
Product Name: Paid Surveys at Home
Website: http://www.paid-surveys-at-home.com/
Price: $34 (one-time)
Business Type: Online Surveys
Score: 0.5/10
What is Paid Surveys at Home
---
First of all, what are paid surveys? 
Paid Surveys are questionnaires about peoples' demographics and opinions that people can answer in exchange for rewards.
Many companies take advantage of online surveys to gather personal data, opinions, and interests from a large group of people to generate statistics for marketing research. Marketing research is precious because it can help decide on new products or improving existing ones.
That companies pay big bucks for marketing research doesn't mean that you will make lots of money, on the contrary. Because online panelists are found quickly and in abundance on the internet, the pay rate is usually less than the minimum wage.
It is important to highlight that legit survey panels are always free to join.
What about Paid Surveys at Home? 
Paid Surveys at Home is a Californian website/company operating since 2005. They are not a marketing research company, but only a website that provides a database of over 400 marketing research companies you can sign up for.
According to the website, you can expect to take part not only in online surveys but also in focus groups, phone surveys, product trial (paid offers) and new movie trailers preview.
So, what are you paying for? A database of survey companies and other reward sites to join.
Is the list worth the price? Well, if you make a Google search, you see that are thousands of blogs that will give you a list of survey sites to join. They don't charge you anything for that.

This reward platform is going viral! Cash out via PayPal, Visa, Gift Cards, and in-game currencies - Click here to find out how to generate an extra $10+ per day! 
So, it's up to you decide to buy Paid Surveys at Home or not. Just remember, this product won't give you any advantage or any secret list of high paying sites.
My First Impression 
---
The first thing that caught my attention was a simplistic calculator. It shows your potential earning according to how many surveys you complete per day/week and how much you get paid for each one.
Although it has a list of options from $1 to $20, most surveys will pay you less than $2. Let's suppose you make $1 for each survey, 15 surveys a week. Then, you will make $65 per month or $780 per year.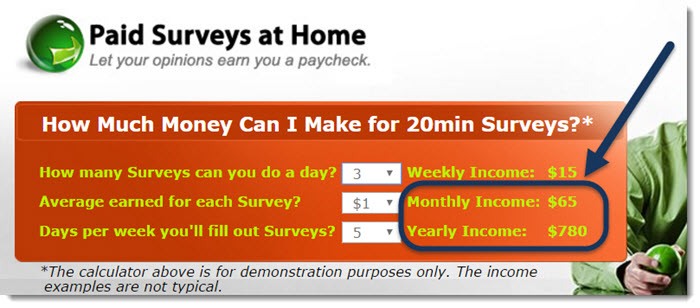 What intrigued me was the hype around the possibility of working from home and the unrealistic claim that one can make $20 for a simple 20 min survey.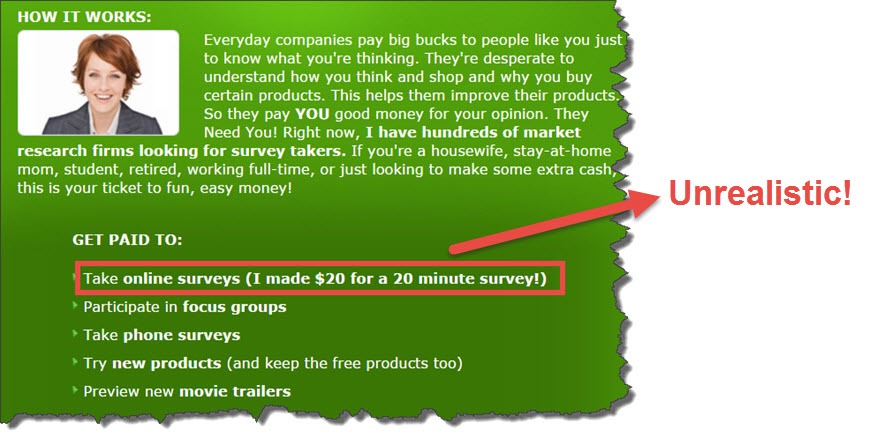 Some other testimonials are hard to believe.

Paid Surveys at home earned me 100 – 500 dollars a day! I only work 2 hours a day (:

This website have helped me a lot!! My "work-time" is 10 minutes each day and i have earned 200 dollars already at 2 weeks! Very good extra-money for a student like me!!
I wonder why people are still working hard to build an online business if they can make so much money within just 2 hours by taking simple surveys. From my experience, it's not like that.
You can make good money when you take part in focus groups, but it is difficult to find and get accepted because they are highly competitive and don't show up very often.
How Does it Work?
---
Sign up 
After the usual sign up, you are taken to another page. This time, they show a video that talks about how your life can completely change when you start making money from home.
The Price
Then, you are given a coupon code to get a 50% discount on the previous price of $68. So, the price is now $34.
Additional Sign Ups and Profile Questionnaires 
With the list in hands, click and sign up for each company individually.
Next, each panel will ask you to complete a profile, which includes many questions like income level, job position, marital status, education, and so forth.
This initial questionnaire will be used to classify you into a specific demographic. As each survey targets different demographics, you will not be eligible for all of them.
Prequalification process
Also, each survey usually requires a prequalification process, which includes additional, more specific questions to funnel even more the panelists. If you are not a good match, you will not qualify.
This is the number 1 cause of frustration, as people aren't usually rewarded for that.
Now you are understanding that it is not as simple as "complete as many surveys as you want".

How Much Can You Make? 
Assuming you finally got accepted, the typical payout is usually less than $2 for a survey that takes 15-30 minutes.
Focus groups pay more, but this option is much more restrictive and involves a more extended period of discussions within a group.
As the payout is higher, the competition is stiffer, and you are required to go through difficult screening stages. I have heard of people making $75 per hour with focus groups. It is possible, but this is a competitive opportunity that you won't find every day. These are two companies that pay good money for focus groups:
Cashing Out 
As you are signing up with different companies, you will have to comply with their different terms and conditions. As a result, each website has a minimum payout threshold.
That means you will have to fill up many surveys and reach the minimum value (usually $10-$20) before you see the money.
The Truth
I have reviewed a couple of legitimate websites that connect you with marketing research companies:
These are platforms that give the same opportunity completely free. What is the benefit for them? Well, they are earning commissions from every dollar that you make.
Paid Surveys at Home is different because it connects you with many more companies for a price.

Botton Line – Is Paid Surveys at Home a Scam?
---
Paid Surveys at Home makes people believe it possible to make good money with paid surveys. However, it's not as easy as it seems because most surveys pay less than $2.
In my opinion, it's not a scam because it's a real product that can save your time. But I just want to let you know you can find many survey platforms for free by simply making a Google search.
Now, if you want to make the best of your time and make a significant income online, the next section is dedicated to you!
A Real Opportunity to Make a Living Online
---
Online surveys are one of the most inefficient ways to make money online. I am happy I don't waste 15-30 min of my life for cents as before.
If you are ready to accept what it takes to create a reliable and significant source of online income, then I recommend you to be an internet marketer. An internet marketer creates profitable websites, provides valuable content and earns commissions 24/7. You plant your seeds today to collect fruits months later. That's what I did and don't regret it.
Anyone with no technical knowledge can build a website. You just need to focus on writing articles to help your audience. You don't need to be a professional writer either. Your main goal is to communicate through simple language, the same way as you speak.
A website is a real business! Once it is running and packed with useful information, the commissions will look like passive income. The articles that you write today will keep paying you for years and years!
The more articles you make, the more visitors you attract and the more money you make.  That's the beauty of internet marketing!
Thanks for visiting my website! I hope it was informative and useful for you. If you have questions or any comment, feel free to leave a message below.
Your Friend
Stefan