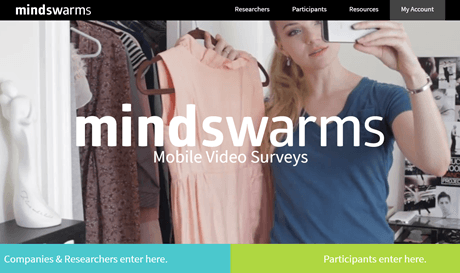 Mindswarms is promising to pay you good money for sharing your thoughts and opinions through a video survey. Earning $50 for a 20-minute survey seems too good to be true! So, is Mindswarms a scam or a legit platform?
Check out my honest Mindswarms review and discover all you need to know about this opportunity.
By the way, don't forget to take a look at my #1 recommendation if you are serious about making money online. This is the same platform that helps me grow a successful online business and make over $900 per month.
Mindswarms Review
---
Platform: Mindswarms
Website: mindswarms.com
Price: Free
Business Type: Online Survey
Score:

7.0/10
What is Mindswarms? 
---
Mindswarms is a marketing research firm that allows you to participate in online surveys using a webcam.
What makes it different from other platforms is that, instead of filling up an online questionnaire, you will be sharing your insights in from of the camera.
As you may already know, marketing research is vital to companies.
A cheap way to gather these data is through simple multiple online surveys.
However, sometimes companies prefer a face-to-face interaction to have a deeper understanding of what people really think about the product or service. Their emotions and spontaneity are invaluable!
That's when Midswarms comes in. You will get paid $50 for recording a video and answering seven questions from your computer or iPhone.
Is Mindswarms a Scam?
---
No. Mindswarms is legitimate.
Some users complain that it's tough to be accepted for a research study, or that the survey length is too long.
However, another user was reporting that it literally takes 15 minutes to answer all the questions and that it's super easy once you get in.
What we have here is a mix of opinions. Therefore, I highly encourage you to check for yourself without making any assumptions because you can have a different experience.
Pros & Cons
---
Pros
Free to join.
Generous reward.
It accepts PayPal.
There is a referral program.
Fast payment. After you submit your video, it only takes 24 hours to get your cash into your Paypal account
Cons
It's not so easy to qualify.
There are very few opportunities compared to online surveys.
How Does it Work? 
---
Signing up
The sign-up is very straightforward. After you provide your basic details such name, address, date of birth, and Paypal account, you will have to shoot a 60 seconds profile video.
In this video, you should talk about one of your passions and why it is special to you.
The profile video is crucial as it will be used to match specific studies to your interests. The better you demonstrate that you can contribute to a study, the higher your chances to be selected for a study.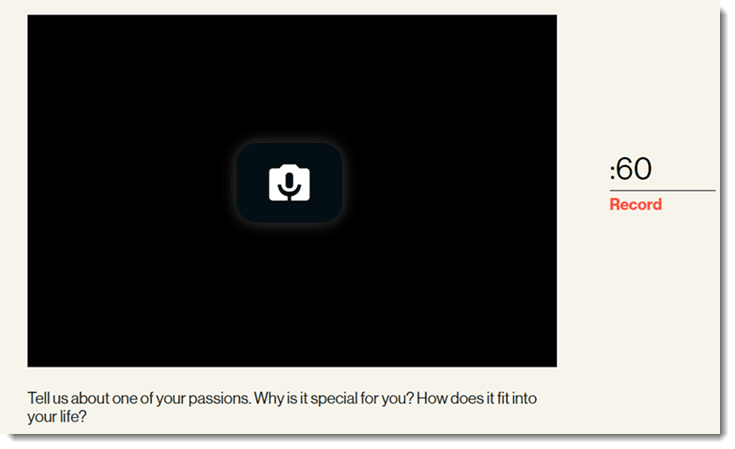 When recording the video, it's important to follow some quality guidelines. Avoid noisy, dark or very light backgrounds, and use the full minute to respond.
If you prefer, you can download Mindswarms app and do everything from your iOS device.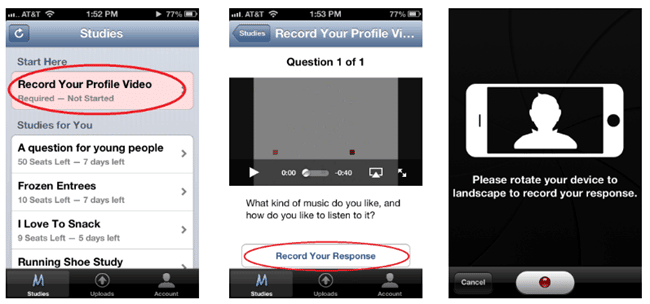 Some research studies actually require you to download the App, so you record videos from a restaurant or a store.
Applying for Studies
The next step is to wait for new study opportunities that fit your profile. You will find new studies under the "Studies for You" heading on your dashboard. It's also possible to receive notification emails.
If you see that you are not getting any opportunities for a long time, double check your profile video and see how you can improve on that. It's possible to resubmit your profile video as many times as you wish.
Before you can participate, you need to apply to the study and be accepted. 
It's annoying, but in order to be accepted, you have to answer up to 5 unpaid qualifications questions (multiple choice) and wait for the researcher's decision. The selection process usually happens within 24 hours.
Recording a Video
After you have been accepted, you will have to answer 1 -7 questions about the things you like and dislike about a product.
Here are some valuable tips to record a video:
Don't plan your responses. Just shoot from the hip and be yourself. It has to be natural rather than a rehearsed script.
Record in a well-lit room so they can see your expressions.
Eliminate background noise.
Show the product you are talking about.
Be honest. There are no right or wrong answers.
Share your emotions.
Avoid short answers. Try your best to use the full minute to respond.
The whole process takes 10 to 20 minutes depending on how many questions you have to answer.
Time is of the essence. So, it's supremely important to complete the study as soon as possible because spots will be available on a first-come, first served basis.
Getting Paid
Upon submitting your video, the system will automatically pay you $50 after 24 hours.

Mindswarms only uses Paypal as a payment processor, so you need to have a Paypal account in order to create an account and get paid.
Final Thoughts
---
Mindswarms is a legitimate site to make some extra cash from home.
You probably won't receive as many opportunities as you wish, and you may be disqualified for many studies. That's why you should not treat Mindswarms as a reliable source of income. It's just an extra that can help with the bills from time to time.
If you like the experience of making money recording videos, you might also want to check out WhatUsersDo and TryMyUI. Both platforms pay $10 for providing feedback on a client's website or app.
Verdict: Legit

This reward platform is going viral! Cash out via PayPal, Visa, Gift Cards, and in-game currencies - Click here to find out how to generate an extra $10+ per day! 
How I Prefer to Make Money Online
---
The internet offers an incredible opportunity for those who are patient and willing to work consistently towards building a solid online business. 

In 2015, I made a decision to build a blog and become an internet marketer. I knew it could be a very rewarding experience because I would have the opportunity to help thousands of people as well as make awesome commissions!
By the end of the same year, I quit my master's degree to focus on my business while still working my 9-5. May 2017 was my most profitable month so far, and I feel that I am very close to achieving freedom from my day job. I can't wait for that moment to say "I quit"!
You may think that building an internet business is too complicated. But look, two years ago I was a complete newbie full of self-doubts as well.
You are capable of this with the right knowledge and mindset. Trust me!
If you want to learn from the same step by step program that I followed 2 years ago, then check out my #1 recommendation review. The first 10 lessons are completely free and will certainly put you on the fast track to succeed online.
Just bear in mind, growing a lucrative online business is not free, but you can take advantage of this free trial to learn the key principles an give your first steps before you put start investing. It's a great risk-free opportunity!
Have you made any money with Mindswarms? What do you think about it? Feel free to share your experience with us!
See you next time!
Stefan