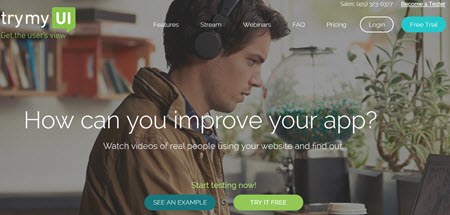 In this review, I am going to show you all you need to know about TryMyUI, which is a platform that pays $10 for approximately 20 minutes of work.
TryMyUI can help you with the bills, but there is not enough work to replace your full-time job. If that is your intention, then I highly recommend you try this platform for step by step training to start and scale an online business.
TryMyUI Review
---
Product Name: TryMyUI
Website: trymyui.com
Business model: Usability testing
Price: Free
Overall Rating: 

8.0/10
What is TryMyUI? 
---
TryMyUI is a usability testing platform that allows companies to discover what users think about their websites or app, and how they interact with them.
Through a video with real-time audio captured from the user's computer, companies can identify flaws and opportunities in their websites.
With real and valuable feedback, they will be able to improve their online marketing campaigns to increase leads and sales.
TryMyUI was founded by Sani ElFishawy and Farhad Farzaneh in 2010 and is similar to IntelliZoom and UserTesting.com.
Pros and Cons
---
Pros
$10 for a 20-minute test is great!
It's reliable.
It pays weekly and via Paypal.
People from all countries are accepted. However, some clients may prefer people from specific locations.
Cons
There are not too many tests available – Competition for positions can be high, so you need to be fast.
Low-income potential.
Becoming a Tester
---
Anyone over 16 years old can become a tester. The first thing you need to do is create an account and complete a quick demographic questionnaire.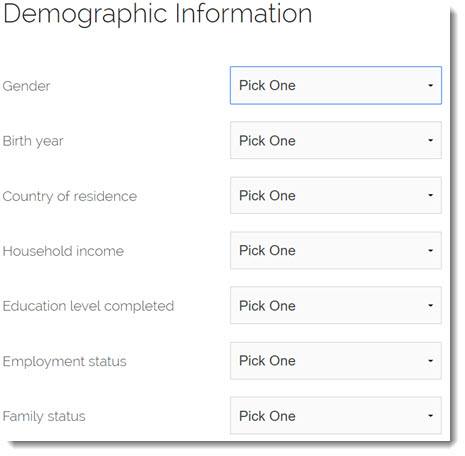 The information you provide will be used to match you with appropriate tests. For example, if a company wants feedback on their online dating website, it makes sense to select only singles to participate.
The Qualification Test
Next, you should submit a qualification test to make sure you perform to an acceptable standard. To do the test, you will have to download an application that will capture your device's screen and voice.
Don't worry too much, as they are not very picky. You just need to say exactly what you think as you browse the website and stay on task. There are no right or wrong answers.
The test, which consists of some instructions, lasts for about 20 minutes. Read the instruction out loud and keep on talking as if you were talking to yourself.
Don't overthink during the process. Just do it naturally.
I know it can be hard for some people, particularly for introverts like myself. But just give it a try, and you will probably get used to it the more and more tests you perform.
Before you start the test, there is a 1-minute sample video that will give you an idea what you can expect.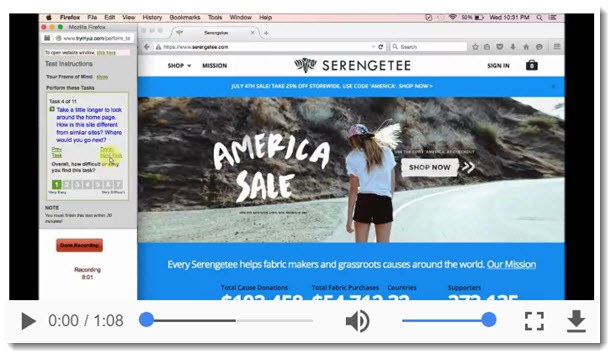 After the Test
---
If you get qualified, you will get an email whenever a new test is available.
By the way, keep an eye on your inbox as opportunities are fulfilled on a first come, first serve basis. So, you need to be fast as positions are always limited.

You should expect to do 1 or 2 tests per week on average. Therefore, if you are looking for more tests, I recommend you register for the other platforms I mentioned above.
How Paid Tests Work
---
They will give you a hypothetical scenario as if you were a real customer browsing the website for the first time. Then, they will show you some tasks that will guide you through the test.
The first part of the test is designed to get your first impressions. You will take a look at the homepage of the site for 15 seconds. When the time is up, you may answer questions like:
What is interesting about the site?
What words, products, and services do you remember?
The other tasks are related to the type of website and business. For example, if you are dealing with a travel site, you may be required to find specific flights and go through the whole process of booking your holiday. Click here to see an example.
A written summary of your experience may also be necessary at the end of the video recording.
Clients rate your usability tests according to your performance. Therefore, it's important to get a good score, as a bad one may impact your ability to receive new opportunities.
Payments
---
Payments are processed every Friday via PayPal. And as I already mentioned, you will earn $10 for each test, which is a fair reward for your time and effort.
Conclusion
---
TryMyUI is a respectable usability testing platform both for people willing make some extra cash and companies seeking valuable insights. I highly recommend it!
A Smart Way to Make Money Online
---
Although I recommend TryMyUI, I just can't finish this review without mentioning the same strategy that I use to earn money online.
The strategy is called affiliate marketing through blogging. All I do is write articles for my blog and promote other people's products.

Note that I don't sell anything. I just lead people to the companies' websites and get a commission if they end up purchasing the product or service.
It's a smart way to make money because a website has its doors open 24/7. And considering my site gets people from around the World, I can earn money at any time, even if I am not working at that time.
Yesterday I woke up with $197 in affiliate commissions in my account. How nice is to know all my hard work is paying off.

Rest assured affiliate marketing is a powerful strategy that anyone can use to earn a living online.
Just keep in mind it takes a lot of time and upfront work before you see similar results.

This reward platform is going viral! Cash out via PayPal, Visa, Gift Cards, and in-game currencies - Click here to find out how to generate an extra $10+ per day! 
In my opinion, following a well-structured and to the point training is essential to your success.
If you would like to give your first step towards a successful online business, then check out my recommended training platform. It's 100% free to get started!

Thanks for reading! I hope you found in this review what you were looking for. If you think something is missing, or you want to ask something, feel free to leave me a message below.
Have a great day! 🙂