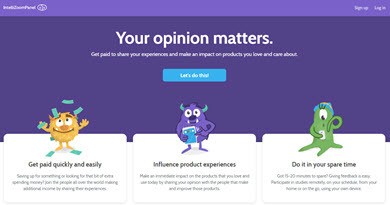 Welcome to my IntelliZoon Panel review!
I have recently discovered IntelliZoom Panel, which promises to pay you for giving feedback on apps and websites.
There are many scams on the internet, and that's probably why you are searching for more information. You want to make sure it's safe and that you will get paid!
You are in the right place!
I decided to put up this IntelliZoom review to explain in detail how it works and give you my honest opinion about it. Is it a scam?
Let's find out!
You may want to discover the step by step program that helped me build an internet business from scratch and earn a full-time income online. It's free to get started and 100% newbie-friendly!
IntelliZoom Panel Review 
---
Name: IntelliZoom
Website: https://www.intellizoom.com/
Type: Usability testing
Price: Free
Company: UserZoom Limited
Membership Eligibility: US, UK (+18)
LEGIT
Overall Rating: 

4/5
What is IntelliZoom Panel?
---
IntelliZoom is a website that allows you to take part in UX research studies and get paid to test websites and apps.
There are some similar and very popular platforms such as TryMyUI, Userfeel, and User Testing.
UX stands of User Experience. Therefore, when you take part in a UX research study, you are helping companies understand how users interact with their apps, sites and programs.
By joining IntelliZoom, you will influence the decisions of businesses and help them provide a better user experience.
For example, you may be asked to visit a company's website and think out loud as you browse the products until you reach the check out page.
IntelliZoom Panel is the sourcing platform owned by UserZoom, a UX Insights company with offices in the UK, US and Spain.
Recently UserZoom acquired Validately, which is another site that allows you to participate in UX studies and get paid.
Is IntelliZoom Panel a Scam?
---
I am confident that IntelliZoom Panel is a legit platform.
There are not many user reviews on the internet, but I didn't find anything suspicious.
Some people complain that payments take many days to reach the account, but they do get paid.
Pros and Cons
---
Pros
Excellent pay rate compares to survey panels.
No professional skills required.
Reputable company.
Get paid via Paypal.
There is no minimum payout threshold.
Cons
No signup bonus.
There are not many jobs.
Studies fill up the quota quickly, so you have to be fast.
Slow payments.
If you get rejected in the practice test, you may not reapply.
Who is it For?
---
IntelliZoom is a platform for people who want to make money testing websites, app, and software.
You can register if you are at least 18 years old and you are a resident of the U.S. the UK, Germany, and Spain.
Also, you should be able to speak the language fluently and follow instructions.

What do You Need to Get Started?
---
You need mainly a computer with a webcam, microphone, and a reliable internet connection.
Some studies require a smartphone or tablet instead of a computer.
Check the System Requirements page to know all the supported operating systems and internet browsers.
Also, you need to download the UserZoom's testing software, which is responsible for recording your browsing activity.
RECOMMENDED: Click here to see my no.1 recommendation for making money online.
Registration
To sign up, visit the website and fill up the form with your name, country and email.
Then, accept the terms of service and confirm your email.
Complete Your Profile
The first thing I recommend you to do when you join IntelliZoom is to visit the Profile page and answer all the questions.
The company will send you studies based on specific demographics, so the more complete your profile is, the more your chances of being invited. As a result, the more money you can make!
Currently, there are 8 profile categories and 39 questions. So, you can probably complete this in less than 10 minutes.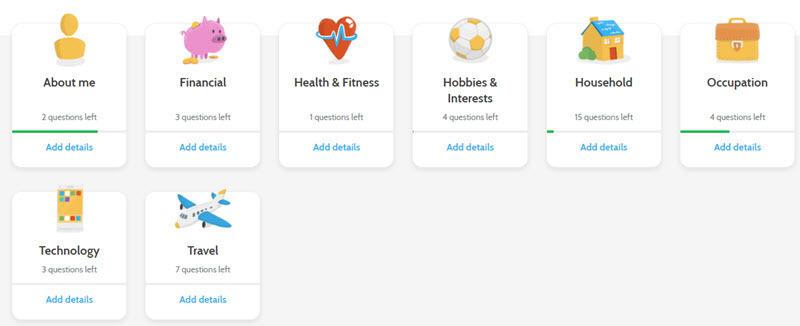 Practice Test
---
The next step is to take the think-out loud practice test, which takes approximately 5 – 10 minutes.
You should participate and pass this test so that you can be invited to better paid studies.
Before taking the test, make sure you are in a quiet and well-lit environment, and that your audio and video is working.
You will be asked to install the UserZoom Surveys extension, which is the software responsible for recording your audio, video and internet browsing activity.
During the test, you will be taken through the various question types that you might see in a real study.​

This reward platform is going viral! Cash out via PayPal, Visa, Gift Cards, and in-game currencies - Click here to find out how to generate an extra $10+ per day! 
They will guide you and give essential tips to provide useful feedback.
I don't think it's very difficult to pass the test and get hired. Just follow all the instructions and speak your thoughts clearly and loudly during the test.

While reading the Money Shed forum, I found one person that was rejected and prevented from reapplying.
Some people may feel anxious, nervous and end up not performing very well. I know exactly how it is as I am an introvert myself, and lack verbal communication skills.
All I can say to you is, don't worry too much about what they will think of you! If you get rejected, simply try another site.
There is also a Click test that you can complete from your tablet or smartphone. Unfortunately, the test is not always available to anyone.
Think Out Loud Tests (TOL)
---
When a new study becomes available, and they match your profile, you will receive an email invitation with a link.
Usually, each UX research study requires a small number of participants, and so the quota can be researched very quickly. Therefore, you need to act fast to reserve your place.
You may have to answer a few screening questions to qualify, but unfortunately, sometimes you will get this message: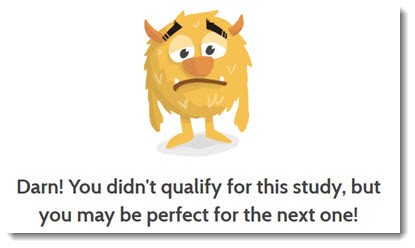 Read all the instructions carefully and activate the UserZoom extension.
During the study, your voice and your computer screen will be recorded at the same time.
Depending on the study, you may also have to activate the camera and send a video of you reacting to the client's platform.
When you start recording, it's important to express your reactions to what you are seeing.
Do you like the look of the website? Is it difficult to find the information? If so, why?
Keep your thoughts flowing and avoid long gaps in your speech. Don't be afraid to say anything, even if you think it's useless.
Each study takes only 10 – 20 minutes to complete, but time goes by quickly when you are focused on the tasks.
There will be two windows you need to pay attention to during the study:
The larger window, which has the website that you are evaluating, and the taskbar at the bottom, which shows the task description, and a preview of your webcam.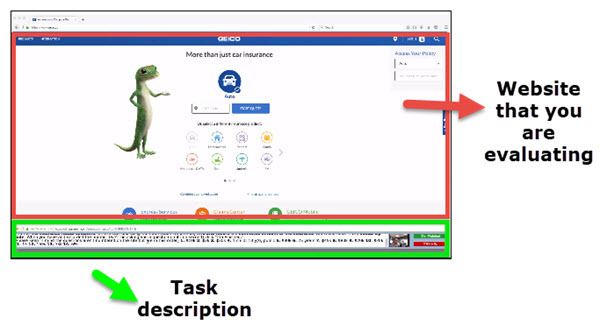 When you finish all the tasks, click on the green button "I'm finished" to stop recording and submit your evaluation to the company.

In this video, you can see different people performing usability tests. Watch this to get a glimpse of how it works in real life:
Non-TOL Studies
---
IntelliZoom Panel has other types of studies that do not record your voice or face.

Here is a brief description of some other tests:
Screenshot click test:
Usually, they will show you a screenshot of a website page and ask you to click somewhere according to the question.
For example, you may be asked where would you click to access specific content on that page.
Watch this video to see one example in practice:
Card Sort
In this study, you will help companies improve the navigation of their websites.
They will show you a list of items, and ask you to move them in different categories. It's simple as that!
Diaries
Diaries are tests that you perform for days or weeks. You will have to complete tasks at specific time intervals and give your feedback on your findings.
How Much Money Can You Make?
---
It depends on the type of study and the number of invitations that you receive.
Think Out Loud tests usually pay $10, whereas more simple studies pay $5 or less.
Click Tests and Card Slots pay up to $2 because they are quicker and don't require as much effort.
It would be awesome to complete these $10 studies at least once a day. In that case, we could make an extra $300 per month working just 20 minutes per day!
Unfortunately, there are only one or two studies per week, and still, you have to qualify for them.
If you are lucky, you may end up with just a handful of studies per month.
That's why you may want to sign up with the other Usability testing sites that I already mentioned earlier.
Payment
---
Once you submit all the work, IntelliZoom will review your evaluation within 3 – 5 working days.
If it passes their quality standard, you will get paid via PayPal within up to 21 days business days. Indeed, some people complain that payments are very slow.
Keep in mind that the company will send the payment to the email address associated with your IntelliZoom account.
If your PayPal email is different from the email that you used to sign up with IntelliZoom, then you will have to link this email to your PayPal account.
PayPal allows you to link up to 8 email address to the same account.  Check this article to know how it's done.
Conclusion – Is IntelliZoom Worth it? 
---
IntelliZoom is not only legit but also an excellent Usability testing platform to make money online.

Think Out Loud tests take no more than 20 minutes to complete and pay $10, which is an excellent rate!
In contrast, most online surveys will pay you less than $2 for the same amount of time.
If you feel comfortable speaking and recording your voice and face, then you will probably like your experience with IntelliZoom.
In my opinion, there are only two main problems:
There are not many studies available, so on average, you should expect 1 or 2 invitations per week.
Once you complete the study, you may have to wait for more than two weeks to receive the payment.
Nevertheless, I think it's worth joining the IntelliZoom panel as the pay rate is pretty decent!
How I Make $1,000/Mo From Home
---
In 2015, I discovered the possibility of working remotely and earning a full-time income online.
The great thing is that I work for myself, and I don't depend on a job to bring food to the table.
Having an internet business is liberating!
You can work whenever and wherever you want, which means you have the freedom to do whatever you want with your time!
In short, I write posts and reviews for my own website. They rank on Google and attract lots of people that are interested in the topics that I am covering.
The money comes from affiliate links and banner ads that I have on my posts.
I've built a successful internet business thanks to this excellent step by step program.
They helped me set up an authority website, apply effective strategies to rank on Google and make affiliate sales.
Final Words
That's it for now! Thanks for reading my IntelliZoom review and I hope it helps. If you have any questions, feel free to drop me a comment below, and I will be more than happy to help! 😉
Stay safe and peace out!