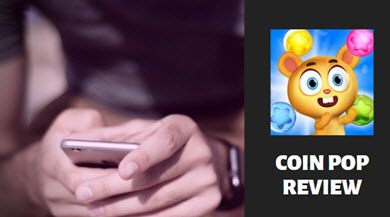 I was browsing the Google Play store when I discovered a money-making application called Coin Pop.
Coin Pop is another app that supposedly pays you to play free games on your Android device. I said "another" because I have already used and reviewed many similar apps.
This app seems like the easiest way to make money online because all you have to do is download the game and keep playing. There is no task, survey or offer to complete!
From first glance, Coin Pop seems too good to be true. But can you really trust Coin Pop app? Is it a scam or a legit application?
I've put up this full review to explain in detail how it works and give you my honest opinion about it.
You may also want to check out the step-by-step training that helped me reach $1,000+ per month working from my laptop (no special skills required).
Coin Pop App Review
---
Name: Coin Pop
Company: AppLike GmbH
Membership Eligibility: Worldwide
Price: Free
Overall Rating:

3/5
What is Coin Pop?
---
Coin Pop is a viral app that rewards you for installing and playing free games on your phone.
The app is owned by Applike GmbH, a German company that also operates 4 other similar apps, namely AppStation, App Flame, Cash Alarm, and Money RAWR.
Just like all these apps, Coin Pop gives you coins every minute that you play the game.
Once you reach the minimum payout threshold, you can redeem your coins for real cash via PayPal and various e-gift cards.
Although the app works worldwide, the number of games available varies from country to country.
Is Coin Pop App a Scam?
---
Coin Pop is not a scam as I have personally cash out. Also, many people claim that they have received multiple payments from Applike GmbH without any issues.
Here is my proof of payment:

However, if you have a look at the Terms and Conditions inside the app, you will discover that the company doesn't guarantee any winnings.
I think it's unfair, but the company states that users have no right to any reward.
Some people report having their accounts flagged due to suspicious behaviour.
It can be very frustrating, but some people end up breaching the terms and conditions without even realising.
So, it's crucial that you read that page carefully to make sure you are not doing breaking any rules. For example, Coin Pop doesn't allow multiple devices on the same internet connection (IP).
Keep in mind that apps like Coin Pop are not free from errors. Therefore, you may not get the right number of coins, or you may be blocked for no apparent reason.
Pros and Cons
---
Pros
Easy way to earn money.
There are new games every day.
Depending on your country, you will get 5,555 or 4,444 coins as a signup bonus.
The minimum payout is low – only £0.50 in the UK.
Generous affiliate commission.
Cons
Low pay.
The more you play a particular game, the fewer coins you earn per minute.
The company doesn't guarantee any winnings.
It's not available for iOS devices.
How Does Coin Pop Work?
---
Coin Pop earns advertising revenue by encouraging users like you and me to download and play games.
Although these games are free, they offer add-ons that people can purchase in order to enhance their gaming experience.
That's how game developers make money and can reward users that try their games through Coin Pop.
Now, let's have a look at how to register and start making money.
Installation and Registration
Coin Pop is only available for Android devices, and therefore, it can be found and installed directly through the Google Play store.
After the installation, you have to consent to Coin Pop collecting your registration data (email address, date of birth and gender).
You have the option to register with either your Facebook or Google account.
Next, you must grant Coin Pop access to your usage data so the company can detect your playtime and reward you accordingly.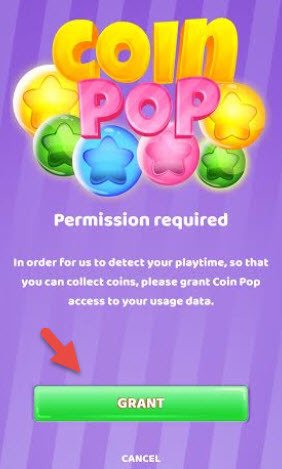 Simply tap on "Grant", select Coin Pop and activate "allow usage tracking".
In the UK, you will get 5555 coins as a start-up bonus, which is approximately £0.43. In other countries such as the US, the start-up bonus is 4,444 coins.
Coins Vs Cash
Before you download any game, I highly recommend you check out the minimum points required to cash out in your country.
You can check this by tapping on the green dollar sign right at the top-right corner. Then, tap on the payment method of your choice. I always choose Paypal.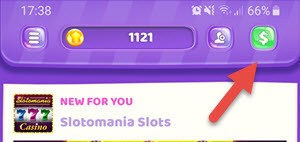 Then, calculate how much money you are actually earning per minute of gameplay.
In the UK, 1000 coins equal to approximately £0.08. That's because you need a minimum of 6399 coins to redeem £0.50.
Earn Coins
When you open Coin Pop, you will see a list of games available and the number of coins you will get per minute of gameplay.
For example, Township was giving 219 coins per minute.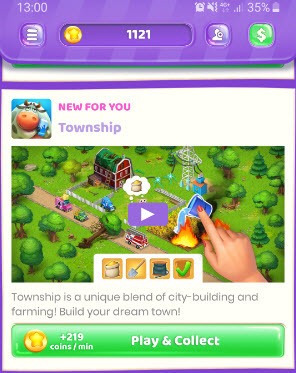 All you have to do is tap on "Play and Collect", install the game through the Google Play Store and start playing.
Different from other apps, you don't need to reach any specific level or any number of points in the game to get credited.
The More You Play, The Less Your Earn
Although they say you will earn a given number of points per minute, the reward gets lower and lower the more you play that game.
Yes, the more you play the same game, the fewer coins you will earn per minute.
At some point, you will earn significantly less so you should install another game to refresh.
Many people don't know that and think they are being cheated when they discover they are not earning even half of what they used to in the beginning.
Here is what a user said about this:

That's totally normal, but in my opinion, the company should make this information more visible inside the app. Otherwise, people will have unrealistic expectations about the amount of money that they can earn.
How Much Money Can You Earn? 
The amount of money you can earn with Coin Pop depend on how many games you have available in your country, the pay rate, and how long you play.
If you live in the United States, Canada or the UK where there are lots of opportunities, your earning potential is higher compared to other countries.
Therefore, it's difficult to estimate, but the fact is you won't earn a lot of money. That's for sure!
A few cents per minute of gameplay won't get you very far, but if you already play for fun, it's worth using Coin Pop.
It adds up, and without even noticing, you may eventually reach $10 within after a few weeks.
Invite Friends
Another way to earn coins is by inviting your friends to install Coin Pop through your referral link.
You will get 250 coins for every friend that you invite plus 25% of all the coins he or she earns.
The person that you refer will also earn 25% of all the coins you earn, which is cool!
To refer someone, tap on this icon next to the green payout button and then on "Invite".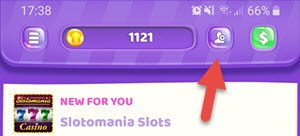 Payouts
When you reach the minimum payout threshold, you can redeem for PayPal and e-Gift cards from your favourite stores.
The minimum payout depends on your country and the payment method. In the UK, the minimum payout via PayPal is only £0.50.
Conclusion – Is Coin Pop a Scam?
---
Coin Pop is a legit application that you can use to make money while discovering and playing mobile games.
If you play games frequently, then Coin Pop is a no brainer because it means free money in your pocket.
You may also try the other apps that I mentioned in this post to find more gaming opportunities.
Now, if you are not a big fan of games, and you are just doing it for money, I'm afraid this app is not the best option.
The reason is that you can make more money by taking surveys, completing offers and doing micro-jobs. In my opinion, the best GPT (get paid to) platform at the moment is Prizerebel.
There is an even better way to make money online that I would like to share with you next.
Verdict: Legit
How I Make Money Online
---
In 2015, I discovered the possibility of growing an affiliate site that works for me 24/7 and generates recurring commissions.
In short, I help people by writing informational posts and reviews that rank on Google and attracts lots of people.
Affiliate marketing is very powerful because if you do it right, you can earn a full-time income working from your laptop.
Imagine yourself:
Working from home or anywhere in the world!
Earning a consistent income without relying on a boss!
Having the freedom to do whatever you want with your time!
I've walked the way and achieved significant results thanks to this excellent step by step program.
Kyle and Carson have helped me set up a website and follow the right path to earning over $1,000 per month from the internet.
No, I am not an internet marketing guru trying to push the ultimate solution to make a living online.
I'm just an ordinary guy who worked in a coffee shop for 4 years while growing a website that is now making the same amount of money.
Maybe it's not a lot of money for you depending on where you live, but for me, it was life-changing!
I have the opportunity to travel to South East Asia, or any countries where the dollar is stronger, and live a comfortable life. That's one of the main advantages of having an online income!
Well, that's it for now! Thanks for checking out my Coin Pop app review. If you have any questions, feel free to drop me comment below, and I will be more than happy to help! 😉
Stay safe and peace out!