The Cash Alarm app supposedly allows you to earn cash rewards for installing and playing games on your phone.
According to the company, the more you play, the more you earn! But can you trust Cash Alarm? Is it a scam or a legit application?
In this review, I will explain in detail how it works and why you should not expect to earn real money from this app.
You may also want to check out the step-by-step training that helped me reach $1,600+ per month working from my laptop (no special skills required).
Cash Alarm App Review
Name: Cash Alarm
Company: JustDice GmbH
Type: Earn money by playing games
Price: Free
Installs: 5,000,000+
Similar apps: App Flame, AppStation, Mistplay, Fitplay
Overall Rating:

2/5
What is Cash Alarm?
Cash Alarm is a mobile app almost identical to the popular Applike, created by the same company called JustDice GmbH. It also operates many similar apps such as Fitplay, CoinPop, Money RAWR, and AppStation.
Cash Alarm gives you points (coins) when you install and play suggested games in different genres such as Strategy, Puzzle, Action, Adventure, Arcade, and more!
When you collect enough coins, you can redeem them for PayPal and various gift cards such as Amazon, Steam, Playstation, iTunes, and more!
Cash Alarm generates revenue by working with game creators who wish to increase the visibility of their apps.
Most of these addictive games have upgrades and additional perks that people buy to improve their gaming experience. So, by rewarding people to install and play these games, Cash Alarm is helping developers to make more profits. It's a win-win!
The app works worldwide on Android devices, but you may not find many games to install depending on your country. That's because advertisers know that targeting users from wealthy countries are more profitable.
Is Cash Alarm Legit? Does it Pay?
Cash Alarm is not a scam, but it's important to understand that the company does not guarantee any payouts as stated in their terms and conditions. From what I can see, it's only a matter of luck whether or not you will get paid.
Many users report missing coins and payments, which is why some call Cash Alarm a scam.
This girl was furious because she played for over one hour, and the app just tracked her gameplay for 34 minutes.

I want to warn you about a reoccurring problem that I have noticed with Cash Alarm and other similar apps. Many people reported that Cash Alarm deleted all the games and stopped tracking the game after an update. The problem is, if you don't collect more coins, you will never cash out!
Some people claim that the app crashed as soon as they tried to redeem their coins. One user claimed that he requested the payout, but he is still waiting for over one month.
It's not fair, but the terms and conditions state the user has no right to the payout of a particular award. However, Cash Alarm is trying to make people believe there are guaranteed payouts, as you can see in the app description.

They should delete that statement if they are not willing to pay everyone.

Another problem is that when you install Cash Alarm, it doesn't show you the Terms of Use, only the privacy policy. Therefore, very few people will take the time to read that page once they get access to the application.
Are you tired of spending hours on your phone only to make pocket money? Check out my #1 recommendation and learn how to grow a 6-figure online business.
Pros and Cons
Pros
Earn 4444 coins as a signup bonus – It allows you to receive your first payout within a few hours.
The featured games are fun and addictive.
The company respects privacy regulations.
Get Paid via PayPal and a variety of gift cards.
Easy way to earn money.
Generous affiliate commission.
Cons
Very low pay.
Many users report missing a considerable number of coins.
Cash Alarm may eventually stop crediting your playtime.
The game selection is relatively small.
The minimum cashout is low, but as the pay rate is also low, it takes time to cash out.
It's not available for iOS devices.
How Does Cash Alarm Work?
Installation and Registration
Cash Alarm is only available on Android devices. You can install it on Google Play and sign up with your Facebook, Google, or account.
Next, grant Cash Alarm access to your mobile's usage data so they can detect your playtime. If you don't accept this permission, you won't be able to get any coins. You should also provide your name and gender so Cash Alarm can recommend games based on your profile.
Upon opening the app for the first time, you will get a welcome message and a signup bonus of 4444 coins. 
If you have a referral code from a friend, you will earn 25% of all the coins they earn. Unfortunately, I don't have a code to share with you, but it's not difficult to find it online.
How Much are Coins Worth?
The exchange rate depends on your country. For example, in the United States, users can redeem 4999 coins for $0.50 via PayPal, meaning 1000 coins equal $0.10. 
Earn Coins
On the dashboard, you will see a list of games that gives you coins for playing. You will also see how many coins you will earn per minute of gameplay.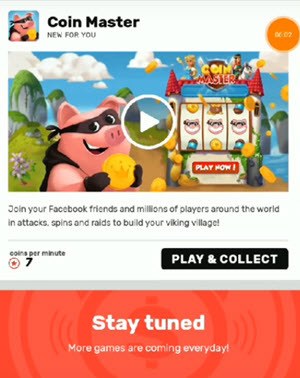 Simply tap on "Play and Collect," install the game, and start playing.
After installing the game, it will be allocated to the "My apps" section, which tells you how many seconds you need to play to earn a specific number of points. Take this with a pinch of salt because it's unlikely that you will get the correct number of coins.
Make sure you always open the game through Cash Alarm. Otherwise, they won't record your gameplay, and you won't receive coins.
Then, once you finish playing, return to the Cash Alarm app to see the total number of coins you earned.
Unfortunately, there was no game available here in Brazil. However, if you live in the U.S., the UK, Canada, or a western European country, you will find many games at your disposal.

This reward platform is going viral! Cash out via PayPal, Visa, Gift Cards, and in-game currencies - Click here to find out how to generate an extra $10+ per day! 
How Much Money Can You Earn? 
You should expect to earn 5 – 500 points per minute, depending on the game and your country. For example, in the U.S., you can make over 200 coins per minute, whereas in a developing country, you may get less than 10!

The critical information about Cash Alarm is that the more you play a specific game, the fewer coins you will get per minute. Eventually, you will be "forced" to download and play another title to continue collecting coins. This happens because each game has a limited quota paid out by advertisers.
As with all reward apps available on Google Play, the earning potential is low. What's worse, you can play for hours with no compensation at the end.
Invite Friends
Another way to earn coins is by inviting friends to join Cash Alarm. You will get 250 coins for every friend plus 25% of all the coins your friend earns. Your friend will also earn 25% of the coins you earn, which is excellent!
There is an automated message with your link attached to it. Click on "Invite" and share your link on social media, email, WhatsApp, etc.
Payouts
You can redeem your coins via PayPal or gift cards when you reach the minimum payout threshold of $0.50  or £0.50 (U.K.).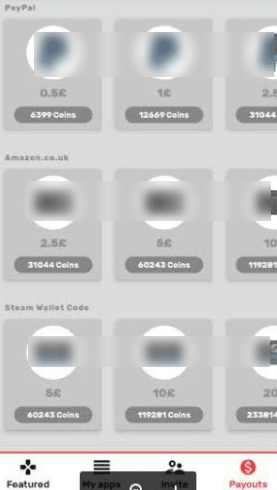 In the U.S., you can redeem 4999 Coins for $0.50 via PayPal. You can also redeem for Amazon, iTunes, Steam, PizzaExpress, Starbucks, and T.K. Maxx gift cards. I advise you to cash out small amounts because you never know if they will pay you or not.
I have heard that Cash Alarm is asking for a PayPal password to cash out. If this is true, it's better to stay on the safe side and avoid this payment method. Instead, choose Amazon or another gift card.
Conclusion 
Cash Alarm is a reward app that doesn't guarantee any payouts so that you can waste a significant amount of time. After reading lots of user reviews, it seems that most people don't get paid.
People use Cash Alarm because they want to receive their reward. Otherwise, what's the point of installing this app? Considering the number of negative reviews, I don't feel confident enough to recommend Cash Alarm to my readers.
If you want to try different games and have the chance to earn a little money, go for it! You might get paid, but I wouldn't set high expectations!
Verdict: Not Recommended 
Is There a Better Alternative to Cash Alarm? 
No app is perfect, but the best you can do is choose one with higher ratings and fewer complaints. After reviewing over ten similar apps, I think Mistplay is the most reliable alternative to Cash Alarm.
It's a decent app for people who already play mobile games. But if you are desperate for money, you may be very disappointed.
If you want to make more money, I recommend a GPT (get-paid-to) site called Prizerebel. Surveys and offers are more profitable than games, but you should not expect a significant income. You can reach $50 – $200 per month depending on your country and the time you put into it.
Now, if you are serious about making money online, you could create an internet business. You could also work as a freelancer in your area of expertise on platforms like Upwork or Fiverr.
I think the first option is more attractive because you don't have to meet deadlines nor deal with customer complaints. Also, an online business allows you to make passive income and stop trading your time for money. That's why I decided to follow this road!
Check out the next section to understand how this type of business works.

How I Make Money Online
In short, I earn affiliate commissions for promoting other people's products through my website. My job is to create helpful content which ranks on Google and attracts people searching for information online.
Affiliate marketing is powerful because if you do it right, you can earn a full-time income from your laptop and work whenever and wherever you want.
Imagine what your life would be like if you could…
Work from home or anywhere in the world.
Have the freedom to set your own schedule and take as much holiday as you like.
This excellent step-by-step program gave me all the knowledge, support, and tools I needed to grow a lucrative affiliate site. It's free to get started, and there are no strings attached!
Everyone can start with no specific knowledge or skills. However, this type of business takes a lot of time and effort to get traction, so you should not expect overnight results.
Final Words
Thanks for checking out my Cash Alarm app review. If you have any questions, feel free to drop me a comment below, and I will be more than happy to help! 😉
Stay safe and peace out!