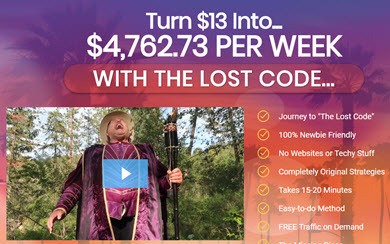 The Lost Code was launched in August 2008, and people are still searching for the course in hopes to make a significant amount of money online.
Brendan Mace and Jono Armstrong claim people can take advantage of the method to turn $13 into $4,762.73 per week.
Does the Lost Code really a real method to make fast money online? Is it a scam or legit?
Read this review to find out!
By the way, if you want to discover the same method that earns me over $1,000 per month from my laptop, check out my #1 recommendation.
The Lost Code Review
---
Name: The Lost Code
Website: https://www.thelostcode.net/the-lost-code-v2
Owners: Jono Armstrong and Brendan Mace
Price: $12.95 (frontend) + Upsells

LEGIT

Overall rating:

3.5/5
The Sales Page
---
The Lost Code has been advertised as a simple method TOP marketers are using to make thousands of dollars a day.
According to the sales page, you don't need a website, an email list, a product or any experience to start making money.
The creators, Brendan and Jono claim they have been using this method to earn up to $30,000 per day!
My first criticism about The Lost Code is the way its sales page. They want to sell you a digital course without telling you exactly which business model you will learn and the basic strategies required to implement.
I am going to explain the method, but first, it's important to understand that The Lost Code is not a shortcut or secret to make money online.
Is The Lost Code a Scam?
---
No. The Lost Code is not a scam as you can make a lot of money if you implement the strategies and work consistently.
However, your results will depend mainly on how effectively you market the offers and how much time you put into it.
The sales page may give people unrealistic expectations as it claims people can earn more and fast by working less.
Well, the reality is that if you want to succeed, you'd better be prepared to work hard and be patient. Otherwise, you may quickly be disappointed.
Nevertheless, I recognise the value you can get from The Lost Code. It's affordable and shows you a solid strategy that can work for those who are not lazy and don't give up easily.
What is The Lost Code?
---
The Lost Code is a step-by-step video training and case study that will show you how to earn high-ticket commissions worth hundreds or even thousands of dollars per sale.
It was created by Jono Armstrong and Brendan Mace, two highly experienced and successful marketers and authors of many other digital courses including Stealthd, Boomerang Buddy, Octane, and Fuego Breakout.
You will learn how to get traffic (visitors), which offers to promote, how to increase conversions, and everything to set up this type of business more effectively.
Next is a brief overview of each video section.
Pros and Cons
---
Pros
Quality step by step videos.
Free and paid traffic methods included.
It provides great strategies to increase conversions and make sales.
Focus on high ticket affiliate offers.
30-day money back guarantee.
Cons
The sales page may give people unrealistic expectations about the method.
Expensive upsells.
You can lose money if ads don't convert well enough.
Rely solely on Youtube for free traffic.

How Does The Lost Code Work? 
---
With the Lost Code, you can use Youtube to promote high ticket products. You will be using affiliate marketing to earn commissions on products that cost hundreds or thousands of dollars.
Jono Armstrong has become incredibly successful by creating video reviews and promoting "make money online" type of products for sale on Warriorplus and JVZoo.
However, there are paid traffic methods you can use such as Bing Ads.
The Training
---
The Lost Code training consists of 10 videos that cover the entire process of selecting the high ticket offers, building the money pages and getting the traffic.
These are the videos available inside the member's area:
Welcome – Simply a welcome message from Brendan
Overview of The Lost Code  – Learn precisely how the method generates revenue.
Case Study and Proof – Self-explanatory.
Lost Code Money Pages – Learn how to create your landing pages that are required to promote affiliate offers.
Audition Money Method – Learn the strategy used by Jono and Brendan to increase conversions.
Simple little promos – Learn how to use promos to get more leads and sales.
Your very own webinar – Brendan recommends using his webinar as your own to promote his high ticket product. You earn a huge commission if people buy it after watching that webinar.
Traffic Method #1 – Free traffic From Youtube.
Traffic Method #2 – Cheap quality traffic from Bing.
Traffic Method #3 – Underground traffic sources.
List building hack – learn how to build a buyers list, which is basically a list of emails from people who purchased and thus, are more likely to buy more from your recommendations in the future.
Can You Turn $13 into $4, 762.73 Per Week?
---
It's possible, but don't expect this to happen overnight or even in your first year!
When starting an internet business, it's essential to be realistic with your goals because even if you make a sale, it doesn't mean you are making profits.
There are expenses with this type of business, and if you invest in advertising, costs can rise dramatically.
So, I recommend focusing on the free traffic method in the beginning, until you get the hang of internet marketing.
Conclusion
---
The Lost Code is not only legit but a decent training designed for those who aim for high ticket commissions.
Lots of people are using the same business model, so the method is not a secret.
However, there are still lots of opportunities for anyone who work hard and diligently to build an online presence.
How I Make Money Online?
---
In short, I earn affiliate commissions for promoting other people's products through my website.

If you do it right, you can earn a full-time income from your laptop just like the strategy proposed by the Lost Code.
I prefer writing articles than creating videos, so this works well for me.
My articles rank on Google, so the traffic is 100% free!
It's not complicated, and everyone can start with no special knowledge or skills.
However, this type of business takes a lot of time and effort to get traction, so you should not expect overnight results.
Imagine how your life would be like if you could…

This reward platform is going viral! Cash out via PayPal, Visa, Gift Cards, and in-game currencies - Click here to find out how to generate an extra $10+ per day! 
Work from home or while travelling the world?
This excellent step by step program gave me all the knowledge, support and tools that I needed to grow a lucrative affiliate site.

It's free to get started, and there are no strings attached!
Thanks for checking out my Lost Code review. If you have any questions, feel free to drop me a comment below, and I will be more than happy to help! 😉
Stay safe and peace out!