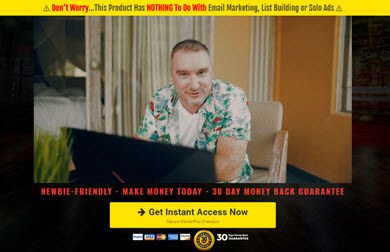 Jono Armstrong and Brendan Mace launched a new course a few days ago called Stealthd.
Through step by step videos, Jono promises to show you an innovative and sneaky way to reach people's email inboxes without the regular list building strategy.
Can you really make money with Stealthd? Is it a scam or legit?
First, let me tell you that I am not an affiliate of Stealthd, and what you will read here is my honest opinion about the product and strategy proposed.
Let's find out!
By the way, if you want to discover the same method that earns me over $1,000 per month from my laptop, check out my #1 recommendation.
StealthD Review
---
Name: StealthD
Website: http://www.stealthd.net/stealthd
Owners: Jono Armstrong and Brendan Mace
Price: $12.95 (frontend) + Upsells

LEGIT

Overall rating:

3.2/5
The Sales Page
---
The creators of StealthD are trying to sell you a supposedly fast and easy method to "email" people without actually needing an email list or autoresponder.
Jono claims this system has been working like a charm for him during the last 3 months.
According to the website, the method doesn't require a monthly fee. Yet, it's very easy to implement and may give you astonishing results.
The site also claims that Stealthd gives you a massive unfair advantage, and it's like having "chat codes" that very very few people know about.
Okay, so what is StealthD's strategy all about? Does it work?
What is Stealthd?
---
Stealthd is a step by step course that will show you how to set up Gmail Ads and promote affiliate offers.
Gmail ads show up inside people's Gmail inboxes, so you don't need to collect leads through an autoresponder.
If you use Gmail, you will note that when you click on the Social or Promotions tabs, you will see ads that look just like another email right at the top.

So, although you don't need to pay for autoresponder or solo ads, you MUST sign up for Google Adwords and pay for advertising. That's the only way to promote your affiliate offers using the Sealthd method.
It was created by Jono Armstrong and Brendan Mace, two highly experienced internet marketers who have launched other top-selling digital products on Warriorplus such as Boomerang Buddy, Octane, Fuego Breakout and many others.
Is Stealthd a Scam?
---
StealthD is not a scam as it gives you all the information you need to implement the strategy and hopefully start making money.
However, just like many internet marketing products, it's advertised as if it was a shortcut to success, and thus, it may give people unrealistic expectations.
Besides, the sales material doesn't mention that you will have to invest in ads.
So, although you can instantly reach millions of people using Stealthd, they "forget" to mention the incredible amount of money you will have to spend and put at risk for that end.

Gmail ads are not very popular like regular Google or Facebook ads, but it is well known by big brands and experienced marketers. If you search for it on Google or Youtube, you will get lots of information about this advertising model.
Pros and Cons
---
Pros
Quality step by step video tutorials.
Gmail ads are usually cheaper than Facebook or Google Ads.
30-day money back guarantee.
Cons
You can lose money if your ads don't convert well enough.
Expensive upsells.
How Does StealthD Work? 
---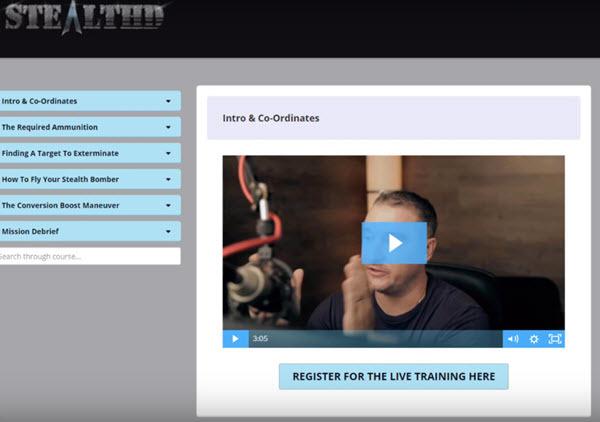 Stealthd consists of the following 6 modules:
Intro and Co-ordinates 
This module is an overview of the method, and what you can expect to achieve with Stealthd.
The Required Ammunition
All you need to get started, which is basically a Google Ads account and the financial resources to invest in ads.
Jono recommends you spend around $10 per day, which is required to get the traffic. Without traffic, it's impossible to make money.
Finding a Target to Exterminate 
You will learn where to find products that convert well and give you generous affiliate commissions.

This step is crucial because it will help you maximise your profits and avoid losing money. Still, it's essential to keep in mind that there are no guarantees. 
How to Fly Your Stealth Bomber 
Learn how to use a free design tool called Canva to create your advertising material.
As importantly, you will also learn precisely how to set up your Gmail ads from start to finish.

This reward platform is going viral! Cash out via PayPal, Visa, Gift Cards, and in-game currencies - Click here to find out how to generate an extra $10+ per day! 
The Conversion Boost Maneuver
This module shows you an extra step that is not necessary, but can increase your profits significantly.
Before directing people to the sales page, you offer them bonuses which may increase your sales.

Can You Make Money With Stealthd?
---
Yes, absolutely!
If you do exactly as Jono suggests, you can start making profits reasonably quick compared to other free traffic methods.
However, there are risks involved because you don't know how many sales you will make.
The affiliate commissions you earn may not be enough to cover your advertising costs. So, you can lose money!
Gmail ads have the advantage of being relatively cheap compared to Facebook and Google ads.
You pay per click, and the more people click on your ad, the less you'll pay per click. Therefore, your profit margin will depend a lot on how enticing your ad title is.
Your profit will also depend on how enticing your affiliate offer is as a whole (both your Gmail ad and sales page) as well as how much you can earn per sale.
The trick is to choose products that have a high converting rate and lots of upsells.
Upsells
---
Speaking of upsells, Stealthd has a total of 5 upsells.
Upsell 1 ($37) – Advanced Stealthd Strategies: Learn how to perform re-targeting and other advanced marketing strategies to increase sales.
Upsell 2 ($197) – Limitless Traffic for 365 days: Build a list fast using tracking pixels.
Upsell 3 ($197) – $1000 Commission Solution: DFY solution to make $1000 with high ticket offers.
Upsell 4 ($97) – The "Done for you" option: You will get 10 high converting funnels.
Upsell 5 ($97) – Licence rights: Sell Stealthd earn keep 100% of the profit.
These upsells can help you save time and increase profits, but I encourage you to try and make some money with the frontend product first.
Final Thoughts
---
Stealthd is a legit and decent course to promote affiliate offers via Gmail Ads. You can make some good money if you implement the steps correctly and use creative and enticing ads.
However, it's not a bulletproof shortcut to make an income online, and you may not make any profits.
The sales page doesn't mention that you will have to spend money on ads, so if you don't have the financial resources or guts to risk some money, Stealthd may not the best strategy for you.
Verdict: Legit 
Not a Fan of Paid Traffic?
---
If you want to learn how to get free traffic and build passive income sites that grow over time (without significant risks), check out my #1 recommendation here
What made me join this program what that the owners didn't promise me I would get fast results.
Instead, they gave me the proper education and the right mindset to grow a long-term internet business.
I hope my StealthD review was helpful to you. If you have any questions, feel free to leave me a comment below. 😉
Stay safe and peace out!