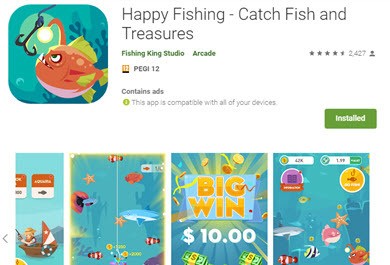 Thousands of people are playing the Happy Fishing app in hopes to earn some easy money on the go.
I have downloaded the app and started collecting some cash effortlessly. It's very addictive as the more you play, the more you earn!
Now, you are probably wondering if Happy Finishing is a scam or a legit application. Does it really pay?
In this review, I am going to expose everything you need to know about it and give you my honest opinion.
You may also want to check out the step-by-step training that helped me reach $1,000+ per month working from my laptop (no special skills required).
Happy Fishing App Review
---
Name: Happy Fishing
Company: Fishing King Studio
Price: Free to join
Overall Rating:

1/5
What is Happy Finishing App?
---
Yesterday I came across an advert on Instagram about the Happy Fishing app and was very curious to know more about it.
The advertising video showed a fishing line going up the sea and catching lots of fish while money flowed into the account very quickly.
On the top, there was a PayPal logo, and right below it said: "Happy Fish pays you". So, at this point, I knew this was another reward app in the form of a game.
I short, Happy Fishing is a mobile application that supposedly rewards users for playing the fishing game and watching videos. 
I said "supposedly" because no one seems to be able to reach $10 and cash out.
Is Happy Fishing App a Scam?
---
I have thoroughly reviewed lots of reward apps, and although most of them are legit, it's difficult to find one that hasn't got issues with payments.
When I started playing Happy Fishing, I quickly earned my first $2, which made me think this was too good to be true.
Then, after reading lots of user reviews on Google Play, I discovered most people had issues and couldn't cash out. I didn't continue playing as I didn't want to spend lots of time.
People may think Happy Fishing is a scam, but the reality is that the app doesn't guarantee any payouts.
How Does it Work?
---
Happy Fishing is available for both iOS and Android devices.
Once you install it via the App Store or Google Play, you can start playing straight away without having to register.
There is a short demonstration in the beginning so you can learn how to play the game.
You will start earning points and eventually cash when you find the Lucky Cash icon among the fish.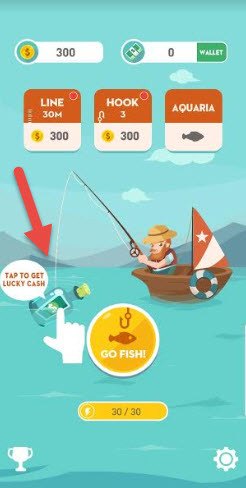 There are many ads between each gameplay, which is how Happy Fishing app generates revenue. Most of them are video ads that you have to watch for about 30 seconds.

You can buy bigger fishing lines and more Hooks with points, increasing your ability to catch different fishes and earn more cash.
Unfortunately, there is no FAQ page so you will have to discover how the game works by trial and error.
Theoretically, you would be able to redeem for PayPal or Amazon Gift Cards once you reach $10,
You Probably Won't Get Paid
---
The large amount of complaints makes me think that Happy Fishing is not a reliable app to earn money. But it's not only about complaints.
I checked their Terms and Conditions, which said the app's sole purpose is to entertain you.
It also says the company can terminate your account immediately for any reason whatsoever and without prior notice.
Many apps have the same termination policy, which means there is absolutely no guarantee you will get paid.
Conclusion
---
Happy Fishing is not a scam, but it's not an app designed to earn money.
As stated in their Terms of service, it's only designed for entertainment. That's all!
For this reason, I think the company should not advertise the app as an opportunity to make money.
In my opinion, no dollar sign should be presented until they honoured the balance account of every member.

How I Make Money Online
---
In short, I earn affiliate commissions for promoting other people's products through my website.
It's not complicated, and everyone can start with no special knowledge or skills.
However, this type of business takes a lot of time and effort to get traction, so you should not expect overnight results.
Affiliate marketing is powerful because you can earn a full-time income from your laptop if you do it right.
Imagine what your life would be like if you could…
Work from home or while traveling the world?

This reward platform is going viral! Cash out via PayPal, Visa, Gift Cards, and in-game currencies - Click here to find out how to generate an extra $10+ per day! 
This excellent step-by-step program gave me all the knowledge, support, and tools that I needed to grow a lucrative affiliate site.
It's free to get started, and there are no strings attached!

Thanks for checking out my Happy Fishing app review. If you have any questions, please drop me a comment below, and I will be more than happy to help! 😉
Stay safe and peace out!