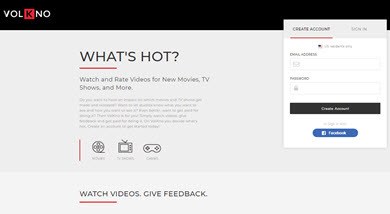 Would you like to get paid in your spare time to help the game, TV and film industry? You can do that with a platform called Volkno!
VolKno claims to rewards users for watching trailers, giving feedback on them as well as taking short online surveys.
You may be wondering if VolKno is a safe platform to join and whether you will get paid. Let me assure you that yes, VolKno is a legit and trusted platform, so it's unlikely that you will have issues.
If you want to know how the platform works and how much money you can make, keep reading!
You may also want to check out the step-by-step training that helped me reach $1,300+ per month working from my laptop (no special skills required).
VolKno Review
---
Website: volkno.com
Company: VolKno Inc.
Income potential: Low
Price: Free to join
LEGITIMATE
Overall Rating: 3.2/5 
What is VolKno?
---
VolKno, pronounced as vol-K-no, is a platform that pays you mainly to watch and rate video trailers.
It's an interesting way to earn rewards online, especially if you like cinema and you already watch trailers on YouTube. Why not use VolKno instead and get paid for it?
By providing feedback through VolKno, you can make money while helping content creators to make better movies, TV show and games.
How Does it Work?
---
The registration is free and straightforward. All you have to do is provide your email, choose a password and confirm your email account.
Although anyone can join, only U.S. residents are eligible to redeem points called "Flow" to Amazon gift cards.
Note that 1,000 Flow equal to $1.
First of all, I advise you to complete your profile to earn 1500 Flow.
Once you log in, you will see a HUGE list of trailers divided into 7 categories: New, Surging, Coming Soon, Movies, TV Shows, Web, and Games.
Choose a video and watch it until the end in order to collect "Flow".
One problem that I noticed was the fact that you can't change the video quality. Therefore, the video can take a long time to load so you can get credited.
After watching it, you can answer whether you like or dislike the video as well as rate it from 0 to 10.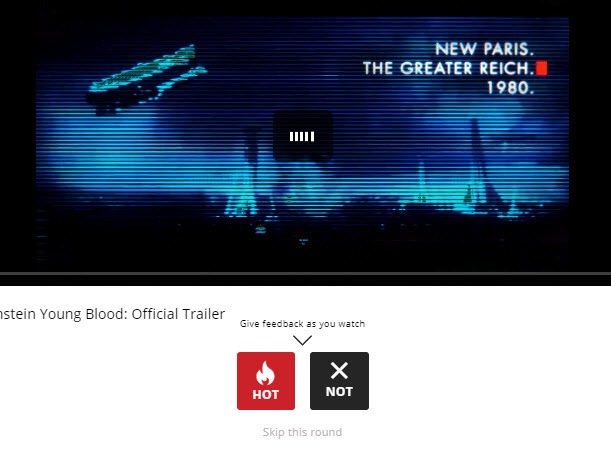 Currently, you will earn 50 Flow after watching the video, plus 10 Flow for rating it.
Another way of making money with VolKno is by filling out surveys that pay 100 Flow each. Depending on your answers, you may qualify for a new campaign worth thousands of Flow.

Payment
Once you reach 5,000 Flow, you can redeem for a $5 Amazon Gift Card.
You can also choose $20, $50 and $100 vouchers, but I highly recommend you cash out as soon as you reach the minimum requirement.
How Much Money Can You Make?
---
It depends on how many videos you watch and how much feedback you provide.
There are many videos available, but the pay rate is very low when you convert Flow to dollars. Indeed, you will earn 60 Flow per video, which is $0.06.
I have done some research on different forums and discovered that some people earn between $5 and $10 per month. It's not bad considering you are simply watching trailers and rating them.
There Are No Guarantees
---
If you read the terms and conditions you will discover VolKno can do the following:
Change the amount of Flow you have received.
Withdraw, cancel, modify or limit any reward or the rules for earning.
Terminate your ability to earn and redeem Flow at any time.
Terminate your account and cancel accrued Flow for any reason or if they think you have breached their terms and conditions.
Read the Terms of Service carefully to learn about all the rules and what you can expect from the platform.
There are no guarantees that you will get paid because they can terminate your account for no reason.
However, VolKno has a good reputation, so it's unlikely that you will have any issues while using their services.
Conclusion
---
VolKno is a legit and pretty decent platform to earn some pocket money online. It's possible to earn around $10 per month just for watching trailers, which feels like free money!
The only significant drawback is that you can't withdraw via PayPal.

There are other platforms to earn money by watching videos and taking surveys. One of my recommended GPT (get paid to) sites is called Prizerebel. You can also get paid to watch videos on your phone with Perk.tv, and Bermi app.
Verdict: Legit
How I Make Money Online
---
In short, I have this website that allows me to earn affiliate commissions for promoting other people's products as an affiliate. I also receive a smaller revenue via banner ads.
It's not complicated, and everyone can start with no special skills or knowledge.
However, this type of business takes a lot of time and effort to get traction, so you should not expect overnight results.

This reward platform is going viral! Cash out via PayPal, Visa, Gift Cards, and in-game currencies - Click here to find out how to generate an extra $10+ per day! 
I think affiliate marketing is one of the most powerful ways to earn money because if you do it right, it has the potential to give you significant freedom!
Imagine how your life would be like if you could earn in dollars from home or anywhere in the world?

You could relocate temporarily to another country and take advantage of a higher purchasing power. Not only that, you would be making money with your own internet business!
This excellent step by step program gave me all the knowledge, support and tools that I needed to start and grow a successful affiliate site.
It's free to get started, and there are no strings attached!
Thanks for checking out my VolKno review. If you have any questions, feel free to drop me a comment below, and I will be more than happy to help! 😉
Stay safe and peace out!