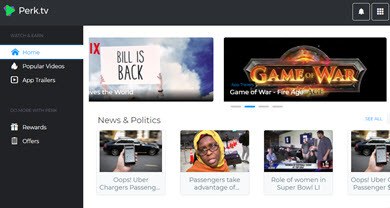 Many people are using Perk TV in hopes to earn passive income online. Who doesn't like "free" money, right?
The main way to earn money with Perk TV is by watching videos that are full of ads.
All you have to do is leave the video tab open and collect points that you can redeem for cash rewards.
It looks great in the paper, but can you really trust Perk TV? Is it a scam or legit platform?
I've put up this review to explain how it works and give you my honest opinion about it.
You may also want to check out the step-by-step training that helped me reach $1,000+ per month working from my laptop (no special skills required).
Perk TV Review
---
Website: perk.tv
Type: Get paid to watch videos
Price: Free to join
LEGITIMATE
Overall Rating: 2.2/5 
What is Perk TV?
---
Perk TV is a platform that allows you to watch entertaining videos in exchange for Perk points.
It also connects you with third-party providers so you can get more points by completing offers and taking online surveys.
Perk TV works both on desktop and mobile devices through the Perk TV Live app.
The company also operates Perk.com and many popular apps such as Viggle, Perk Scratch & Win, Perk Pop Quiz and a few others.
Viggle can be accessed via Viggle.tv on your desktop and is almost identical to Perk.tv, except it has different video categories.

When you sign up to Perk.tv, you will be automatically registered with Viggle and other apps. As a result, all the points you earn in one platform will accumulate on the other as well.
For example, if you earn 200 points on Perk.tv and another 200 points on Viggle, both accounts will have 400 points in total.
RECOMMENDED: Click here to see my no.1 recommendation for making money online (build your own internet business and reach a full-time income online).
Is Perk a Scam?
---
No, it isn't. I am confident Perk TV is a legit platform, but there is something very important that you should know before you join.
IMPORTANT! 
You can sign up and earn points, but you won't be able to redeem for any reward unless you live in the United States, Canada (excluding Quebec), New Zealand or Australia.
I send them an email, and they confirmed that my account here in the UK will be deleted on April 8th due to GDPR regulations.
I believe thousands of people around the world waste their time collecting Perk Points without knowing they won't be rewarded. This is not good!
Another important thing you should know is that if you don't earn any points within 30 days, your account will be deemed inactive and you will lose everything.

Pros and Cons
---
Pros
Earn easy money by watching videos.
Quick sign up.
You can use Perk.com and other apps to collect more Perk Points.
Perk TV is also available as an app for both iOS and Android devices.
Cons
The pay rate is extremely low.
Rewards are only given to residents in the U.S., Canada (excluding Quebec), Australia and New Zealand.
If you don't earn any points within 30 days, your account will become inactive, and you will lose all your points.
Your points can lose value over time.
Unclear referral commission rate.
Registration
---
Perk TV is available both as a website (Perk.tv) or app that you can download via the App Store (iOS) or Google Play (Android).
You can sign up for free using your either your Facebook or email address.
Remember, you can only claim your reward if you live in the U.S., Canada (except Quebec), New Zealand or Australia.
How Much Are Perk Points Worth?
---
1000 Perk Points used to be equal to $1 in the beginning. However, the value dropped significantly, so now you need 9,000 Perk Points to redeem $5 via PayPal.
That means 1,000 points gives you $0,50.
Well, don't get overexcited because as you will see, Perk's earning potential is extremely low!
It used to be better though, but in the last 2 years, the number of points has decreased significantly.
How to Earn Perk Points? 
---
As the name suggests, the primary way to earn Perk points using Perk.tv is by watching videos.
There are many video categories you can choose from including News & Politics, Coming Soon, Netflix Trailers, Celebrity News and more!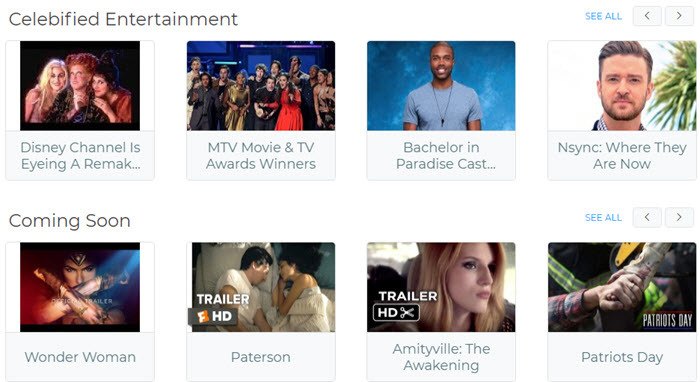 All you have to do is click on the video category of your choice and keep the tab open.
The good news is there is no need to watch the video. In fact, many people keep multiple videos in many devices playing at the same time. That's 100% passive income!
I was researching on Reddit and found many users using more than 5 devices at once!
Beware though that Perk can flag your account as fraudulent if they consider you are earning too many points in a short time.
As a result, they will ban your account, and you will lose all your points. How many is too many no one knows!
The company isn't clear about how many videos you can play or how many points you can earn in a given period.

This reward platform is going viral! Cash out via PayPal, Visa, Gift Cards, and in-game currencies - Click here to find out how to generate an extra $10+ per day! 
Many people don't care and keep playing multiple videos for as long as the Perk TV allows them.

How Much Can You Earn With Perk TV?
---
Well, it depends on how many videos you are playing at the same time.
There is no rule, but if you keep just one tab open, you can expect to earn 1 point for every 5-20 videos. Each video takes approximately 2 – 3 minutes.
Sometimes you can watch more than 10 videos without getting any points. That is very common!
I left Perk TV running in the background while I was writing this review and to my surprise, I didn't get any point! 
I was checking some Reddit threads about Perk TV and saw some discouraging comments.
For example, 2 years ago, one guy claimed that he made 26 points in 1 hour using 4 phones!
That's not even 2 cents per hour, folks!
Some people have better results! For example, 1 year ago someone claimed to have earned $1 with 3 devices running for 4 hours.
The reality is that most people earn much less than $1 per day.
A Better Way to Earn Perk Points by Watching Videos!
---
In my opinion, you are better off playing videos from Hideout.tv via the Adscend offer wall.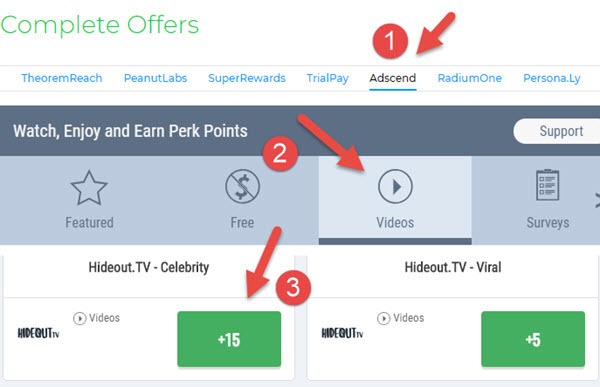 You need to sign up to Hideout.tv and then link to your Perk Account via the link called Loyalty Program Rewards as you can see in the screenshot below.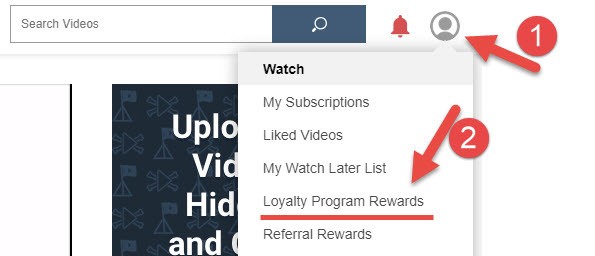 Offers
---
The only way to earn a decent number of Perk Points to cash out while you are still alive (irony) is by completing offers.
When you click on Offers, you will be directed to Perk.com, which provides well-known offer walls such as Peanutlabs, SuperRewards, Adsend, OfferToro, among others.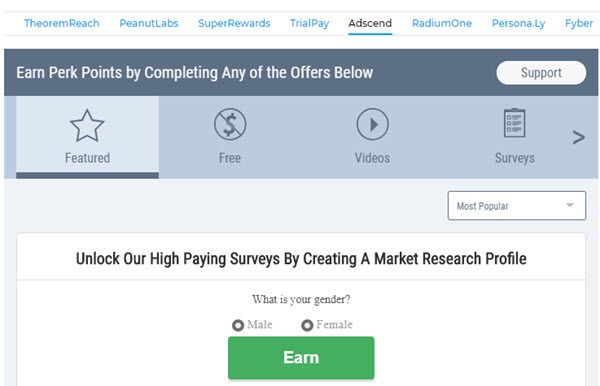 Not only you can complete different offers but also take online survey worth anywhere from 100 to 800 Perk Points.
The problem with surveys is that you won't qualify for every marketing study, so you will probably waste a lot of time.
Referral Program
---
Perk's referral program is unclear as to how much you will earn for inviting other people to join under your link.
I don't know why they prefer to omit this information.
They say you can earn up to $10 per referral, which in my opinion is too bad!
In contrast, Prizerebel pays 20 up to 30% commission on all your referral's earnings FOR LIFE!

I have been using Prizerebel for more than 2 years, and I usually make $150 – $200 per month in referral commissions.
Click here and discover the training program that showed me how to grow a large audience online and earn passive income with lots of referrals.
Payment
---
You can redeem Perk Points for PayPal cash as well as a wide range of gift cards from popular stores such as Amazon, Best Buy, Wallmart, and many others!
Currently, the minimum payout is $0.25 (350 Perk Points) via Amazon gift card.
Also, you can exchange Points for Tokens to buy entries for prize draws.
Final Thoughts
---
Perk TV is a legit website, but the income potential is incredibly low!
If you want to earn more Perk Points by watching videos, I advise you to use Hideout.tv via the Adscend offer wall.
Also, completing offers and surveys through Perk.com can help you reach the minimum cashout amount much faster than just watching videos.
Verdict: Legit 
How I Make Money Online
---
Have you even though about making $100s and even $1,000s from the comfort of your home or while traveling the world?
Well, many internet marketers can earn a full-time income because they have built an online presence over time!
2015 was the turning point in my life when I discovered this excellent step by step program, which gave me the proper education to build an internet business.
After creating content for my own website during the last 3 years, I reached over $1,000/mo in affiliate commissions! 
I am not rich, I know, but this extra online income has given me significant freedom!
Keep in mind that this type of business takes time and commitment, so you should not expect overnight results.
If you want to learn more about this program and how it can help you achieve your goals, check out my #1 recommendation review here.
I hope my Perk TV review was helpful to you! if you have any questions, feel free to leave me a comment below! 🙂
Stay safe and peace out!