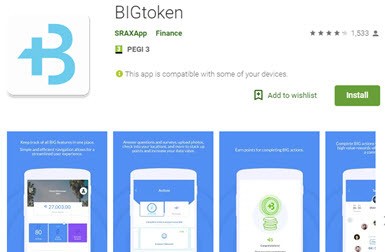 I have recently discovered the BIGtoken aka The BIG App, which rewards users for selling personal data to companies, answering surveys, checking into stores, among other activities.
I BIGtoken app a scam or legit application? Will you get paid?
Read my honest review below to find out!
You may also want to check out the step-by-step training that helped me reach $1,300+ per month working 100% remotely (no special skills required).
BIGtoken App Review
---
Name: Bigtoken (The BIG App)
Company: Social Reality, Inc (SRAX)
Price: Free to join
Overall Rating:

3.9/5
What is Bigtoken App?
---
Bigtoken is a mobile application advertised as the first consumer-powered data marketplace that allows people to own and sell their data.
The company uses blockchain technology to give advertisers access to your data, creating a high level of transparency.
Bigtoken is not a scam!
The app is operated by a Nasdaq-listed company called Social Reality, Inc (SRAX) and is currently available in the U.S., Canada, Mexico, and the UK.
However, you can only redeem points for rewards if you have a verified U.S phone number and U.S. PayPal account.
Pros and Cons
---
Pros
The app respects your privacy rights like no other!
You can delete from the system any data you provide at any time. If you want to delete all your data, all you must do is delete your account.
There are many ways to earn points.
Earn passive income whenever companies access your data.
Redeem via PayPal and gift cards.
Cons
The app only rewards U.S. citizens.
To redeem your points, you must reach a minimum of 2,100 points or $21, which is quite high in my opinion.
You can only redeem 25% of your total number of points.
There is a $0.25 redemption fee.
How Does BIGtoken Work?
---
Bigtoken enables you to earn rewards when you opt into sharing your data and every time third-party companies purchase and access that data.
By opting in, you're granting corporations access to data that you provide through the BIGtoken app such as your email, phone number, location, and browsing behavior.
According to the company, your information is used to target you with advertisements in an anonymous way.
The great thing about BIGtoken app is that you will know how your data is used and who has access to it.
Also, in accordance with GDPR, you can withdraw consent or choose only the specific data that you wish to become available.
In order words, you have full control, and your privacy rights are respected.
If you don't want to share your data, you can still earn money by completing actions within the app, such as:
Completing online surveys.
Checking into locations.
Connecting your social accounts.
Inviting friends and family.
By using the BIGtoken app, you will earn points for each action, which you can redeem later for Cash, Gift Cards, and Assets.
Installation and Registration
BIGtoken is available for both iOS and Android devices. Therefore, you can download and install it from the App Store or Google Play.
After installation, you will have to register by providing your email address, and phone number.
Then, you need to read and agree with their Privacy Policy and Terms of Service.

You have the option to grant access to your data or not.
Lastly, you will be asked to confirm your email and phone number. Now you can start earning!
Earning Points
The first thing you should know is that 1 point equal $0.01.
Here is a screenshot of your dashboard: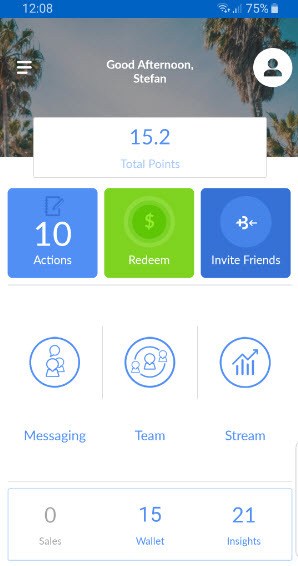 To start earning points, click on the "Actions" tab and fill up a profile questionnaire.
Remember, you will earn points every time companies access your information as long as you allow data monetization.
You can allow or deny access to all your data in the "manage account" setting.
All the information you provide can be individually opted in or out via the "insights" section. You can also destroy the data from your user profile for good.
For example, I gave my name while answering the profiling questionnaire. I can access this data then opt out. That means companies won't have access to my name.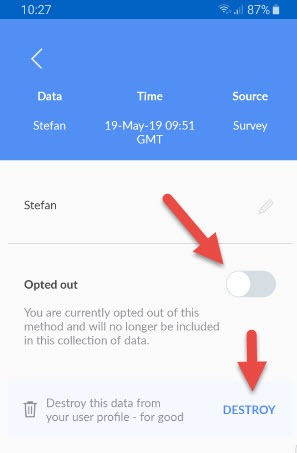 Earn points for Checking in
The check-in feature allows you to earn points for marking the locations you visit throughout the day. Currently, you will earn 2.5 points for each check-in.
Note that you will only be rewarded if you spend enough time at each location, which varies.
Tap on the Check-in button at the beginning of your visit and choose your location from the list.
Connect Your Social Accounts
You will earn 4.03 for each social account that you connect to the app.

This reward platform is going viral! Cash out via PayPal, Visa, Gift Cards, and in-game currencies - Click here to find out how to generate an extra $10+ per day! 
Connect a Card
Another way to earn points is by connecting your card and/or reward program.
BIGtoken is going to review your transaction log and your spending habits to place you into a specific advertising group.

You will receive an initial point award (16.77) and then earn extra points each time companies use your data.
You can block access to your linked accounts in the Finance integration section.
Invite Friends and Earn Bonus Points
You can invite your friends and family to join BIGtoken and earn 50.32 bonus points when five people sign up.
Simply share your code or send an invitation email through the app.
Redeem Your Points
You can redeem your points via PayPal or Gift Cards if you have the following:
2,100 points or $21.
Verified U.S. phone number.
S PayPal account.
You can only redeem once every 30 days, and you will get only 25% of your total points.
Besides, there a $0.25 redemption fee for every transaction.
Conclusion – Is BIGtoken a Scam?
---
BIGtoken is not only legit but one of the most transparent apps regarding your personal data.
It gives you full control over what information you share with companies and lets you monetize every information you provide.
Despite all the different opportunities to collect points, the pay rate is very low, and the company only rewards 25% of your total points.
Therefore, reaching $21 may take you a long time!
How I Make Money Online
---
In short, I earn affiliate commissions for promoting other people's products through my website.
Affiliate marketing is powerful because if you do it right, you can earn a full-time income from your laptop.
Imagine how your life would be like if you could…
Work from home or while travelling the world?
This excellent step by step program gave me all the knowledge, support and tools that I needed to grow a lucrative affiliate site.
It's free to get started, and there are no strings attached!
Everyone can start with no specific knowledge or skills. However, this type of business takes a lot of time and effort to get traction, so you should not expect overnight results.
Thanks for checking out my BIGtoken app review. If you have any questions, feel free to drop me comment below, and I will be more than happy to help! 😉
Stay safe and peace out!