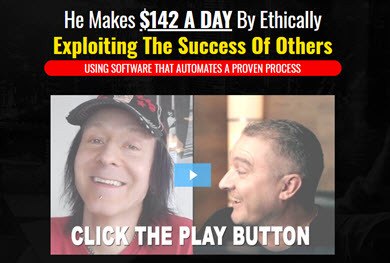 Jono Armstrong and Tom E are claiming Boomerang Buddy can help you exploit the success of others and make double the money in just a fraction of time.
I decided to take a close look at how this software works and give you my honest opinion about it. Is Boomerang Buddy scam or legit?
Let's find out!
By the way, if you want to discover the same method that earns me over $1,000 per month from my laptop, check out my #1 recommendation.
Boomerang Buddy Review
---
Name: Boomerang Buddy
Website: http://www.boomerangbuddy.net/live
Owners: Jono Armstrong, Brendan Mace and Tom E
Price: $22.21 + Upsells

LEGIT

Overall rating:

2.4/5
The Sales Page
---
In the video presentation, they tell you that Boomerang Buddy helped Jono automate a process that used to take him 2-3 hours.
Thanks to this software, Jono is now able to make double the money in just 2 – 3 minutes, which is remarkable!
Not only that but Tom E, the guy who introduced this software to Jono, claims that any money you put in comes back multiplied the next day.

Clearly, they want to make you believe you can make much more money by working much less.
However, they don't explain exactly how the software works so you can decide whether to use their strategy or not.
Most importantly, they don't mention that you will have to pay influencers to promote your affiliate offers, putting your hard earned money at risk.
What is Boomerang Buddy?
---
Boomerang Buddy is a Windows-based software that automates the process of finding Instagram influencers in your niche.
The program comes with step-by-step training that will show you how to use the software to get lots of traffic to your affiliate offers.
The software identifies the top influencers and provides data about their accounts such as the number of followers, the number of posts, the engagement rage and more.
Boomerang Buddy is a product created by Jono Armstrong, Brendan Mace and Tom E, three highly experienced internet marketers and top sellers at a digital market place called Warriorplus.
Is Boomerang Buddy a Scam?
---
Boomerang Buddy is not a scam because it's a product that can save you a lot of time.
However, it's been advertised in such a way that will probably give many people unrealistic expectations.
When they tell you that you can double your affiliate sales by tomorrow, that means it's a possibility and not a guarantee.
If you are a complete newbie, it's unlikely that you will start making money by tomorrow. That's what I can tell you.
Because the strategy revolves around paid advertising, you may also lose money!
Next, I am going to explain briefly how you can make money with Boomerang Buddy and the risks involved.

How Does Boomerang Buddy Work? 
---
For example, let's say you are promoting bodybuilding supplements. So, your niche is bodybuilding.
The software allows you to quickly search for influencers on Instagram who are on the same niche.
As I already mentioned, you will have relevant data that will help you select a popular influencers to promote your product. The training will show you how to make this decision based on all the data.
The next step is to contact the influencer and arrange the shoutouts.
A shootout is basically an ad that the influencer will post on their feeds or stories to promote your affiliate link.
Your affiliate offer will thus be exposed to all their followers (traffic), so you have a chance of making commissions when people buy whatever you are promoting.
Can You Make Money With Boomerang Buddy?
---
Yes, you can! But that doesn't mean you will make profits.
You see, each influencer will change a different price to promote your affiliate links based on their number of followers and level of engagement.
Usually, these influencers charge a lot of money, and it can be hard to make enough sales to cover the costs of those expensive shoutouts.
Think about it. Why wouldn't the influencer promote his own products or affiliate links instead of selling advertising?
Well, that is because they think they will make more money by selling shoutouts rather than promoting the products themselves. That's why their shoutouts are usually overpriced!
So, yeah, you can make money, but it's not as easy and as fast as you may think.

Boomerang Buddy can save you a lot of time identifying influencers, but you still need to put in the time, effort and money to make it work.
The Training
---
In addition to the software tutorial, Jono Armstrong provides the following three profit training methods:
Easy: Learn how to choose and promote Clickbank offers.
Medium: Learn how to collect people's emails and perform email marketing.
Advanced: Learn google ads and retargeting to promote your landing pages and grow your email list.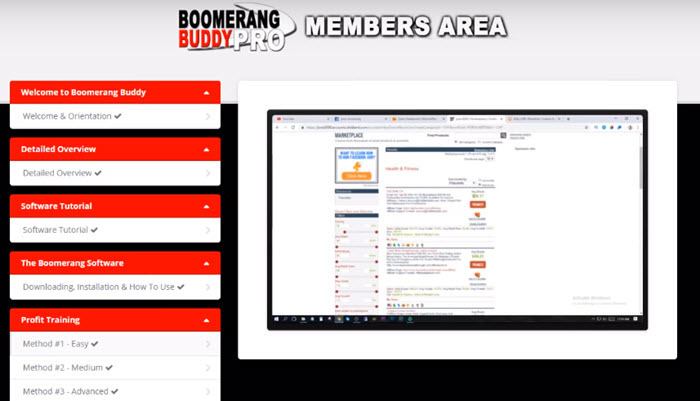 Conclusion
---
Boomerang Budy is not a scam guys, but you have to pay for shoutouts, and you can lose money.

This reward platform is going viral! Cash out via PayPal, Visa, Gift Cards, and in-game currencies - Click here to find out how to generate an extra $10+ per day! 
You can double your money, but you can also lose all your investment depending on what and how you are promoting your offers.
The software is helpful and saves you a lot of time, but as I said, you must put in the work and accept the risks.

Verdict: Legit
If you want to learn how to get free traffic and build passive income sites that grow organically over time (without significant risks), check out my #1 Recommended training here.
What made me join this program what that the owners didn't promise me I would get fast results.
Instead, they gave me the proper education and the right mindset to grow a successful internet business. And it worked for me!
I hope my Boomerang Buddy review was helpful to you. If you have any questions, feel free to leave me a comment below. 😉
Stay safe and peace out!