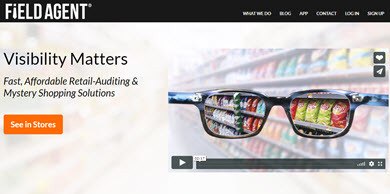 I have recently found the Field Agent app and the opportunity to get paid for completing small jobs for local companies.
In this review, I am going to explain how Field Agent works, and give you my honest opinion about it. How much money can you make? Is it really legit?
Find out below!
You may also want to discover the proven method that makes me $1,600+ per month from my laptop. Click here for my #1 recommendation.
Field Agent Review
---
Name: Field Agent
Website: https://www.fieldagent.net/
Type: Mystery shopping app
Membership Eligibility: US, UK, Canada, Australia, Mexico, South Africa, and Ecuador.
LEGITIMATE
Overall Rating: 

3.3/5
What is Field Agent?
---
Field Agent is a mobile app that rewards you for completing quick mystery shopping missions at local supermarkets and restaurants.
You can complete some missions from the comfort of your home too, but these are rare.
The company boasts over 1 million agents in seven countries: United States, Canada, the United Kingdom, Australia, Australia, Mexico, South Africa, Mexico, and Ecuador.
Here is are the most common tasks usually required:
Take photos of products or product shelves.
Answer questions about the display or your shopping experience.
Give feedback on customer service.
Check prices in your local store.
And more!
Most tasks are location-based, so you have to travel to complete them. That's why you should give preference to tasks that are near you, so you don't waste a lot of time and money on transportation.
However, there are also jobs that you can complete from home, which are mostly online surveys.
Pros and Cons
---
Pros
Minimal effort.
Tasks usually take 5 – 10 minutes to complete.
Available on both iOS and Android devices.
Cons
There are not many jobs if you don't live in big cities.
Most missions are location-based, so you will spend time and probably money on transportation.
No PayPay payments.
How Does Field Agent Work? 
---
Download and Install the App
Field Agent app is available for both Android and iOS devices. Visit the official Field Agent website and download it either via the Google Play or App Store. Then, you should sign up with your Facebook or email address.
After signing up, you will have to answer a few profiling questions about your address, date of birth, education, household income, store preferences, and more. Answering these questions can give you access to more jobs.
According to Field Agent, your information will not be shared with third-parties.
Field Agent Missions
You can find all the missions available near you in the "Job" as well as the "Map" tab.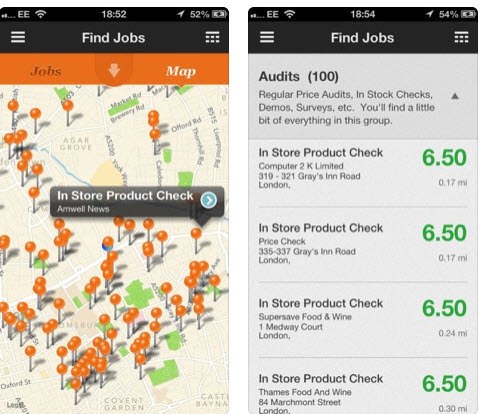 Next, all you have to do is read all the instructions, accept the missions, and complete each task required.
Here are some examples of questions they may ask you: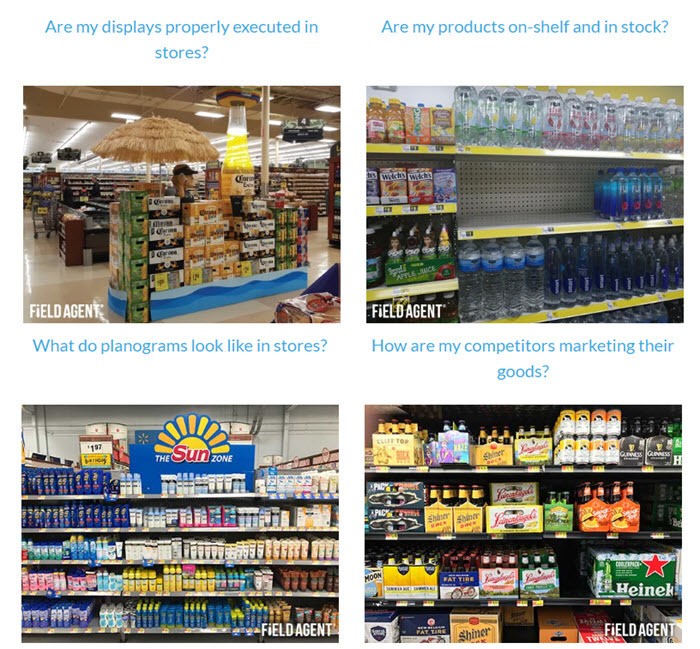 Most mystery shop missions require some interaction with employees. They may give you a script/scenario that you must follow in order to gather insights about your experience as a potential customer.

Each mission is accomplished by a limited number of agents on a first-come, first-served basis.
Keep in mind that once you accept a job, you usually have 2 hours to complete it. That's another important reason why you should only take jobs that are within a short distance.
Once you are in the location, you can expect to complete the job within 5 – 10 minutes.
Example
One mission that I found recently was designed for dog owners. For this mission, agents were asked to visit a pet store and report on how knowledgeable, helpful and supportive the staff had been.
First, you had to take a picture of your dog, answer a few questions before entering the store. Next, you would have to answer a few questions to the staff, rate their performance and give honest feedback on your experience.
This particular mission was paying between £7.5 to £10 depending on the store, which is a pretty decent pay.
RECOMMENDED: Click here to see my no.1 recommendation for making money online.
Getting Paid With Field Agent
Once your mission is approved, you will receive the credit in your Field Agent account within 48 hours. Then, you can request your payment via direct debit or Dwolla.
Unfortunately, Field Agent doesn't process payment via PayPal anymore.
How Much Money Can You Make?
---
According to Field Agent, jobs in the U.S. typically pay between $2 – $12.
How much money you can make depends primarily on your location. If you live in a small town that doesn't have many stores, you will surely be lucky to find missions.

That doesn't mean you will make a lot of money if you live in a big city like New York, though.
Maybe there are not many jobs in your area, and you may find that it's not worth wasting time and money on transportation just to make a few bucks.
Unfortunately, I haven't had any missions available in London since I installed Field Agent 2 days ago. I don't know what is happening here, but the fact is that most jobs are available in the United States.
One woman said she made $20 on her first day in less than 90 minutes!
So, it really depends on your location.
While I am writing this review, there are lots of missions in London, where I am currently residing.

This reward platform is going viral! Cash out via PayPal, Visa, Gift Cards, and in-game currencies - Click here to find out how to generate an extra $10+ per day! 
The only problem is that all the jobs currently available are designed for dog and cat owners. There is no other opportunity apart from 2 online surveys worth £1 each.
I have recently reviewed another mystery shopping app called BeMyEye, which has WAY more opportunities at the moment.

What Other People Think About Field Agent?
---
I was reading the reviews on both the App Store and Google Play, and from what I can see, most people like Field Agent.

There are some complaints regarding payments, but not many.
People can be very frustrated when they get denied after spending a lot of time on a mission. It's a risk you have to accept.
That's why it's crucial to pay close attention to all instructions and make sure you are not missing any required information.
The most common complaint is the lack of missions in certain locations, which can be quite frustrating.
Conclusion – Is Field Agent a Scam? 
---
Field Agent is a legit app that you can use to earn some extra cash completing easy location-based tasks.
It's ideal for people who live in large urban areas, but in my opinion, it's not worth bothering with jobs that are too far away.
There are mixed opinions about Field Agent on the internet, but overall, most people think it's a decent and trusted app.
If you are having trouble finding missions, or you want to increase your earnings, you can also try BeMyEye, Gigwalk and Roamler.
Verdict: Legit
How I Make Money Online
---
The business model that use to make money online is called affiliate marketing.
I've grown a lucrative affiliate site where I promote platforms and info products that help people make money online.
However, you can choose any niche and promote products that will help your audience solve their problems.
As an affiliate marketer, I earn commissions based on sales and action. If people click on my links and purchase the product, I receive a commission!
In my opinion, these are the main reasons why I love affiliate marketing:
Location freedom – Work from home, your local coffee shop or your favourite beach.
Time freedom – Work whenever you feel like it.
No boss, no customer service, and no inventory.
VERY cheap startup costs.
This excellent program showed me step by step how to earn set up a website, rank articles on Google, and scale my business.
They gave me all the support and tools that I needed to work remotely and achieve my financial goals.
Keep in mind that this type of business takes a lot of time and effort to get traction, so you should not expect overnight results.
So, have you made any money with the Field Agent app? What do you think about it? Feel free to share your thoughts and experiences below! 🙂
Stay safe and peace out!