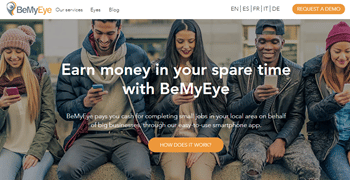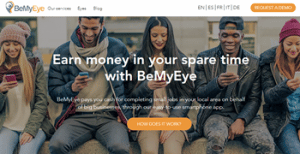 Welcome to my BeMyEye app review!
You are probably wondering if BeMyEye is an app you can trust and help you make easy money.
In this review, I am going to explain all you need to know about BeMyEye and give you my honest opinion about it. Is it a scam or legit? How much money can you make?
Let's find out!
You may also want to check out the step-by-step training that helped me reach $1,000 per month working from my laptop (no special skills required).
BeMyEye Review
---
Name: BeMyEye
Website: https://www.bemyeye.com/
Company: BeMyEye Holdings Ltd
Membership Eligibility: Residents of over 20 European countries.
Price: Free – Use my invitation code

zqp9k5

 to earn £1
Overall Rating:

4

/5
LEGITIMATE
What is BeMyEye?
---
BeMyEye is a popular app that allows you to earn money by completing short missions (mini-jobs) in nearby stores.
You will have to visit the store and perform tasks that are designed to check the presence of products, the quality of the customer service, the facilities, among other things.
I will explain the missions in more detail later in this review. But First, let me show you the pros and cons of BeMyEye.
Who is BeMyEye For?
---
BeMyEye is available in the following European countries:
The United Kingdom, Germany, Italy, France, Portugal, Russia, Spain, Ireland, Belgium, Luxembourg, Austria, Sweden, Norway, Finland, Poland, Netherlands, Switzerland, Denmark, Czech Republic, Romania
Pros and Cons
---
Pros
There are lots of mini-jobs available, especially in big cities.
Missions are easy to accomplish.
Payments are fast.
There are great benefits for higher levels.
Cons
Low-income potential.
You may need to travel long distances depending on where you live.
Registration + My Invitation Code
---
BeMyEye is available both for iOS or Android devices, and you can only use it if you are at least 18 years old.
All you have to do is install the App and sign up with your basic details such as name, email, country, and birthday.
If you use my invitation code zqp9k5, we will both earn £1. Yep. Free money!
How Does it Work? 
---
The app will automatically identify all the opportunities within 10 km and show you all the missions in a list.
It's also possible to tap the map icon at the top and identify missions within any distance. As I am from the UK, I know there are lots of opportunities, especially in the centre of London.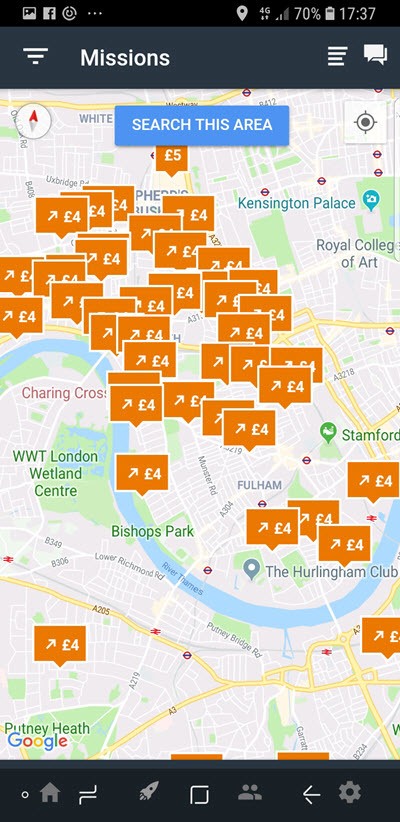 BeMyEye recommends that you book a mission as soon as it becomes available. That is because they are available on a first-come-first-served basis.
Missions
The missions are divided into different categories, and each one has its specific set of instructions.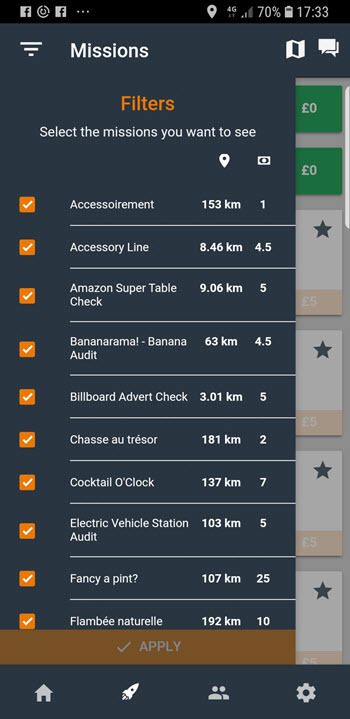 The most common type, at least in London, is the "food to go" category, which requires you to detect the presence of "food to go" in the store and take some pictures.
This is the general instruction for that particular category, but you also need to be aware of the specific rules of each mission.
For example, you may need to tell all the categories of food present in the section, take pictures of shelves, etc.
Another type of mission is the Mystery Shop, which you will be assigned to engage with staff, ask them specific questions and then give feedback on customer service.
It's important to provide all the information and take the exact pictures they are asking. Otherwise, your mission can be rejected.
Duration
Most jobs take less than 10 minutes, but I advise you not to rush to make sure you complete all the instructions correctly.
Get Paid
After you submit your mission, you will have to wait for BeMyEye to verify that everything is correct. If so, you will receive the money in your balance account.
However, you can only request payment via PayPal or SEPA once you've reached the minimum requirement, which is the following:
5 GBP (UK)
5 EUR in all countries that has the Euro as currency.
5 NOK (Norway).
150 CZK (Czech Republic).
20 PLN (Poland).
50 SEK (Sweden).
5 CHF (Switzerland)
Levels
BeMyEye has a level system that allows you to get more rewards and benefits. The more missions you complete, the more points you will earn to level up.
There are 20 levels, and the benefits you will gain from different levels can be summarised as follows:
Reserve missions in less time after it's published.
Get extra minutes for your reservations.
More than 1 missions can be reserved at the same time.
The delay between 2 payments is reduced.

Referral Program
BeMyEye also has a referral program that pats £1 for each person joins the platform and completes the first mission. As an incentive, your referral will also earn £1 if he/she uses your referral code.
How Much Money Can You Make? 
---
Most missions pay between £1.5 – £6, but on rare occasions, it's possible to find missions worth £15 or more (up to £25).
How much money you can make depends on how many missions you can accomplish in your location.
If you live in the capital, it's possible to earn over £100 or €100.
The problem is that most missions don't pay much. So, you might earn less than the minimum wage when you take into account the travel time.

This reward platform is going viral! Cash out via PayPal, Visa, Gift Cards, and in-game currencies - Click here to find out how to generate an extra $10+ per day! 
Conclusion – Is BeMyEye a Scam? 
---
No. BeMyEye is not only legit, but a great app to earn some extra cash in your spare time. It's an easy job, but you must pay close attention to detail and follow all the instructions correctly.

I think the best way is to focus only on jobs that are near you. Depending on how much a mission pays, you may realise it's not worth to spend the time and money on travel.
If you want to get more missions, I recommend another similar app called Roamler.
Now, if you are more interested in earning money entirely online, check out my recommended method below, which is the same I personally use to generate $1,000+ per month. 
Verdict: Legit – Recommended
My No.1 Strategy to Make Money Online
---
Most platforms and apps don't pay you enough so you can completely change your life. In fact, most of them don't even pay you the minimum wage.
What if I told you that you can actually earn a full-time income from home without any special skills?
The method is simple and doesn't require any web design or marketing skills. It`s all about creating a WordPress blog, helping your audience through your content, and promoting other people's products as an affiliate.
When people visit your site and click and purchase products through your links, you will earn a commission. So, the more people you attract to your site, the more money you can make.
During the last 3 years, I have built a profitable internet business thanks to this great step by step program. It's my top recommendation for anyone who wants to achieve time and location freedom.
Final Words
I hope this ByMyEye review was helpful to you. If you have any question, don't hesitate to ask in the comment section below.
All the best!
Stefan