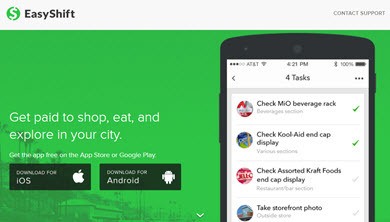 Welcome to my EasyShift App review!
I've recently discovered EasyShift, an app that allows you to complete simple, mystery shopping jobs at local stores in the US and UK.
Apps like EasyShift are becoming increasingly popular as they give people the freedom to earn cash whenever they want.
The downside is that many people are complaining about rejected shifts.
So, you are probably wondering, is EasyShift a scam or a legit app?
In this review, I'm going to explain how this app works and give you my honest opinion about it.
While you are still here, you may also want to discover the step-by-step program that helped me reach $1,300/mo from my laptop. It's free to get started and you don't need any previous experience. 
EasyShift App Review
---
Name: EasyShift
Website: http://www.easyshiftapp.com/
Type: Mystery Shopping
Company: Quri, Inc
Membership Availability: the US and the UK
Similar apps: Field Agent, BeMyEye, Premise 
LEGITIMATE
Overall Rating: 

2.2

/5
What is EasyShift?
---
EasyShift is a mobile app that pays you to complete mystery shopping tasks, such as
Taking pictures of products on displays at local stores.
Checking prices and promotions.
Answering questions about your shopping experience and customer service.
In short, you will be helping retailers enhance the shopper's experience, and increase the performance of products in stores.
In return, you will get paid in cash directly to your PayPal account
The app is operated by a company called Quri, Inc, and their shifts are only available for residents in the US and the UK.
Is EasyShift a Scam? 
No, it isn't! EasyShift is operated by a retail intelligence company founded in 2009.
So, it can't be a scam. Otherwise, they wouldn't have survived for so long!
Pros and Cons of EasyShift
---
Pros
There are lots of shifts all over the US and the UK.
Get paid via PayPal.
You don't need any experience to complete shifts.
Get promoted to higher ranks to reserve more shifts at once.
Cons
Low pay.
You may not find shifts close to where you live.
Sometimes the instructions are not clear.
Many people complain that the company rejects shifts for no good reason.
Some shifters report technical problems while trying to save and upload pictures.
People complain that they didn't earn what was expected.
How to Join?
---
EasyShift app is available for both iOS and Android devices.
Once you install the app, you can create a free account by providing your username, email, and PayPal account.
You can install the EasyShift from any country, but shifts are only available in the US and the UK.
Finally, you will have to give the app permission to access your location.
Now, you are ready to search for shifts in your location.
How Does it Work?
---
When you open the app, you will see a map with all the shifts that you can complete inside nearby stores.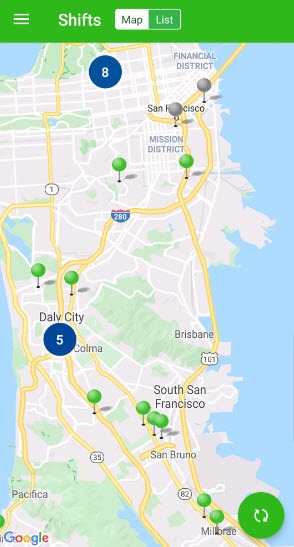 Note that the green pins represent shifts that are available to reserve, whereas the grey ones are no longer available.
Select the shifts that are close to you and read all the instructions carefully.
Depending on the shift, you are encouraged to watch training videos to understand precisely how you should proceed.
When you are ready to complete the mission, tap on the green "Reserve Shift" button.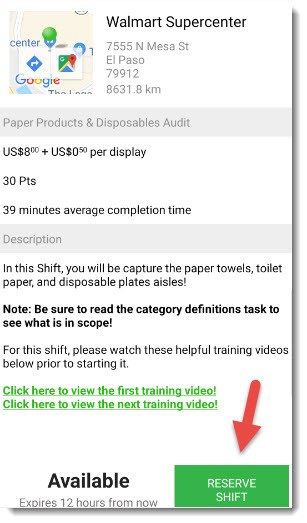 Then, visit the store and complete all the tasks, which usually involve taking pictures and answering questions.
Most shifts are location-based, but you may also find ones that you can complete from the comfort of your home.
However, those will only give you points or entries into drawings.
According to the company, most shifts take less than 15 minutes to complete, but I think this is an underestimate.
Don't forget that you are spending time reading the instructions as well as travelling to the store.
How Much Money Can You Make?
---
The pay rate depends on the length and complexity of the tasks, but on average, you can expect to earn $6 – $10 per shift. 
Here are some real examples:
Sansbury's Local (UK) – £6 + £0.50 per display – In this job, you will be capturing the female care, adult mouthwash, OTC, baby care and beauty cade aisles.
Bed Bath and Beyond (US) – US$8 + US$0.25 per display – In this shift, your job is to take photos of aisles with coffee, coffee makers, ready-to-drink coffee, bagged/K-Cup and tea.
Walmart (US) – US$8 + US$0.50 per display – In this shift, you will capture the paper towels, toilet paper, and disposable plates aisles.
It's impossible to estimate how much money you will make in a month.
If you live in a dense urban area such as London, Los Angeles or San Francisco, you will have lots of opportunities.
Therefore, you can make more money, but don't expect to earn a lot.
Also, be prepared to have your shift rejected after taking hundreds of photos!
Many people complain that EasyShift is very picky and may reject your work even if it seems perfect.
RECOMMENDED: Click here to see my no.1 recommendation for making money online.
How to Avoid Rejection
---
There are a few reasons why your shift can be rejected.
It's very important that you complete all the tasks with excellence because you don't want all your work thrown out of the window.
To avoid rejection, you should:
Shoot quality photos- make sure the images are crystal clear!
Meet all the photo requirements, which can differ from shift to shift.
Ensure that both product and product description match.
Complete shifts at the right address.
There are other things to be aware of before completing any shift.
So, I highly recommend taking the time to read all the rejection reasons in the FAQ section.
The problem is…
Even if you try your best and take the time to do everything correctly, they can still reject your shift because of a tiny mistake.
If some of your tasks are incorrect or incomplete, EasyShift might pay you less than the full estimate. But in some cases, they can reject everything!
Points and Levels
---
As you complete more tasks, you will earn points and move up the ranks.
The higher your rank, the more shifts you will be able to reserve at once, which is a useful perk if you are planning to do multiple shifts in one day.
As a beginner, you start a level "rookie" that only allows you to reserve one shift at a time.
The 10th level known as "general Manager" allows you to reserve up to 10 shifts at a time!
User Reviews 
---
I highly recommend reading what other people said about EasyShift in the review section of the Google play store.
There are both positive and negative reviews, but the negative ones have severely discouraged me from participating.
Here are just two samples:


What worries me is the possibility of committing little mistakes that will ruin all my work.
No one likes to work for free!
On the other hand, I think it's fair to show two positive reviews:


Conclusion
---
At first glance, the EasyShift app seems like an easy way to make money from your phone.
However, you must have extreme attention to detail to avoid having your shifts rejected.
The app is legit, but many people don't get paid for their time and effort.
In my opinion, the low pay rate and the risk of wasting time don't make it worthwhile for most people!
Despite all that, I think you should give EasyShift a try if you are detail-oriented and follow directions with excellence.
Otherwise, you will make mistakes and waste your precious time!
If you are searching for similar apps, you can check out BeMyEye, Mobeye, Roamler and Premise app.
How to Make $1,300+ Per Month And Achieve the Laptop Lifestyle
---
Have you ever thought about earning money without a soul-crushing job?
In 2015, I discovered the possibility of building passive income sites that generate $1,000+ per month.
Since then, I have grown a successful online business in my spare time while still working 35 – 40 hours per week at a coffee shop.
After four years of consistent work, I finally quit my job and now live the so-called "laptop lifestyle".
Yes! It does take a lot of upfront work in the beginning.
But, if you apply proven strategies and persist, you will eventually stand out from the crowd and start making money!
Many people reach much faster results than me. It depends on how much time and effort you put into it!
In short, my job is to write helpful articles and promote products and services through my affiliate links.
As a result, I receive a commission whenever people click through my link and buy what I am promoting.
If you are interested in creating your income generating website, check out my #1 recommendation.
This is the same online business program that helped me reach $1,300 per month and quit my job in 2019!
Final Words
Thanks for taking the time to read my EasyShift review. I hope this post answered all your questions about this app!
If not, feel free to ask anything in the comment section below. I'm always happy to help!
All the best
Stefan