PhonePaycheck is advertised as a revolutionary app that pays you for renting out your smartphone's processor.
The company claims that you can earn $320 per year if you use the app in 2 mobile devices!
You are probably thinking that this is too good to be true and wondering…
Is PhonePaycheck a scam or legit application?
Does it pay? How much money can you make?
In this review, I would like to explain how it works and answer all the questions you might have.
While you still here, you may also want to discover the step-by-step program that helped me reach $1,300/mo from my laptop. 
PhonePaycheck Review
---
Name: PhonePaycheck
Website: https://www.neocortix.com/phone-paycheck
Company: Neocortix, Inc
Membership availability: Worldwide
LEGITIMATE
Overall Rating: 

3.7

/5
What is PhonePaycheck?
---
PhonePaycheck is a mobile app developed by a Silicon Valley company called Neocortix.
The company promises to pay you just for using your smartphone's processor while you are not using it.
Different from most cash apps ou there, PhonePaycheck doesn't require you to watch ads nor do any work.

This reward platform is going viral! Cash out via PayPal, Visa, Gift Cards, and in-game currencies - Click here to find out how to generate an extra $10+ per day! 
Therefore, the money comes in 100% passively!
PhonePaycheck is available worldwide, but unfortunately, the company cannot activate all the devices at once.
As a result, you will be put on a waiting list and notified when they need new contributors.
The reason is that there is still not enough demand for so many accounts.
In the meantime, you can check out other passive income apps like Money SMS, InCompass, MobileExpression, and McMoney.
Keep in mind that these apps work differently, so I highly recommend reading more about each one of them before you join.
Pros and Cons of PhonePaycheck
---
Pros
Passive earnings – Earn money without doing any work.
It doesn't drain your battery nor your internet data.
No snooping – Phonepaycheck doesn't have access to any of your personal data.
The app doesn't show you any advertising.
Users can activate up to 5 phones.
Cons
It's only available on Android devices.
There is a waiting list to participate – You may not be allowed to join straight away.
Some people report errors after installing the app.
Device Requirements
---
PhonePaycheck app is only available on Android devices that meet the minimum requirements below:
Linux Kernel: 3.8
Number of Cores: 2
Minimum Clock Frequency: 1GHz
RAM: 768 MB
Free Memory: 1 GB
You can check if your device meets these requirements by visiting the Device Property in the app's menu.
If it does, your device will be categorized as Gold, Silver or Bronze.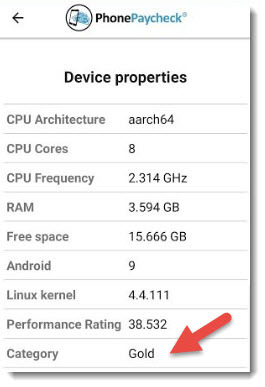 Registration
---
After you install the app on the Google Play store, you will be asked to sign up with a Google account.
After that, they will put you on a waiting list, which can take more than five months.
You can get access to the dashboard, but the app will not be generating any income until they activate your device.
How Does PhonePaycheck Work?
---
You will earn money only while your phone is charging and using wifi connection.
Therefore, you won't have to worry about your mobile plan and battery while you are going about your day.
Another great thing about PhonePaycheck is that they won't have access to your personal data, photos, conversation, etc.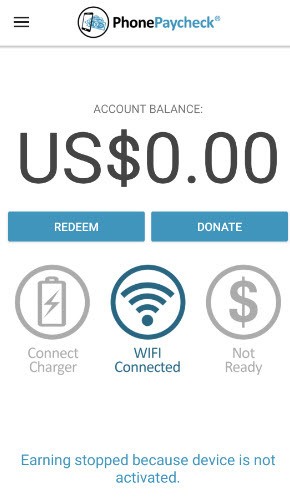 The reason why you are getting paid is that PhonePacheck will be using your smartphone processor.
But what for?
Well, the company claims that your phone will be used only for legit purposes, such as allowing businesses to test their websites. 
They explain that until now, companies have been paying big money for computers to do that.

With PhonePaycheck, they are saving money by using the processing power of people's smartphones located all over the world.
In return, you get compensated for contributing to this shared economy.
If you are serious about making money online, check out my #1 online business recommendation.
How Much Money Can You Make?
---
The amount of money that you can make will depend on three variables:
Your phone performance (gold, silver or bronze).
The amount of time that your phone is kept charging and connected to wifi.
The pay rate, which can be either Active or Standby.
The Galaxy S6, S7, S8, S9, and S10 have Gold performances, and thus, will generate more income.
On the table below, you can see all hourly rate and expected yearly income according to your phone category.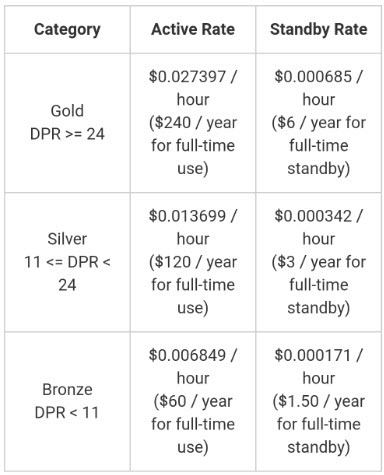 In the best-case scenario, you can earn $80 per year if you keep your phone charging for 8 hours per night.
If you have a spare phone, you can keep it charging 24/7 and make an additional $240 per year.
So, it's possible to earn $320 per year or more with PhonePaycheck!

However, you can only reach this income level if the company applies the active rate of 100% of the time, which may not happen.
Still, some people report earnings of $10 – $15 per month, which is more than any other passive income app!
How Do You Get Paid?
---
You must have at least $10 in your balance account to request your payment via PayPal.
Currently, PayPal is the only payment method available.
User reviews
---
PhonePaycheck is rated 3.5 out of 5 on Google Play, which is not bad!
However, it's important to note that most negative reviews were written by those who are still on the waiting list.
Many of them rated it poorly not because the app is bad or doesn't pay, but because they were not able to activate it straight away.
It's not surprising that people feel frustrated, but in my opinion, it's not fair to give it 1 star.
Lots of people who activated the app think it's totally worth it.


Conclusion
---
PhonePaycheck is not only legit but one of the best passive income apps currently available on the Google Play store.
What I like about PhonePaycheck is the fact that the app doesn't have access to personal information.
Unfortunately, you will have to wait in a big queue before they activate the app on your phone.
No one knows the average waiting time, but in my opinion, it's worth getting on the list.
Verdict: Legit
How I Make Over $1,300 Per Month From My Laptop
---
Earning $10 per month in passive income is great, but what if I told you that you could make 100 times more?
In 2015, I discovered how to build affiliate sites that generate $1,000s and even $10,000s per month!
Yes, you have to put in a lot of upfront work in the beginning.
But, once you get enough traffic (website visitors), you can still make the same amount of money even if you stop working for a few months.
As an affiliate, my job is to write helpful articles and promote trusted products and services.

In return, I receive commissions when people click through my links and purchase them.
If you are interested in creating your income generating website, check out my #1 recommendation.
This is the same online business program that helped me reach $1,300 per month and quit my job in 2019!
Final Words
Thanks for taking the time to read my PhonePaycheck review. I hope this post answered all your questions about this app!
If not, feel free to ask anything in the comment section below. I'm always happy to help!
All the best
Stefan