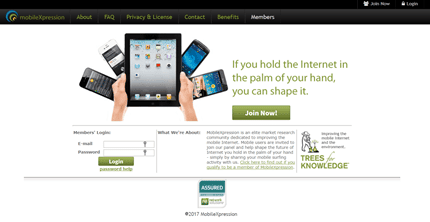 I am always searching for ways to make passive income online.
Recently I found an app called MobileXpression, which promises to pay you simply for sharing your mobile activity.
All you have to do is install the software on your mobile and wait for the rewards.
MobileXpression seems like a fast and easy strategy to make money online. BUT, can you really trust this site? Is it a scam or a legit opportunity?
Let's find out!
By the way, if you want to discover the same strategy that earns me over $900 per month from my laptop, check out my No.1  recommendation.
MobileXpression Review
---
Name: MobileXpression
Website: www.mobilexpression.com
Price: Free to join. But the app will consume data usage on your mobile plan.
Company:  comScore, Inc.
Overall Rating: 2/5 
What is MobileXpression?
---
MobileXpression is basically an application designed to collect your internet and purchasing habits for marketing purposes.
When you install MobileExpression on your mobile, you allow comScore to collect data usage such as:
Web browsing activity. It tracks sites you visit and links you click.
Messaging services.
Titles of downloaded applications and files.
Usage of cameras, video streaming, and other utilities.
Usage times of messages, phone calls and internet browsing.
If you want to know more details on the information they collect, check out their Privacy Policy.
ComScore will then sell this information to companies so they can understand trends and improve their mobile marketing strategies.
Pros and Cons
---
Pros
Make money without doing any job.
Cons
The software will continuously be running in the background, consuming the battery from your mobile and possibly slowing it down.
The app will continually be transferring information and consuming data from your internet plan. If your internet plan has a small data allowance, this can be a problem for you.
They claim they will not monitor phone calls, or personal content such as text, phone numbers, emails, instant messages, images, etc. However, you have to trust their words as you have no control over what is actually happening behind the scenes.
Not a good reputation on other review sites and forums.
Your account can be terminated for any reason at any time.
How Does it Work? 
---
First of all, you have to visit the website and check if you are eligible to join. You must be at least 18 years old and have a device that is compatible with the app.
The next step is to accept the terms and conditions and complete your profile by answering some demographic questions.
Finally, you will be prompted to install the research software and let it run.
How Much Can You Earn? 
---
The website states that you will get a £5 Amazon gift card after you've been an active member for one week. You will also be eligible to claim more credits each week that can be redeemed for more gift cards.
However, it's not clear how much you will get in relation to the time you leave the software running on your mobile. People have different experience and results.
For example, someone claimed to have received three £20 e-vouchers during the last 9 months.
Complaints
---
I have seen many negative reviews about MobileXpression on the internet. The most common issue people seem to have is with banned accounts.
After ordering the voucher, people have their accounts terminated for no reason without receiving the reward.



I have seen the same thing happening in many reward sites, especially in paid-to-click platforms.
Terminating Your Account 
According to MobileXpression's terms of service, it has the right to shut down your account at any time and for any reason at their sole discretion. Not only that, but they can also retain your data and payment.
Here is the proof:

I am not saying MobileXpression is doing that to avoid payment. I can't prove that.
I am just warning you that they can terminate your account without explaining why, and this is very problematic for the user.
Conclusion – Is MobileXpression a Scam?
---
I could only call MobileXpression a scam if I had proof they are closing accounts to avoid payments. But as I can't prove that, I won't be able to give you a definite answer.
The fact that people are complaining about having their accounts terminated for no reason is worrying.
On top of that, you also need to trust your privacy will be protected even though there is no organization to monitor whether they are compliant or not.

My #1 Strategy To Make Money Online
If you want to make a substantial income online, affiliate marketing is one of the best strategies.
I made over $6k in 2017, and in 2018 I have the power to double or triple that amount and finally quit my job at the coffee shop.
It's only a matter of rinse and repeat what I have done so far, but there is always room for improvement.
I was a complete newbie 2 years ago, but I joined an excellent online community-based platform that provided all the knowledge, support and tools to start my business..
The training works, but it's important to emphasize you have to put in the work. 

This reward platform is going viral! Cash out via PayPal, Visa, Gift Cards, and in-game currencies - Click here to find out how to generate an extra $10+ per day! 
So, if you want to know more details, click the link below and read my No.1 Recommendation review.

I hope this MobileXpression review helps you make an informed decision. If you have anything to say about MobileXpression, please leave your comment below. Your opinion is valuable!