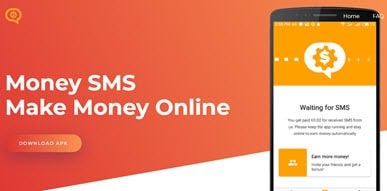 Would you like to earn money automatically without doing any work? MoneySMS claims you will make 0.02€ for each SMS message that you receive on a daily basis.
Can you really get paid? And if so, why are they giving "free" money? Is MoneySMS a scam or legit?
Read my review below where I share with you my honest opinion.
RECOMMENDED: You may also want to check out this step-by-step training that helped me reach $1,000 per month working from my laptop (no special skills required).
Money SMS Review
---
Name: Money SMS
Website: https://moneysmsapp.com/
Overall Rating:

3.7

/5
LEGITIMATE
What is Money SMS?
---
Money SMS is a mobile application that pays you to receive text messages.
Different from many cash apps out there, earning money with MoneyApp is 100% passive, meaning you don't have to view ads, complete surveys or do any other task.
Money SMS is only available in some European and Asian countries. Unfortunately, both the UK and the US are not included on the list.
A similar alternative to Money SMS is the McMoney app. If both apps work in your country, you can install and activate both at the same time.
Other three popular apps to earn passive income online are InCompass, CashMagnet and SlideJoy.

This reward platform is going viral! Cash out via PayPal, Visa, Gift Cards, and in-game currencies - Click here to find out how to generate an extra $10+ per day! 
Pros and Cons
---
Pros
100% Passive Income.
Get Paid via PayPal, Skrill, Bitcoin and other cryptocurrencies.
The referral program pays a 30% commission.
Money SMS doesn't consume a lot of battery.
Earn 0.25€ as a signup bonus or 0.50€ if you use a referral code.
Cons
Very low earning.
Money SMS is not available in many countries.
Is Money SMS a Scam?
---
Money SMS is operated TelQ, a German company specialised in SMS testing. Their platform helps Mobile Network Operators to monitor and improve the quality of SMS deliveries.
Moreover, I have seen many screenshots of payments on the internet and positive user reviews. So, I am confident MoneySMS is legitimate and pays.
Why Does Money SMS Pay You to Receive SMS?
---
You will get paid to let Telecom Mobile Network Operators and SMS providers perform tests by sending messages to your phone.
According to Money SMS, these tests are performed to verify and ensure the proper delivery of SMS routes around the world.
The messages have no meaning as they are nothing but random characters. They are not spam or advertising, and you can simply delete them straight away.
Installation and Registration
---
Money SMS is available on the Google Play store and is 100% free.
Bear in mind you will have to allow the app to have access to your phone's usage data.

Besides, they will have access to your email address, phone number, and geographic location.
I advise you to read their privacy policy before creating your account.
You will earn 0.25€ as a signup bonus or 0.50€ as a bonus. Unfortunately, I have no code to post here as I have no access to Money SMS in my country.
However, you can easily find the code by searching on Google.
RECOMMENDED: Click here to see my no.1 recommendation for making money online
How Much Money Can You Make?
---
To receive messages, your phone should be connected to the internet, and the app should be kept running in the background.
On average, most people receive 2-3 messages per day. It may be more or less depending on your location.
Considering each message is worth 0.02 euros, you can expect to earn less than 2€ per month.
If you are not receiving messages, make sure the app is running because it may be turned off due to battery optimization. 
Referral Program
---
You can share your referral code with your friends or people on the internet.
If they install Money SMS and use your code, you will earn 30% commission on all their earnings. 
In my opinion, 30% is a generous commission rate. If you refer just 4 people, you can more than double your earnings!

Payment
---
The minimum cashout is 2€, and you can request payment via PayPal, Skrill, WebMoney, Bitcoin, Litecoin, and Etherium.
Your payment will be processed within 48 hours, but it usually arrives in a few hours or even minutes.
Final Thoughts
---
Money SMS is a legit app that you can use to earn a tiny passive income from your phone.
The earnings are very low, but the more people you refer, the more money you can make.
Passive income is great, but what if you could earn $1,000s per month working whenever and wherever you want?
In the next section, I am going to share with you the strategy that allows me to earn 3 digits per month online and why I think it's one of the best ways to make money online.
How I Make Money Online
---
In short, I create content for my own website and earn affiliate commissions for promoting platforms and products that I trust.
This excellent step by step course showed me exactly how to set up a website, rank articles on Google, and attract an audience to start making affiliate sales.

In my opinion, those are the main reasons why I think having an affiliate site is one of the best ways to make money online:
Work whenever and wherever you want – All you need is a computer and an internet connection.
You don't have to report to a boss, handle customer service, buy inventory or invest in advertising.
VERY cheap startup costs.
You have a high degree of control over your online business.
A website works for you 24/7 – You can literally make money while you sleep or travel the world!
Keep in mind that this type of business takes a lot of time and effort to get traction, so you should not expect overnight results.
I hope my Money SMS review was helpful to you! If you have any questions, feel free to leave us a comment below! 🙂
Stay safe and peace out!