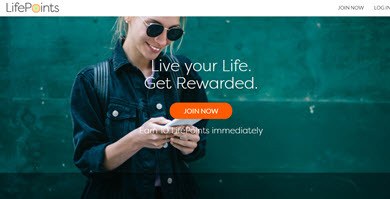 Welcome to my LifePoints review!
LifePoints is a trendy survey site for people who want to get rewarded for sharing their opinions.
Filling up surveys is an easy and convenient way to make money from home.
But there are many good and bad options out there, so you must choose carefully.
Despite its popularity, LifePoints has been rated 1 star by over 74% of reviewers on Survey Police as of 2020.
Why are there so many people disappointed and even furious with it? Is it a scam or legit?
In this review, I would like to cover all you need to know about LifePoints and give you my honest opinion about it.
But before we dive in, let me ask you one important question:
Have you ever thought about the possibility of making a job-replacing income from home?
If so, you can't miss out on my #1 recommendation! This is the same program that helped me reach $1,300 per month and quit my job in 2019. The first ten lessons are 100% free! 

This reward platform is going viral! Cash out via PayPal, Visa, Gift Cards, and in-game currencies - Click here to find out how to generate an extra $10+ per day! 
LifePoints Review
---
What is LifePoints?
---
LifePoints is a survey panel owned and operated by Lightspeed L.L.C., one of the World's leaders in consumer research and analysis.
According to the website, the community boasts over 5 million members from all over the World, and that number doesn't stop growing.
The company rewards users for sharing their data and opinions that will help influence the decisions of big brands.
Your participation is critical to these companies, which need to gather opinions to shape new products and services.
In return for your contribution, LifePoints will give you points redeemable for PayPal, Nectar Points (U.K.), and various gift cards, depending on your country.
Background
LifePoints was first launched in 2017 as an app that rewarded people for taking surveys and completing small online tasks.
In early 2019, the company decided to shut down the app and merge their two popular sites called MySurvey and Global Test Market into LifePoints.
Since then, the Panel has been subjected to many complaints that you can read on both SurveyPolice and Trustpilot. I will get into that later.

Countries
LifePoints is available in the following 36 countries:
U.S.A., U.K., Brazil, Colombia, Argentina, Mexico, Australia, Canada, Germany, Spain, Portugal, Greece, Norway, Romania, Czech Republic, Denmark, Italy, Hungary, Finland, Netherlands, Sweden, France, Spain, Turkey, Japan, Ireland, Russia, South Korea, China, Japan, Thailand, Vietnam, United Arab Emirates, Hong Kong, Taiwan, and Malaysia.
Pros and Cons
---
Pros
Earn 10 points for signing up and answering a few profiling questions.
Cash out via PayPal, Nectar Points, and gift cards.
No skills are required.
The minimum payout threshold is only $5,
It's available in 36 countries.
Cons
There are not many opportunities depending on your country.
You can waste a lot of time trying to qualify for surveys.
LifePoints doesn't have a referral program, so you don't have the opportunity to invite your friends and earn commissions.
How Does LifePoints Work?
---
How to Register
LifePoints' registration is free and straightforward.
Just fill out the form and click on the confirmation link sent via email.
When you log in for the first time, you must answer a short profiling questionnaire, which will be used to match you with survey opportunities.
You will earn 10 LifePoints after filling up your profile.
How Much Are LifePoints Worth?
It depends on your country. In the U.S.A., you can cash out $5 once you have 550 points in your account.
In the U.K., you can trade 575 LifePoints for £5 via PayPal.
Completing Surveys
You can see all the survey opportunities available on your dashboard.

Many studies are routed from Cint and Ipsos, two leading marketing research agencies partnered with LifePoints.
That means they will redirect you to share your opinions with these third-party providers frequently.
LifePoints will also send you an email invitation whenever a new survey becomes available.
Surveys topics are diverse, and you should expect to answer questions about sports, health, food, travel, and many other aspects of your life.
Most surveys pay 40 – 50 LifePoints and take between 10 – 15 minutes to complete.
That's less than £0.50 per survey!
Keep in mind that you will also have to answer pre-screening questions to qualify for marketing studies.
So, be prepared to get disqualified many times before you eventually find a study that matches your demographics and interests.
Also, you may receive a message that the survey is complete. This happened to me when I tried to complete my first survey with LifePoints.
It's very frustrating, especially if you get this message after answering many qualification questions.
According to LifePoints, sometimes they must close the survey very quickly once the quota is reached.

If you don't get any points after completing the survey, that is because they will only credit you once the study is over. In that case, you'd have to wait for about 6 – 8 weeks.
Payments
---
The minimum payout depends on your country. For example, in the U.K., the minimum amount you can cash out is £3 via Starbucks Gift Card.
As for PayPal, Amazon, and Marks & Spencer, the minimum is £5. Members can also donate to Unicef and The National Trust.
How Much Money Can You Make?
---
Don't expect to make a lot of money with LifePoints.
From personal experience, you could make anywhere between $40 – $80 per month.
That would require a lot of time and patience because of frequent disqualifications.
Besides, you may not find many surveys available in your country. So, reaching the minimum payout can take one month or even longer!
Now, you might be thinking: "That's not too bad! I can do it while watching T.V., sitting on my couch…"
Well, the problem is that you will answer lots of pre-qualification questions, and after 2 or 3 hours, you will probably manage to fill out only 2 or 3 surveys at best.
Think about it. The money you are making with LifePoints versus the time you invest is meager!
Yes, any money can help, but that's not a life-changing income.
If you invest 2 or 3 hours per day, you could realistically earn a full-time income over 2 or 3 years!
For example, you could build affiliate sites that generate commissions and ad revenue enough to cover all your living expenses.
Many people who followed this training, including me, have built profitable websites that generate $1,000 – $10,000 per month!
User Reviews – Complaints
---
When I first reviewed LifePoints one year ago, there were tons of complaints on the internet.
Unfortunately, one year passed, and the site continued to accumulate bad reviews on both TrustPilot and SurveyPolice.
Here are the most common issues that are worth mentioning:
Some people lost their points after the transition from MySurvey to LifePoints.
Survey errors.
Missed points.
Screen out of a survey after sharing lots of personal information.
Accounts are locked for no reason.
One person claimed that he gets disqualified from almost every survey after sharing lots of personal data.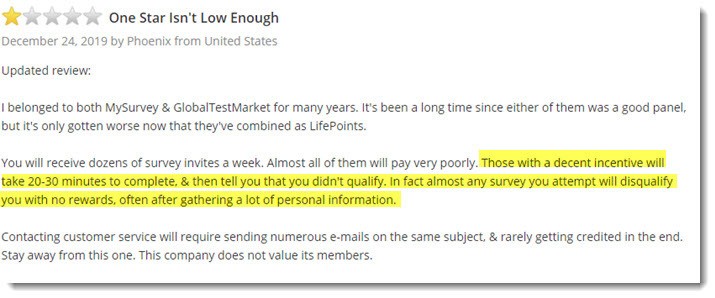 Unfortunately, complaints like this one are widespread throughout most survey panels.
Another issue is regarding blocked accounts.
The fact is that according to their Terms of Service, LifePoints can terminate your account and delete your points at their sole discretion and without notice.

Here is the proof:
Notwithstanding any term of this Agreement, Lightspeed reserves the right, without notice and in its sole discretion, to discontinue or terminate any of the Services, to terminate your license to use the Services, to delete any Panel registrations or other accounts, to delete Points without redemption, and to restrict, block, limit, and prevent your access to and use of the Services.
That means all the points you accumulate are not yours until you see the cash or gift card in your hands.
It worries me to see the large number of complaints piling up month after month.
But, if you check the user reviews on TrustPilot, you will also see lots of positive feedback. So, I believe it's a matter of luck.
Is Your Personal Data Safe and Secure With LifePoints?
---
You may be worried and wondering if all the personal information you give to LifePoints will be safe and secure.
Well, according to the website, LifePoints do its best to ensure your data is protected.
If you check their Privacy page, you will see all the information they may collect from you and the purpose of this collection.
Also, they explain that you have many rights, including the right to access all the information they hold about you and the right to delete all this information.
From what I can see, LifePoints has taken crucial measures to comply with GDPR, and thus, your data should be safe.
Conclusion
---
LifePoints is the usual survey panel that allows you to share your opinions and earn some money from home.
In my opinion, it's a legit survey panel, but that doesn't mean you will get paid without any issues.
Many people have a negative experience with LifePoints as they get disqualified frequently and waste a lot of time.
On the other hand, many other members report having a positive experience.
Verdict: Legit
In my opinion, Prizerebel is the best platform to take surveys and complete other easy online tasks.
I took many surveys through this G.P.T. platform a long time ago, and I still get paid every month thanks to their excellent referral program.
Prizerebel always paid me without any issues!
How To Make A Full-Time Income From Home
---
The business model that I use is called affiliate marketing. In short, affiliate marketing is the process of earning commissions for promoting other people's products.
This excellent step-by-step course showed me exactly how to earn affiliate commissions by setting up a website, ranking articles on Google, and attracting a large audience.
These are the main reasons I think affiliate marketing is one of the best ways to make money online.

Location freedom – Work from home or anywhere you like!
Time freedom – Work whenever you feel like it. Go on holiday whenever you want.
No boss, no customer service, and no inventory.
VERY cheap startup costs.
Keep in mind that this type of business takes a lot of time and effort to get traction, so you should not expect overnight results.
There are no shortcuts to success, but the ride is well worth it!
Final Words
Thanks for taking the time to read my LifePoints review!
If you have tried LifePoints, let us know what you think about it in the comment section below. Did you get paid? How was your experience?