1
LifePoints Review – Is it Legitimate? Does it Pay?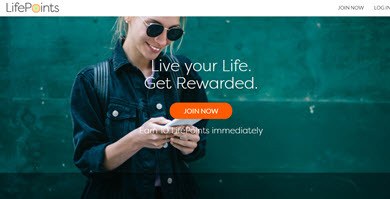 If you are trying to earn an extra income online, you may have heard about LifePoints and the opportunity to get paid for your opinions.
In this review, I would like to explain how LifePoints works and give you my honest opinion about it. Is it a scam or legit? Will you get paid?
Let's find out!
You may also want to check out the step-by-step training that helped me reach $1,000+ per month working from my laptop (no special skills required).
LifePoints Review
---
Name: LifePoints
Website: lifepointspanel.com
Type: Online Surveys
Price: Free to join
LEGITIMATE
[yasr_overall_rating size="medium"] 2.6/5
What is Lifepoints?
---
LifePoints is a survey panel owned and operated by Lightspeed LLC, one of the world's leaders in consumer research and analysis.
The company reward users for sharing their data and opinions that will help big brands develop and improve products and services.
By participating in online surveys, you will earn points that you can redeem for Paypal, Nectar Points (UK) and many gift cards.
Background
LifePoints was first launched in 2017 as an app, which rewarded people for taking surveys and completing small tasks.
In early 2019, the company decided to shut down the app and merge their two very popular sites called MySurvey and Global Test Market into LifePoints.
Since then, the Panel has been subjected to many complaints that you can read at both SurveyPolice and Trustpilot. I will get into that later.
Countries
LifePoints is available in the following countries:
USA, UK, Brazil, Colombia, Argentina, Mexico, Australia, Canada, Germany, Spain, Portugal, Greece, Norway, Romania, Czech Republic, Denmark, Italy, Hungary, Finland, Netherlands, Sweden, France, Spain, Turkey, Japan, Ireland, Russia, South Korea, China, Japan, Thailand, Vietnam, United Arab Emirates, Hong Kong, Taiwan, and Malaysia.
Pros and Cons
---
Pros
Earn 20 points for signing up and answering a few profiling questions.
Cash out via PayPal, Nectar Points and gift cards.
It's available in many countries.
Cons
There are not many opportunities depending on your country.
You can waste a lot of time trying to qualify for surveys.
There is no referral program.
Registration
---
LifePoints' registration is free and straightforward. All you have to do is fill up the form and click on the confirmation link that will be sent to your email address afterwards.
When you log in for the first time, you have to answer a short profiling questionnaire, which will be used to match you with survey opportunities.
You will earn 20 points after filling up your profile.
Completing Surveys
---
You can see all the surveys available in your dashboard. Most of them are routed from Cint and Ipsos, which are two marketing research companies that have partnered with LifePoints.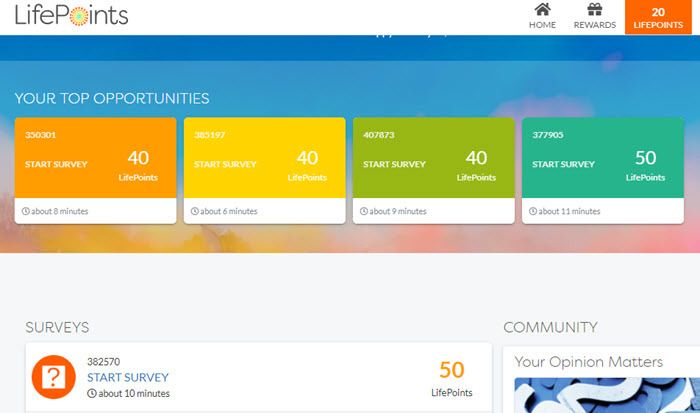 LifePoints will also send you an email invitation whenever there a  new survey available.
In the UK, which is where I was testing LifePoints from, most surveys award 40 – 50 points and take around 5-15 minutes to complete.
However, you will probably spend more time because of the pre-screening questions.
It's not uncommon to be screened out and leave the survey with empty hands.
Also, you may receive a message that a study has been closed. This happened to me on my first attempt.
RECOMMENDED: Click here to see my no.1 recommendation for making money online.
How Much Money Can You Make? 
---
It depends on your country, but don't expect much!
Here in the UK, you can exchange 575 LifePoints for £5 via PayPal. Therefore, each survey pays around £0.50 for UK residents.
You may not find many surveys available in your country, so reaching the minimum payout can take one month or even longer!
One drawback of LifePoints is that it doesn't have a referral program, so you don't have the opportunity to invite your friends and earn commissions.
Complaints
---
I have found a significant number of complaints about LifePoints on the internet.
Here are the most common issues that I found at both TrustPilot and SurveyPolice:
Some people lost their points after the transition from MySurvey to LifePoints.
Survey errors.
Points are not credited.
Accounts are terminated for no reason.
It's impossible for me to confirm whether these negative reviews are true or false.
The fact is that according to their Terms of Service, LifePoints can terminate your account and/or delete your points at their sole discretion and without notice.
Here is the proof:
Notwithstanding any term of this Agreement, Lightspeed reserves the right, without notice and in its sole discretion, to discontinue or terminate any of the Services, to terminate your license to use the Services, to delete any Panel registrations or other accounts, to delete Points without redemption, and to restrict, block, limit, and prevent your access to and use of the Services.
Payments
---
The minimum payout depends on your country. In the UK, the minimum amount you can cash out is £3 via  Starbucks Gift Card.
As for PayPal, Amazon, and Marks & Spencer, the minimum is £5. Members can also donate to Unicef and The National Trust.
Is Your Personal Data Safe and Secure With LifePoints?
---
You may be worried and wondering if all the personal information that you give to LifePoints will be safe and secure.
Well, according to the website, LifePoints do the best it can to ensure your data is protected.
If you check their Privacy page, you will see all the information that they may collect from you and the purpose of this collection.
Also, they explain that you have many rights including the right to access all the information they hold about you and the right to delete all this information.
From what I can see, LifePoints is has taken crucial measures to comply with GDPR, and thus, your data should be safe.
Conclusion
---
LifePoints is a legitimate platform operated by a world leader in marketing research.
However, the company can ban your account and disappear with your points whenever they want. That is expressly stated in their Terms of Service.
If you search for user reviews, you will see not only negative but also positive reviews. Maybe you can have a positive experience with LifePoints.
Verdict: Legit
If you ask me what is the best platform to take surveys and other easy tasks, I'd say Prizerebel.
I took many surveys on their platform a long time ago, and I still get paid every month thanks to their excellent referral program. Prizerebel never messed up with my points!
How I Make Money Online
---
The business model that I use is called affiliate marketing. In short, affiliate marketing is the process of earning commissions for promoting other people's products.
This excellent step by step course showed me exactly how to earn affiliate commissions by setting up a website, ranking articles on Google, and attracting a large audience.
These are the main reasons why I think affiliate marketing is one of the best ways to make money online
Location freedom – Work from home or anywhere you like!
Time freedom – Work whenever you feel like it. Go on holidays whenever you want.
No boss, no customer service, and no inventory.
VERY cheap startup costs.
Keep in mind that this type of business takes a lot of time and effort to get traction, so you should not expect overnight results. There are no shortcuts.
So, have you tried LifePoints? What do you think about it? Feel free to share your thoughts below! 🙂
Stay safe and peace out!