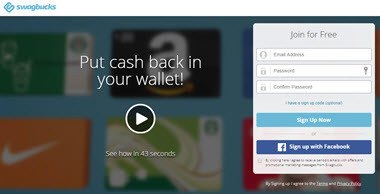 Welcome to my Swagbucks review!
If you have been searching for ways to earn money online, you might have stumbled across Swagbucks at one point.
It's undoubtedly the most popular GPT site on the internet, and it's easy to understand why.
In this Swagbucks review, I am going to give you my honest opinion about this reward platform.
I am also going to show you the best ways to earn SBs, so you avoid wasting precious time.
By the way, if you want to learn the same method that earns me $1,000+/mo from my laptop, check out my #1 recommendation!
You may also want to check out my 3 best sites like Swagbucks here!
Swagbucks Review
---
Name: Swagbucks
Website: www.swagbucks.com
Price: Free to join
Company: Prodege LLC
Membership availability: US, UK, Ireland, Canada, Australia, France, Germany, and Spain
LEGITIMATE
Overall Score: 

4.5/5
What is Swagbucks?  
---
Swagbucks is a legit website that rewards you for performing a variety of easy tasks.
The rewards are based on a virtual "currency" called Swagbucks (SB), which be redeemed for cash (PayPal) or gift cards to many well-known companies, such as Amazon, John Lewis, and Starbucks. You can also donate or get entries for prizes.
From another perspective, Swagbucks is a platform for advertisers to promote their products and make people try out their offers.
According to Alexa.com, Swagbucks is the 156th most visited website in the United States, and have paid more than $60,000,000 in rewards, which is impressive!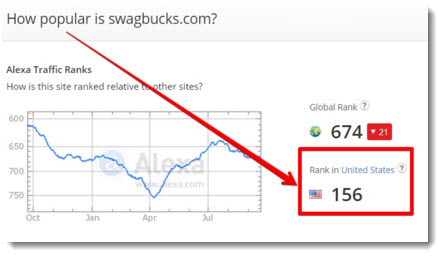 Pros and Cons
---
Pros
Free to Join
Easy way to make money online.
There are lots of earning opportunities.
Well-structured
There is a wide variety of gift cards.
Cons
It's only available in 5 countries.
Low pay rates.
How to Get Started?  
---
The membership is free. You only have to provide your email, choose a password (or sign up using your Facebook account), and click on the link inside the confirmation email.
Swagbucks is available for residents in the United States, the UK, Canada, Australia, India, Germany, and Ireland.
How Can You Earn?  
---
Performing online searches
Shopping
Watching videos (SBTV)
Playing games
Completing Offers
Achieving daily goals
Answering daily polls
Filling Up Surveys
Redeeming Swagbucks codes
Checking daily Offers
Earning Prizes
The best way to earn with Swagbucks (in my opinion) is at the end of this article.
What is The True Value of an SB?  
---
Well, it depends on the reward you choose and its value.
If you exchange for Amazon gift cards, you will get approximately this figure:
In the  UK, £1 is around 170 SB
In the US, $1 is around 90 SB
On the other hand, if you choose to be paid by PayPal, you can expect much less value for your SB.
In the UK, for example, £1 is 200 SB (for a payout of £5) or 180 SB (for a payout of £100). So, your SB is worth more if you redeem an Amazon gift card.
Although you can earn by doing many tasks, you need to be aware of how many SBs you are getting for the time you spend on each activity.
You need to ask yourself how much time you are willing to spend for that amount of money.

RECOMMENDED: Click here to see my no.1 recommendation for making money online.
Shopping 
---
That is also a great way to earn with Swagbucks because you are not wasting any time here. You earn according to how much you spend and according to each store (at Argos £1= 5 SB).
There is a broad range of popular stores to select from. For example, in the UK, you can find Argos, Asda, Boots, M&S, Cath Kidston, Shoe Zone, and many others.
You can also earn buying from Amazon and booking your holidays with many travel agencies like Thomson and Expedia.
So, let's say you are going to buy a £500 Laptop. Why not use Swagbucks and earn 2,500 SB = £14 in your pocket without any effort?
Completing Offers
---
This is a quite tricky way to earn SB, and I will tell you why. To be accepted and collect, let's say 1000 SB, most of the time, you will have to pay a third-party company to try out their products.
The highest rewards usually come from monthly subscriptions to magazines, online movie services, and more.
For example, I have found one offer that rewards 1000 SB! WOW, that's a hell lot of SB! Great… let's check it out in detail: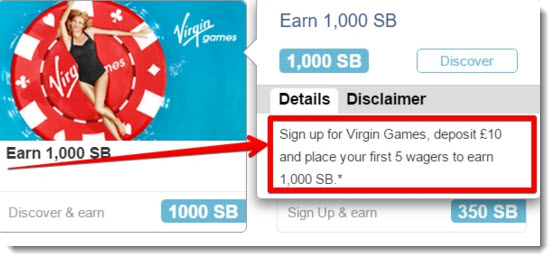 You have to deposit £10 to earn 1000 SB. 1000 SB is the same as around £5.9.
Be very careful with the terms and conditions of each offer to avoid pitfalls.
Look at this other offer: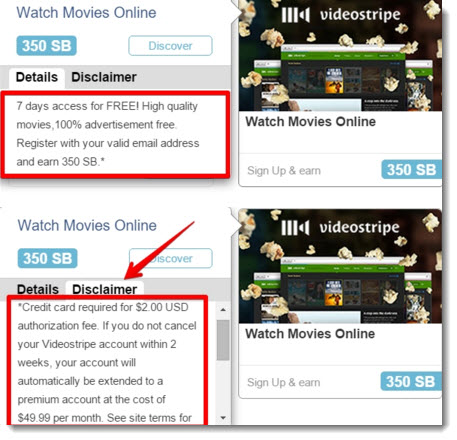 In this example, you would get 350 SB = $3.9 for subscribing to the free Videostripe trial for 7 days.

However, they are going to charge $2 as an authorization fee (so you are left with $1.9).
Besides, if you don't cancel your account within 2 weeks, you will have to pay the first month of your subscription.
My advice is if you are accepting offers just to collect SBs, make sure you cancel your offer straight away (if possible).
You can find some reasonable offers that pay $4, but they are not easy to find!
Convert the SB from each offer to your currency, see how much you need to spend, and make your decision. Again, be careful with the ToS!
RECOMMENDED: Click here to see my no.1 recommendation for making money online.

This reward platform is going viral! Cash out via PayPal, Visa, Gift Cards, and in-game currencies - Click here to find out how to generate an extra $10+ per day! 
Watching Videos
---
In this section, you find plenty of videos divided into topics such as recipes, health, comedy, tv & films, and other mixed topics.

I found some videos quite interesting, but the thing is, if you are watching them for the sole purpose of earning SB, you are wasting your time!
I've chosen the following video:

Watching that video was ok! It was a topic of interest. But hey, 5 minutes for only 1 SB?
There are ads of around 1 minute each in between those videos. So, I was actually spending 10 minutes instead of 5! 
You can skip the videos, but not the Ads, of course! You can put it on mute and keep doing other stuff, but would you bother doing that for $0.01 or $0.02?
Playing Games
---
There are a couple of flash games to choose from, including a memory game. Unless you enjoy those games, I don't recommend wasting your time here.
There are no rules regarding how long you need to play or how many points you must reach to get your Swagbucks. You earn SBs randomly.
Taking Surveys 
---
Online surveys are time-consuming and don't pay well. However, it's one of the easiest and most convenient ways to make money online.
Check the screenshot below for some examples:

For example, a 10-minute survey was worth $0.50. Therefore, the hourly rate would be $3.3, which is way below the minimum wage.
RECOMMENDED: Click here to see my no.1 recommendation for making money online.
Answering Daily Polls
---
Every day you can answer a simple question like the one below.

All you get with this option is 1 SB per day.
Redeeming Swagbucks Codes
---
Another way to earn Swagbucks is to find codes available somewhere on their website, blog, tweeter, Facebook, and Pinterest.
The idea is not that you start hunting for SB everywhere.
Here, the tip is to use the Swagbucks extension (Swagbutton) for your internet browser. If one code is available, they will notify you through an alert saying where the code is.
It's that simple, and you won't waste any time. The code is active only for a limited time, so insert it straight away to guarantee your SBs.
I recently got an alert saying one code was available on Facebook and earned 2 SB.
Achieving daily goals + Winning Streaks
---
If you reach a goal set for the day, you earn extra SB. Plus, you earn streaks if you meet your daily goals consecutively.
Example: Your daily goal is 30 SB. If you achieve that, then you earn 3 SB.
Another goal will be set for the following days, and if you achieve your goals 7, 14, 21, or 30 days in a row, you will earn an extra 25, 100, 200, 300 SB, respectively.

Winning Prizes With Swagstakes! 
---
There is a section in Swagbucks called Swagstakes, where you have the chance to win many prizes, such as gift cards, laptops, tablets, video games, SBs, and more.
The number of entries corresponds to a specific amount of SB, and it is different for each prize.
Take the £500 Amazon gift card as an example.
You cannot always get the number of entries that you want.
For example, With this Amazon entry, I could only choose a maximum of 10 entries. That is because they have a quota depending on the number of entries left (there were only 3571 available out of 29000).
What are your chances? Well, I divided the number of entries available by the ones I bought. So, in this Amazon example,  29,000 / 10 = 2,900.
That's 1 chance in 2,900!
Choose a lower prize then and have fun! I've chosen to give 34 SB for 3 entries for the award of £5.
RECOMMENDED: Click here to see my no.1 recommendation for making money online.
The Best Way to Earn Swagbucks – Refer and Earn 10% on Autopilot! 
---
In my opinion, the best way to earn money with Swagbucks is by taking advantage of their referral system.
The reason for that is when you recommend Swagbucks to other people, you earn 10% of their daily earnings in almost all categories!
How does it work?
When you sign up, a unique link will be available for you, just like mine:

That is your unique affiliate link, which makes Swagbucks know you invited a member to the site.
Now, you can send this link to your friends and family on Facebook, Twitter, Google +, email and every other way you can imagine!
You can reach many people by doing that, especially if you are an influencer or have a blog.
I will give you one example.
If you consider that one active person earns 3000 SB per month with Swagbucks, referring 100 people will get you 30,000 SB while you are asleep! That's around $333 every month in your pocket.
It's difficult to get referrals that remain active for a long time, but it's possible if you build a website for example.
Another reputable GPT site is Prizerebel, which offers an even better affiliate program (up to 30% commissions + nice bonuses).
The question now is: How are you going to find so many people to sign up? Well, the best way is to use affiliate marketing and write topics about Swagbucks or even more profitable affiliate programs.

Final Words  
---
In this article, you learned all the different ways to earn money with Swagbucks.
Some are good while others are really bad because of the low pay rates.
You also learned what I consider the best way to earn money with Swagbucks, which is their program.
So, have you ever used Swagbucks? What do you think of their many ways to earn money?
If you have any questions about it, please leave them below. I would love to help!
Your friend
Stefan