You have already created your website and started writing some content, but something doesn't feel right. Your pages are not ranking so well and this makes you feel frustrated and helpless. Don't be! If your website is relatively new, there is probably nothing wrong with it and you should keep stronger than ever.
However, there are important factors that you should always be aware of in order to place and keep your website in a privileged position. In the present post, I am going to show you what I consider the 5 most important factors to rank high in search engines.
Why Do You Want to Be High?
---
To explain the power of being well ranked, I present you some statistics by Chitika, an online advertising network. In the following table, you can see the average traffic for each position on the first and second page of Google.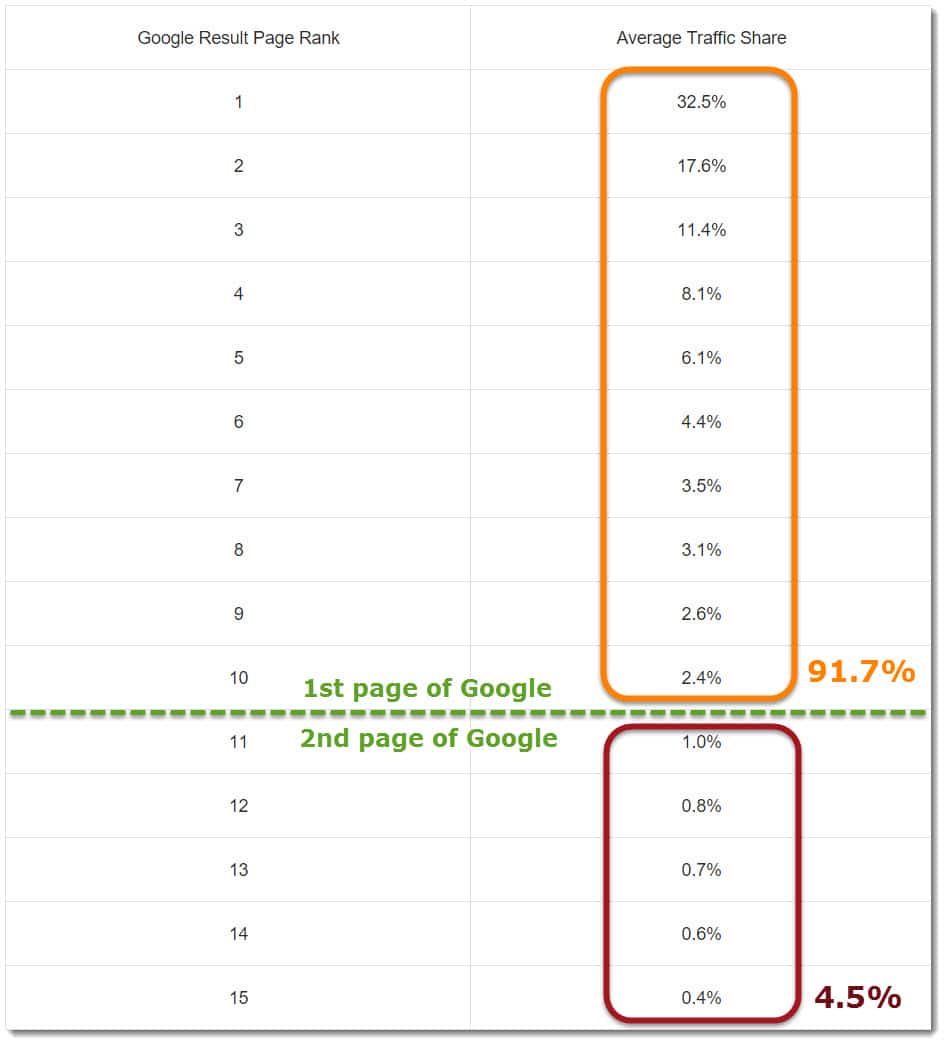 As you can see, most of the traffic (91.7%) goes to the articles on the first page. Besides, those situated in the top 3 can experience 60% of all traffic whereas those below the 11th position (2nd page) experience only 1% of the traffic! Keep in mind that this is only an estimation, but it gives you an idea how important it is to get good rankings.
There is no simple formula or a quick solution to become part of the elite. Although it is important for you business to be on top, you cannot expect to achieve a high position by focusing only on which keyword will rank better. In other words,  you should write for your readers and not for the search engines, as clearly stated in the Google's Quality Guidelines.
So, which are the main factor to achieve the first page? Well, let's start with the most important – Quality!
#1 Nothing is More Important Than Quality
---
Quality content must always be your top priority moving forward with your online business.  Finding an article with the most helpful and accurate information for users is in the best interest of the search engines. In fact, this is their main goal! They are getting better and better in finding those pages and will score them based on specific criteria.
So, when someone types in a specific word or phrase, it will scan through all the pages and sort them in order of relevance. Apart from being more convenient, that's a good reason why most people choose the first entries – to get the best match for their searches.
If you provide your visitors with valuable, engaging and unique content, the search engines will definitely recognize your website as relevant and reward you with better rankings. It is also really important to keep your article focused on the topic.
The quality is there, but still not ranking… Why?
Sometimes, however,  even if you write a masterpiece, it may still not get you the expected result. There are tons of other on-page and off-page factors that make part of a complex algorithm develop by Google.  
Turn Your Website Into an Authority With My #1 Recommendation
#2 Choose Consistency Over Quantity
---
A big website, with loads of high-quality pages and posts, is going to rank higher in Google in part because of its high authority domain score. However, there is another important factor that is going to influence your rankings and this is called consistency.
When I first started in internet marketing, I just thought the sooner I posted a new article the better. Then, I felt frustrated because I couldn't write 3, sometimes not even 2 articles per week. After a while, I discovered that  if I couldn't stick with this frequency, I would actually impact negatively on my rankings.
Why does consistency is so important?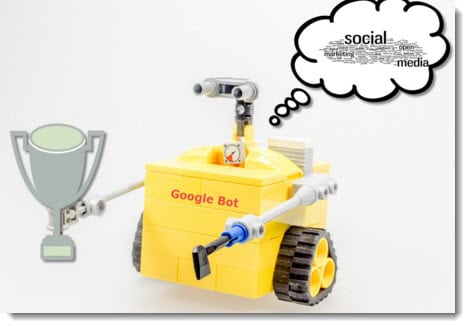 Take Google as an example – it is hungry for new content and uses what is called Googlebot to find and index them. This is a kind of tracking robot consisted of many computers to search your posts among billions of websites.
If you are posting many times a week, Google expects you to keep doing that and will send Google bots more frequently to check for your fresh content.
Reducing the frequency of your postings will cause the robot to get inefficient once it will search and not find the content at the time expected. This will eventually be negative to your rankings.
With that in mind, I highly encourage you to set up a schedule. Decide on a realistic frequency and on a specific day of the week to publish and stick to it.  In my case, for example, I decided to post every Sunday because this is what works best for me at the moment. If you manage more and keep consistent, it is even better.

#3 The Power of Internal Links
---
Internal links are those clickable words or phrases that direct your reader to another post or page within your site. Here is an example:

It is extremely important to have internal links pointing to other relevant content. The more you have them, the more Google will admire your website.
Do you remember Googlebot? Well, it loves walking around your website articles following your links! In other words, internal links help Google get a clear picture of the other pages on your site and this will have a positive impact on your rankings.
Another good reason to use internal links is to increase user experience. By showing your visitors where they can find more useful information, you create more engagement and make people stay longer on your website.
Not only Google will reward you for that, but you are also increasing your chances to find a customer.
Important: You need to make sure the anchor text (the text in your internal link) is related to the content of the article you are linking to.
What about external links? 
Yes. You may also want to use external links or outbound links,  pointing to information outside of you website, preferably to authoritative and reliable sources. Wikipedia and Wikihow are good examples. That's really positive because people will appreciate your interest in providing additional sources to them.
#4 Comments are Extremely Valuable
---
The search engines really like to see engagement via comments because they are positive indication that your content is relevant. Comments can also be seen as additional pieces of content. That is really cool because they help your article to stay fresh and active, which ultimately improve your rankings.
Give comments the value they deserve by replying promptly to all of them. Take the opportunity to approach certain points that were not mentioned and try to be as helpful as you can. After all, it is really fun and rewarding to engage and help people all over the world.
Try to mention the targeted keywords naturally in your answers, but don't overuse it. Just use synonyms and tags instead. This will definitely increase the number of possible searches people can make to find your pages.

Important: You should never accept spam comments! Normally they have nothing to do with your article and  contains some dodgy links.
You can risk getting your pages completely removed (de-indexed) if you accept them. Therefore, I highly recommend a plugin called Askimet to automatically block spam comments. In spite of that, they can still pass the security, so you should always manually check for them.
#5 Perform Keyword Research and Use Low Hanging Fruits
---
Choosing keywords is also very important when trying to rank, especially if you have a new website. You will quickly realize how hard it is to get on the first page when facing high competition.
After ticking the box for my recommendations above, you may also want to find low competition keywords, also know as Low Hanging Fruits. They are much easier to rank for and will help bring a low but steady number of visitors to your website.
In fact, I suggest you should look for a targeted keyword before you start writing your content.

This reward platform is going viral! Cash out via PayPal, Visa, Gift Cards, and in-game currencies - Click here to find out how to generate an extra $10+ per day! 
Important: Keyword research should be seen as a guidance to understand where are better opportunities. You should not put too much emphasis on keywords, though! By doing that, you will probably be forced to shape the content to fit into that particular keyword.
This could impact negatively on your content's quality and make your website look superficial and deceptive for your readers. The search engines will quickly notice that as well.

With that said, let's understand more about them.
What does a low competition keyword look like?
Here is a good example using the Wealthy Affiliate Keyword Tool. If I wanted to write a post about earning money with a blog, I could target those 2 keywords:
"How to Earn Money With a Blog"
"Making Money With a Blog"
The difference between the two is subtle in terms of meaning. However, a huge difference can be felt on the numbers! Check out what I mean:

The searches (in green) represent the average monthly searches for that exact keyword and the competition (in red) is the number of pages competing for that particular keyword.
Notice that the number of searches for both is similar and quite high. However, the competition for the first option is much lower! I would definitely use the first option as my targeted keyword as it would be much easier to rank for!
Which number of searches and competitors should you look for?
There is no such thing as an ideal number, but you can have better chances by using keywords with less than 100 competition and monthly searches of more than 50. That's what I normally do.
For more detailed information on how to perform a good  keyword research, read this article: What is a Keyword Research Tool For? A Privileged Position!
Maximize the Potential for Your Keywords
You already decided on your keyword, so the next step is to optimize it. You can't go wrong by following these recommendations:
Use targeted keyword in the title 
Use keyword in the first paragraph
Use a keyword in the ALT tag of at least one image inside your article. The alt tag is an invisible description of your image, used to provide concise information about it to blind people (read aloud).
Keyword in URL
More information on how exactly to add your keywords? I have dedicated on entire article for that: How to Add Keywords to a Website for Amazing Traffic
To reiterate – use your keywords diligently. Don't overdo it! Let your content flow naturally with the main goal to inform your readers.
Conclusion
---
In this post, you could check what I consider the critical factors when it comes to ranking high in the search engines like Google, Bing and Yahoo. There are many other factors that I would like to cover in detail in a future post, such as embedding videos, using images, interactive menus and making your website mobile friendly and easy to share.
Ultimately, you have no control of how your contents are going to rank. You are certainly going to find a harsh competition in your chosen niche (if they are not too narrow) and that is because of the authority factor of other websites.
Their domains are older, they have tons of contents and much more positive things on their side. However, you can start increasing your own authority right now by focusing on quality, consistency, engagement, internal/external linking and a hint of keyword optimization. Finally, give it time! If you put your audience first, then Google will place your website where it deserves to be.
Finally, ranking high is important and a consequence of your hard work and perseverance!
---
I hope I could add some valuable information to your research with this article. Remember that I am always available to help you with your online business. You can always leave a message below and I will get back to you as soon as possible.
Check Out My Favorite Place to Master the Art of Earning Money Online 

Your friend
Stefan