Choosing a niche market might be the most important decision of your business. For many people, this can be a daunting task once there are so many options to choose from.
But don't worry! In this post, I am going to provide essential guidelines on how to decide on a niche market.
Note that most successful internet marketers didn't hit the nail on the head with their first website. So, it's important to be open-minded about the possibility of making wrong decisions when you are getting started.
The key is to learn from your mistakes and keep working towards your goals.
What is a Niche Market?
---
A niche market is a portion of the market which satisfies the needs of a group of people or an audience. It is simply a small part of the market where people are willing to buy the same kind of products.
There is an immense number of niches because any product that you imagine is part of one specific market. Besides, every niche can be narrowed down to sub-niches. In the end, it is all about specific needs and type of things.
For example, you can choose the niche "toys", but can you imagine how many types of toys there are? Well, we have toys selected by age and a great number of categories like electronic, educational, building & construction, dolls and the list goes on and on.
You can narrow down even more and pick educational toys that focus on mathematical skills for 3-4-year-old kids. I have found 1,433 products in this category only on Amazon!
This video is part of the free course offered by Wealthy Affiliate, and it gives a good basis for deciding your niche market.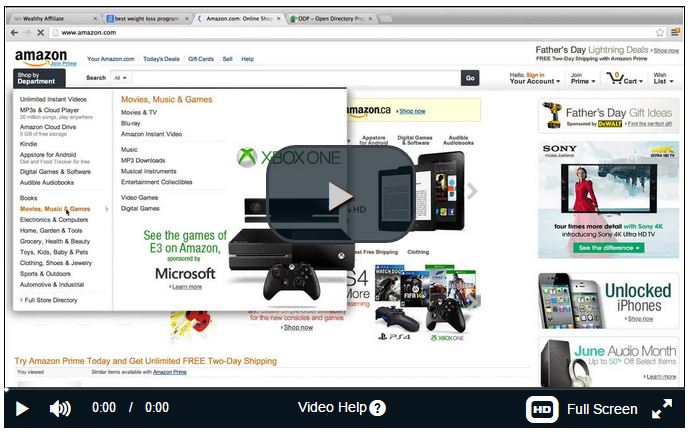 Guidelines For a Good Decision
---
#1 – Choose a niche you are interested about
When building a website, you are going to dedicate your time researching and writing about a specific subject. So, it is important to select a topic that you feel at least interested about.
When you enjoy what you are doing, you find more motivation to take action, reflecting positively on the quality of your articles and your website. Besides, it is critical not to turn your online business into a boring job.
In fact, it should not feel like a job at all! That is one of the most attractive advantages of internet marketing, so you may want to take advantage of that.
Some people will tell you to choose what you are passionate about. Well, that is absolutely the ideal situation! The more you enjoy a subject, the more your chances of building an amazing website! But you know what, not everyone has a clear picture of what they are really passionate.
So, you don't need to search the depths of your soul. As long as you care about it, want to help people in that niche and can have some profit, that is perfectly fine!
You can try Dmoz website, which offers a huge database of Web content. There you can find targeted niche ideas for your website.
#2 – Are there many people interested in your niche and looking for products?
It is very important to see if there are a good number of people interested in your niche. An audience needs to be big enough to provide a decent amount of visitors (traffic) and bring more profit to your website.
Now, how big is enough? Well, there is not an exact number, but you can have an idea by doing some research. You can check how popular a topic is by typing general words related to it in a keyword tool like Jaaxy.
When doing keyword research in Jaaxy, look for the AVG number. This is the average number of searches people perform a month in search engines like Google, Bing and Yahoo.
That can give you a good base for comparison, but you also need an idea of which kind of products you are going to promote. Do you have many options? How often people tend to buy them?
You can visit popular online stores like Amazon and see the number of reviews your niche related products received.

#3 – Try not to be too broad or too narrow
Choosing a niche that is too broad can be very inefficient for your business. A broad niche means that you have chosen a big topic with an overwhelming number of options to talk about.
Using our last example, the toys niche is extremely broad! This can make your website quite generalist unless you have many people working with you to cover all the aspects of the niche. Besides, you will probably have a very large competition.
On the other hand, if you target a smaller sub-niche, you are more likely to become of a specialist and build more trust. Trust reflects in more people following your recommendations, which is good for the business. The competition is much smaller as well.
As I already mentioned, you need a decent amount of traffic to your website. If you narrow too much your niche, you can end up having a very low number of visitors. So, the key here is to find a balance!
#4- How profitable can your niche be?
Is it possible to profit from any niche? Yes, definitely! People buy pretty much anything online (with some exceptions of course) and many look for information before buying. But assuming that you want to build a profitable business and put in significant time and effort, 2 key questions have to be made:
What are your financial goals?
What is the profitability of your niche?
Depending on which products you will promote and the average commissions rate, you will have to build a website with a massive amount of traffic.
For example, if you choose a niche where people spend on average $15 per product and considering a commission of 6% (Amazon, for example), you will get $0.90 per sale. How many sales do you need per month to make a living out of that? 2,000 items? That's not impossible, but VERY challenging!
Now, what if your niche had a good deal of more expensive items that you could target sales of around $200? That would be $12 per sale, meaning that around 160 sales per month would have to be made in order to achieve the same result. A much more realistic figure!
You may also consider higher commissions rates, which you can find by promoting digital products. Here, look for those offering over 40% commissions.
Find out more about recurring commissions to earn based on a monthly subscription. This is my favorite option, by the way. Why? Because once a sale is made and as long as the customer (your referral) keeps paying the monthly or yearly fee, you will earn the commissions.
Final Considerations 
---
When choosing for a niche, especially if this is your first experience, you might feel overwhelmed by so many options. Ideally, we all want the best, the one which will be highly profitable and at the same time very enjoyable.
Don't be disappointed if you cannot find one that ticks all the boxes because no niche is perfect. All of them have their pros and cons. What you can do is to find a balance!

Even if a balance is getting difficult to find, trust your feeling and give it a go! You can always change later on and learn what works best for you. In internet marketing, as with everything in life, nothing is in vain once you take advantage of your previous experiences.
I highly recommend watching the two videos above because they give a good basis for your decision. They are part of a well-structured course and community of internet marketers.
If you are struggling to decide your niche or have any specific question or comment about the topic, you can always leave me a message below. I would love to help you out!